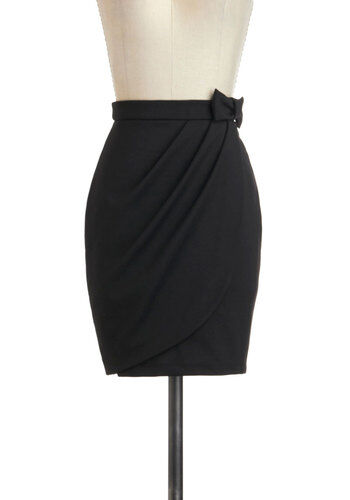 Tulip skirts are defined by extra folds of fabric at the hips, a tapering hemline, and a cinched waist, which creates a silhouette of an inverted tulip. The tulip skirt can come in a range of fabrics, lengths, and styles, from highly structured to soft and casual. The shape of the skirt can be very flattering on different body types, including pear, hourglass, inverted triangles, and rectangles. In addition, tulip skirts are versatile, and can be worn for casual, business, and formal occasions.
To dress for casual wear, women have many options, depending on their personal style. Tulip skirts in soft fabrics are a great way to look stylish and stay comfortable. For business wear, skirts in conservative colours can be paired with simple, professional tops. In the evening, it is easy to dress up a tulip skirt by choosing tops in fancy fabrics and elegant accessories. By following some basic guidelines, women can find many ways to style their tulip skirt.
About the Tulip Skirt
The tulip skirt is characterised by a cinched waist, extra fabric around the hips, and a tapered hemline. The result is a unique silhouette resembling an inverted tulip. In the mid-twentieth century, legendary French designer Christian Dior created dresses with small waists and full hips, and his 1953 collection was dubbed "Tulip". The tulip skirt reemerged again around 2006, this time in styles ranging from casually soft to more structured versions reminiscent of their vintage predecessors. They most commonly fall to the knee, but hems can reach lower towards the calves and ankles, or can be raised up to mini-skirt length.
Although at first glance it might seem that the tulip skirt's extra fabric would not work on curvier figures, in fact the exaggerated shape is very flattering on women with fuller hips, including pear and hourglass body types. They can also flatter slimmer figures by adding soft curves.
How to Style a Tulip Skirt for Casual Occasions
Tulips skirts can be paired with a range of tops, shoes, and accessories to match a woman's everyday, personal style, whether sporty, modern, or romantic. Women have their choice of fabric when it comes to choosing a skirt: knits, light silks, and cotton are comfortable and stylish for informal occasions. This is also the right time to opt for tulip skirts in softer, less structured profiles.
Tops
For an easy outfit on hot summer days, tulip skirts can be worn with a simple, solid-colour vest tucked in. Sleeveless silk blouses, either tucked in or left flowing over the waist, are another excellent way to top a tulip skirt. On cooler days, those who prefer simple, clean lines can opt for a black polo neck top, tucked in. For a softer look, a long-sleeved silk blouse can be substituted. Cropped jackets and sweaters can be added as extra layers.
Shoes
High heels are an excellent match for tulip skirts, lengthening the leg and balancing the skirt's shape. However, women shouldn't feel limited to heels alone, as flats can also work well. Try gladiator sandals or pointed flats. In cooler weather, tulip skirts look great with ankle boots or knee-high boots.
Accessories
Belts are a popular item to incorporate when styling a tulip skirt. They are particularly good when wearing a loose, untucked blouse on top. If the top is tucked-in, a belt is not necessary, but can still add emphasis to the waistline if desired.
Tulip skirts can be worn with or without hosiery. Sheer tights work fine, as do opaque tights. Shorter figures should try to match the colour of the hosiery to the footwear. If the tulip skirt's hemline falls anywhere above the knee, knee-highs can also work well, especially paired with boots.
There is no need to over-accessorise when styling a tulip skirt, because the shape of the skirt tends to attract the most attention. Many outfits look excellent with a minimum of accessories, such as a single necklace, a pair of earrings, a cuff bracelet, or a few bangles.
How to Style a Tulip Skirt for Business Occasions
Business style tends to be relatively formal, in conservative cuts and darker or neutral colours. The tulip skirt is an opportunity to bring soft, feminine curves into the picture. Choose a solid colour or a print in darker hues and pair with simpler items to keep the skirt's tailoring front and centre. Heavier fabrics such as wool or thick cotton are good for cooler weather, but lighter fabrics such as silk or knits also work in a business environment.
Tops
As with casual wear, the tulip skirt can be topped by a slim-fitting top in short, three-quarter, or long sleeves. The top can be scoop-neck, V-neck, or turtleneck. The slim fit creates a smooth line on top that balances the tulip's flare. Another idea is to tuck a bright silk blouse into a darker, solid-colour tulip skirt. The blouse can have decorative details such as ruffles, pleats, or an attached scarf. For cooler days, layer a cropped blazer or cardigan for added warmth and a cut that complements the skirt's high waist.
Shoes
For business attire, tulip skirts look best with heels, whether round-toed or pointed, high or kitten. Pointed flats may also work with the tulip skirt's fuller silhouette.
Accessories
To keep legs warm during colder days, wear tights under the tulip skirt. Sheer tights in neutral or dark colours work fine, as do opaque black tights. A wide belt can be worn with the slim, tucked-in top to emphasise the waist. Alternatively, the silk blouse can be left untucked and belted instead. Decorate the outfit with accessories like a pearl necklace, pearl stud earrings, and a chain or cuff bracelet.
How to Style a Tulip Skirt for Evening Wear
Tulip skirts can be dressed-up for all but the most formal evening-wear occasions, which may call for dresses. Look for a tulip skirt with deep pleats or extra ruffles, and in an elegant fabric that highlights its sculptured lines. For example, a black skirt in heavy silk is a perfect starting point for evening wear, whether to going to dinner, the opera, or a night on the town.
Tops
To keep the look fancy, pair the tulip skirt with an elegant blouse, or, for the more daring, a corset top. Fabrics can add decorative flair; try lace, silk, satin, sequins, beads, or metallic fabrics. Plunging necklines or high collars work particularly well with the tulip skirt. Puffed sleeves echo the skirts full shape, but sleeveless or strapless ones are also excellent choices.
For evening wear, women can play with colours. Contrast between skirt and top can be very striking, or, for a more subtle look, they can be of a similar palette.
Shoes
High heels ensure that the outfit is formal and dressy. For those who cannot wear them, pointed flats are a good alternative.
Accessories
Sheer, dark tights are an easy choice when it comes to evening wear, although bolder styles can experiment with coloured, semi-sheer hosiery.
Clutch purses are a great way to carry personal items without overburdening the outfit. They can be leather, or fabric embroidered with beads or sequins.
Jewellery can be kept simple: a strand of pearls, stud earrings, or an eye-catching bracelet may be all that is needed. However, clubwear is an opportunity for dramatic accessories like long earrings or other costume jewelry items.
How to Buy a Tulip Skirt on eBay
eBay's online auction website has a range of tulip skirts from which to choose. To begin, go to eBay's home page and type keywords, such as "silk tulip skirt", into the search bar. You can narrow the results by certain limiting factors, such as size, seller's location, and more. eBay's Search Tips page has additional information about how to find what you're looking for more efficiently.
Before bidding on a skirt, pay close attention to the product description. It should contain all necessary information, such as manufacturer, size, materials, and the seller's return policy. If you have any questions, eBay makes it easy to ask the seller a question.
Reading information about the seller is another way to help ensure a successful transaction. A high positive feedback rating is usually an indication that the seller is knowledgeable and reliable; you can also read specific feedback from previous customers, particularly pertaining to fashion items similar to the one you're interested in. Top-rated sellers have earned their status by consistently providing the highest level of customer satisfaction.
Conclusion
Tulip skirts can be recognised by their full hips, narrow waist, and tapered hemline. This inverted-tulip shape was first popularised by Christian Dior in the mid-twentieth century, and it returned some fifty years later. With its feminine curves and delicate pleats, the tulip skirt is a versatile fashion item that flatters many different body types, and can be worn for casual, business, and formal occasions, depending on how it is styled. Women considering purchasing a tulip skirt may find it useful to consider what tops, shoes, and accessories they can pair with it for different situations.
No matter what the occasion, tulip skirts tend to look their best with fitted tops tucked in, or soft, draping blouses either tucked in or untucked and belted. It is important that the waistline remain emphasised in order to balance the fullness of the hip. The occasion dictates how fancy the top, shoes, and accessories should be, but women should keep in mind that the tulip skirt itself has a lot of elegance, so styling it is often a fairly simple process.