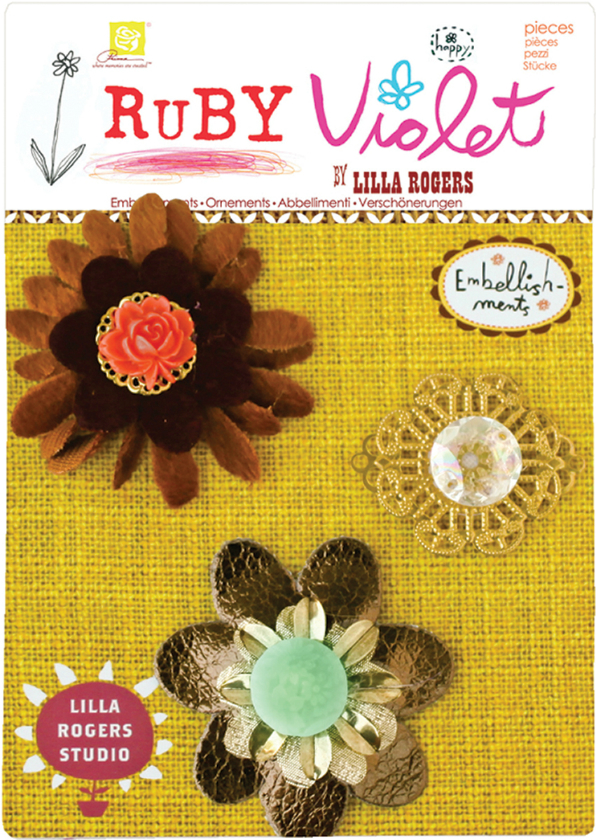 Floral embellishments make beautiful decorations for scrapbooking, cardmaking, and a host of other types of crafts. They come in a variety of styles, colours, and sizes, and are created with many types of materials. For consumers who like to craft, floral embellishments are a great way to adorn items and give them a springtime feel. They are also good for party invitations or wedding invitations, thank-you cards, baby shower invitations, or to decorate gift wrap or gift bags for presents.
Floral embellishments also make fun hair barrettes and headbands, and they can be used to decorate clothing as well. Consumers can make creative centrepieces using floral embellishments and fabric, felt, or chenille stems. There are many things consumers can do with easy-to-use floral embellishments, and there are plenty of types of floral embellishments to choose from on eBay. Buyers can choose floral embellishments by colour, size, style, and many other options from the wide selection of floral embellishments available for purchase.
Floral Embellishment Styles
There are many types of floral embellishments, and they are all great for crafting, though some embellishments may be better suited to some craft mediums, such as cardmaking or scrapbooking. Buyers can select the right type of floral embellishment based on what types of crafts they desire embellishments for.
Floral Trim, Tape, and Ribbons
A fun way to add a border around photo frames, scrapbook pages, or handmade greeting cards is to use floral embellished trim or tape. Floral tape is easy to use because it already has an adhesive backing. Floral ribbon or trim is simply glued into place on paper or gift-wrapped packages for an added touch of decoration.
Floral ribbon can also be sewn around the edges of homemade aprons or around the sleeves of shirts, or floral ribbon can be used to tie around decorative baskets or containers for centrepieces. Floral ribbon also makes beautiful bows for hair or for presents. Consumers who enjoy making wreaths may want to add floral ribbon to bright springtime wreaths.
Satin and Cloth Flowers
The most popular type of floral embellishments are satin flowers. Small satin flowers are used commonly in scrapbooking, cardmaking, and many other types of paper crafts. They can easily be glued to paper. Cloth and satin flowers are used to make necklaces, hair accessories, pins and brooches, rings, and adornments for presents.
Satin flowers are made with satin ribbon and come in many colours and sizes. Cloth flowers are made from different types of cloth, lace, tulle, and felt, and there are even flowers crocheted from yarn. These floral appliqués are also used for clothing as well as paper crafts, and they are very versatile.
Floral Stones and Gems
Flower-shaped stones which are self-adhesive are an easy and convenient way to decorate paper crafts. Floral embellishments that look like stones are shiny, sparkly, and come in a variety of colours. They are simply three-dimensional stickers that add shine and glitter to cards, invitations, and scrapbook pages. These are also called floral gems.
Floral gems and stones generally come on sheets in large batches, and they are usually small, though stones of varied sizes are available. Floral gems are made to look like a variety of gemstones such as rubies or diamonds, and there are even pearlised floral gems available. Some floral gems are called diamante gems, which simply means they are shiny and look similar to diamonds or crystals.
Floral Stickers
Floral stickers are often used for paper crafts. They are self-adhesive, and are made from a variety of materials, such as foam, felt, paper, or cotton. Floral stickers make great decorations for cards, invitations, gifts, gift tags, scrapbooks, and homemade stationary.
Floral stickers are solid coloured, made with glitter, look patterned, or they are three-dimensional. Some floral stickers come in sets with coordinating stickers such as leaves, butterflies, bows, or hearts which are complementary to each other in style or colour. Floral stickers sometimes look like real pressed flowers, which look nice in a scrapbook or on a card. These are easy to use, and an affordable way to use floral embellishments in many types of crafts.
Paper Flowers
Paper flowers, also called flower die-cuts, are a popular and versatile type of floral embellishment. These floral embellishments are used in a variety of mostly paper crafts, due to their affordability and ease of use. They are glued to cards, bags, scrapbook pages, and photo frames, and they come in a large variety of shapes, sizes, and colours for every crafting need. Paper flowers or die-cut flowers are generally made of light card stock or chipboard.
Flower die-cuts are created using a die-cut machine, or they are purchased pre-cut into various shapes. They usually come in batches of many flowers, and they are either patterned or solid coloured. Paper flowers with more intricate designs have cut out designs in the centre, creating a lace look for added decoration.
Floral Sequins and Beads
Flower-shaped beads are used for making jewellery, embroidering onto clothing, or in a variety of other crafts such as hair accessories or gift tags. Small flower sequin embellishments add shine to many types of crafts and come in many colours and sizes. Flat-backed flower resin beads are glued to paper crafts to add a neat three-dimensional aspect to crafts, and they are also shiny and come in many colours.
Floral beads are also used on buttons, hair accessories, and bridal bouquets. Floral sequins are glued to paper crafts easily for sparkle and shine. Floral beads are made with glass, plastic, or resin, among other types of materials.
Selecting the Right Floral Embellishments
Buyers can cut costs and save time by knowing exactly what type of embellishments work for the projects they are creating. Certain types of floral embellishments work best in some mediums, so consumers should consider the type of craft they are working on when purchasing floral embellishments for a variety decorating and crafting purposes.
Type of Craft

Best Floral Embellishments

Supplies Needed to Secure Floral Embellishments

Scrapbooking

Paper flower die-cuts

Stickers

Floral gems

Floral tape

Craft glue

Cardmaking

Die-cuts

Stickers

Stones and gems

Trim, ribbons, tape

Sequins

Craft glue

Jewellery

Floral beads

Floral sequins

Satin and ribbon roses

Cloth flowers

Needle and thread

Hot glue gun or craft glue

Hair accessories

Satin and ribbon roses

Floral beads

Cloth flowers

Crocheted flowers

Coordinating items such as leaves, bows, or butterflies

Needle and thread

Hot glue gun or craft glue

Craft wire or twine to wrap flowers around headbands or barrettes

Gift wrapping and packaging

Floral beads

Die-cut flowers

Trim and tape

Sequins

Crystals

Cloth flowers

Floral stickers

String or ribbon

Hot glue gun or craft glue
Consumers should get creative and think outside the box when using floral embellishments to create unique, eye-catching, and one-of-a-kind crafts for themselves and family members. Handcrafted items also make great gifts, party favours, invitations, and thank-you cards which recipients can treasure. Floral embellishments such as stickers and gems are also easy for kids to use for crafting and making frames, cards, and paper crafts quite simply.
How to Buy Floral Embellishments on eBay
There are so many types of floral embellishments on eBay; you may not know where to start. If you are an eBay beginner, you can appreciate how easy it is to search for what you need using eBay's user-friendly home page to key in your search for floral embellishments. You can narrow the search by selecting the colour of floral embellishments you are looking for, or simply enjoy scrolling through all of the available options to get creative inspiration for your next project.
Check the seller's listing carefully; some floral embellishments come in large quantities, so make sure that you are getting exactly what you need. Compare products by price and type, and make a final selection based on what seems like the best buy for your money.
A good rule of thumb is to always purchase items from merchants who are Top-rated sellers to ensure a smooth purchasing process. Read all of the seller's feedback, and contribute your own once you have received your items and have finished your transaction. Feedback helps sellers and buyers, so do not forget to leave yours.
Conclusion
Consumers do not have to be expert crafters to create something unique and one-of-a-kind. Using decorations like floral embellishments makes crafting easy, whether consumers are making scrapbook pages for memory books, creating homemade photo frames, or adding some pizzazz to plain T-shirts.
Floral embellishments range from easy-to-use, self-adhesive stickers to beautiful beads which can be strung onto a necklace or bracelet. Satin and ribbon flowers are becoming increasingly popular when it comes to creating handmade headbands, clips, barrettes, and other hair accessories, and making them at home can save consumers money.
Buyers can use floral embellishments to make a special bridal bouquet or corsages, unique invitations to a party or special event, gift wrapping, or a three-dimensional card for someone special. Floral embellishments are commonly used when scrapbooking and are used to make many types of trendy jewellery without having to spend top dollar for them at retailers. Consumers can easily create crafts that look expensive with affordable floral embellishments purchased on eBay.