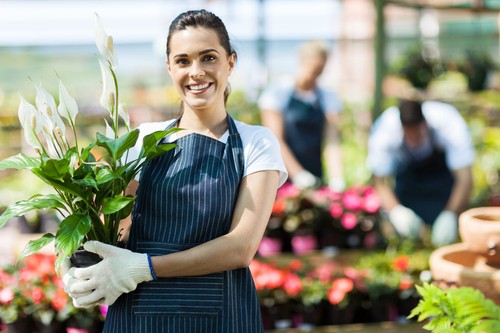 In order to be able to create professional florist arrangements, a person needs the right floral supplies. An important piece in the arsenal of any florist, professional or amateur, is floral foam, whose main function is to keep the flowers in place. There are different types of floral foam available on the market and each of them is suitable for different types of arrangements and stems. Buyers should consider a number of characteristics before purchasing floral foam in a specialised store or online.
Floral foam is a florist's favourite because of its versatility and ease of use. Whether buyers are looking for floral foam for making their own wedding flower arrangements or for professional use, it is important to learn more about the characteristics of this floral tool and how to choose the right one for a specific project. Shopping around and comparing as many types of floral foam as possible is an excellent way to make sure the choice is right.
What is Floral Foam?
Floral foam is one of the most commonly used supplies for flower arranging and its main function is to keep an arrangement in place. It was invented in the early 1940s by Vernon Smithers, a chemist who used synthetic substances and resins to prevent the growth of bacteria. This procedure offered an extended life to the flowers in an arrangement and also made it possible for florists to come up with any design and arrangement they desired. Floral foam allows users to insert the stems at any angle. The foam is available in various shapes and sizes or can be cut to size.
Things to Consider when Buying Floral Foam
Buyers should pay attention to a few things before choosing a specific type of floral foam. They should first make sure that the product they buy can absorb water rather quickly in order to avoid having to spend too much time waiting for the flowers to get enough water. Good quality floral foam does not have any dry spots inside it, so one should be able to use it straight away for flower arranging. In order for the original shape of the flower arrangement to be preserved, the foam should not crumble. In addition to that, the floral foam should retain the absorbed water for an extended period of time so that the flowers can last longer. Last but not least, good quality floral foam should be able to hold the weight of the flowers.
Types of Floral Foam
There are several different types of floral foam, but the most popular of them can be easily cut to fit the size of a particular container. A common foam type is water holding floral foam, also called wet floral foam, and is ideal for fresh flowers. A popular brand of wet floral foam is Oasis, a trademark sometimes used as a synonym for water-holding floral foam. Dry foam, also called plastic foam, is another type of floral foam. Dry foam cannot be soaked in water, and thus works well with silk or dry flower arrangements.
Wet vs. Dry Flower Foam
Wet foam, which, despite the name, is sold dry, can be watered and works well when used with fresh flowers. This type of foam is fine and compact and has a high degree of water absorbency. It comes in a wide range of forms, including jumbo blocks, balls, cylinders, cones, and bricks. Plastic holders are available with wet foam and they are useful when it comes to bridal bouquets. Dry foam, on the other hand, is coarse and non-porous and is mostly used for artificial flower arrangements. Special flower arrangements can be made even more sophisticated by using coloured wet foam, which comes in block, cube, cylinder, sphere, and powder form. Buyers can choose from several colours and the choice should be based on the particular colour palette of a flower arrangement.
Floral Foam Density
Different types of floral foam have different densities. Density is important when making flower arrangements because not all types of flowers work well with the same kind of floral foam. The table below illustrates the main types of floral foam according to density as well as their main characteristics and usage. This may help buyers make the right choice for their specific flower arrangement.
| Type of Floral Foam | Main Characteristics and Usage |
| --- | --- |
| All purpose floral foam | Works with most flower arrangements; features holes for faster water absorption; often comes in bricks for easy use |
| Light density floral foam | Suitable for flowers with delicate stems such as tulips, daffodils, and irises |
| Medium density floral foam | Ideal for everyday designs with carnations, roses, liatris |
| Heavy density floral foam | Suitable for flowers with large stems, including protea, tropical flowers, and ginger |
When shopping for floral foam, buyers should remember that in the majority of cases the word 'instant' on a package means that the foam has ready-made holes for faster water absorption. As a rule of thumb, a regular sized floral foam brick can hold approximately two litres of water. Since not all flowers have the same lifespan, buyers should buy floral foam accordingly.
Tips for Using Floral Foam
Floral foam can offer florists great results when used properly. It is easy to make mistakes when working with floral foam, especially for beginners. By following a few tips, buyers can make sure the floral foam they purchase is used correctly and allows them to create glamorous flower arrangements.
The golden rule of using floral foam successfully is to let the foam sit on water without attempting to apply water from top or push it into the water. As wet floral foam comes in blocks of different sizes. Users can choose to cut it with a special knife in order to fit the size of the container of their choice. One should be careful when placing the foam into the container, as pressing on it too hard may cause the water to exit the foam. In order to fix the foam in its location, one can use a tape, which can be folded and inserted into the foam.
It is always a good idea to use a single block of floral foam for an arrangement, as using multiple blocks may not provide the same results. When inserting the flowers into the foam, users should avoid inserting the same flowers multiple times, as this may lead to loss of water due to unnecessary holes in the foam. Users should also avoid inserting flowers in the same place because this may minimise the holding effect of the foam. Those who are looking to create a floral arrangement that consists of flowers with considerable volume and height should measure the container and allow some foam for its opening. Users who wish to save foam may place some other material on the bottom of a container, especially if it is a large one, and place the foam on top of it.
How to Find Floral Foam on eBay
Shopping for floral foam may not be too easy especially if you are not an expert florist. There are many factors to take into account prior to purchasing this type of florist's supply. A good approach is to look at as many types of foam as possible before making a decision. An excellent location to do so is eBay, as the website offers a large selection of brands and models, allowing you to find exactly the type of floral foam you may need for your floral arrangements.
In order to start searching for floral foam on eBay all you need to do is type the words 'floral foam' into the search bar located on every page of the website. If you think the number of results you get is too large, you can choose to narrow them down according to your preferences and budget. Additionally, you can use more search terms if you know exactly what type and brand of floral foam you are looking to buy on eBay. Remember to read the product description carefully in order to avoid having to send the item back because it is not a good fit for your floral arrangement. If you want to save some money, you can choose to buy from an eBay seller located in your area in order to take advantage of smaller delivery fees.
Conclusion
The availability of floral foam has made it possible for anyone to make professional floral arrangements. Whether buyers are interested in making everyday arrangements or sophisticated wedding flower arrangements, floral foam is an indispensable tool for spectacular results. Floral foam can be used by amateurs and professionals alike as it does not require any special set of skills. All it takes for obtaining great results is a block of high-quality foam, flowers, and a bit of imagination.
Buyers can shop for floral foam in stores specialised in florists' supplies or online on websites such as eBay. The advantage of shopping on eBay resides in the fact that one has access to a large selection of products from different sellers. The time spent shopping for floral foam is diminished when shopping online, as the right product is often just one click away. Thus, regardless of the type of floral foam buyers may be looking for, chances are that eBay can help them find it without too much hassle.