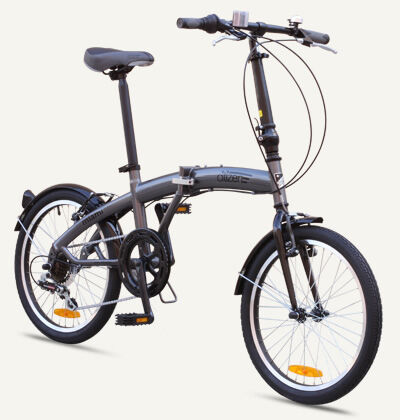 Folding bikes have been available to consumers for well over 100 years now and are still extremely popular with cyclists who are looking for a portable transport solution. More and more people, especially commuters and casual cyclists are choosing to invest in a good quality folding bike, due to the fact that they offer users a simple and environmentally friendly way of travelling around town.
There are often hundreds of folding bikes listed on eBay at any one time and shoppers searching for their ideal bike often find that eBay offers a quick and easy way to find what they're looking for. This guide looks at what buyers should be looking for when purchasing a folding bike as well as useful advice on buying a bike on eBay specifically.
What is a Folding Bike?
Folding bikes are categorised by their ability to be collapsed into a manageable shape, which gives cyclists the ability to take their bike with them on public transport, store them in small spaces and make them easily transportable in general.
There are a number of different groups of people who find folding bikes to be useful. This kind of bicycle is especially popular within cities and urban areas because they can be easily carried onto buses, trams and subway trains.
These bikes will have been designed specially to fold and unfold as quickly as possible to provide cyclists with the most convenience possible. Although generally still classified as folding bikes, some models in this category will be designed to snap into more than one piece to aid transportation of the bike even further.
Most folding bikes will come fitted with smaller wheels than the average mountain or road bicycles; this is another feature that is incorporated into the bike's design to make it more portable. Buyers can expect to find that most folding bikes have wheels that have a diameter of between 20 and 26 inches.
Due to the design requirements of a folding bike, most do not come with a traditional "diamond" shaped frame, instead, manufacturers have become creative in order to come up with frame designs which make the bike as easy as possible to deconstruct and carry. This is good for consumers as it ultimately gives them more choice when they are looking for folding bikes.
Which Methods of Folding are Common?
Unlike road bikes, there is no standard model from which folding bicycles are constructed, which means there is often much variation between different manufacturer's bikes. One of the most common differences that buyers will find when looking to purchase this type of bike is that the folding mechanism is often very different from one model to the next. Below is a guide to the three most common methods of deconstruction for folding bikes, outlining each design's merits and suggesting whom they may suit best.
Mid Fold
As the name suggests, bike models that are described as being mid fold will have their hinges situated roughly at the middle of the bike's frame. Mid fold models are usually seen as the simplest form of folding bike. One advantage that this kind of bike holds over other designs is that they are extremely quick to both collapse and construct again, saving a cyclist time that they may otherwise have to spend fiddling with a complicated folding mechanism.
Mid fold bikes are perfect for commuters as they are as public transport friendly as any other form of folding bicycle, along with having the extra advantage of being quick and easy to collapse and construct, saving busy commuters time on their way to and from work.
Triangle Hinge
Similar to mid fold bikes, triangle hinge bikes tend to incorporate more than one join in the bike's frame in order to ensure that the bike can collapse down into the smallest possible package. The most commonly used triangle hinge design allows the whole rear section of the bike to be folded inwards, along with another hinge on the steering column of the vehicle which folds the front end inwards.
Triangle hinge bikes are often the most compact type of folding bikes due to their clever mechanism. This means that they are a great option for almost anyone who is looking for this kind of bicycle. It's a great idea for drivers to keep a triangle hinge folding bike in the boot of their car in case of emergencies; they hardly take up any space and can be ready to use in a matter of seconds.
Breakaway Bike
Bikes that are constructed to collapse in this fashion are not strictly folding bikes as they do not have any form of folding mechanism, they are however usually grouped along with more traditional folding bikes as they serve the same purpose and are extremely similar bikes in general. Breakaway bikes are characterised by the fact that they are designed so that the rider can detach various parts of the frame from one another, to try and give cyclists the most convenience possible when it comes to transportation of the bike.
Although these bikes have a disadvantage over the other two common types of folding mechanism due to the fact that they take longer to construct and deconstruct, they are still very popular thanks to the compact nature of the design. It is not uncommon to be able to purchase carry cases for breakaway bikes which make carrying the bike anywhere a much more comfortable process.
What Else to Look For in a Folding Bike
Shoppers who are keen to find a great deal on a folding bike will also need to take a number of other factors into consideration if they want to be completely happy with their purchase. Here is a list of things that are worth bearing in mind when looking for the perfect folding bike:
It's likely that anyone who is interested in this kind of bike will be attracted to the idea of portability. One of the most important qualities that a good portable bike should have is its weight. A lightweight folding bike represents the best value in usability, whilst an overly heavy bike is likely to become an annoyance during transportation. It's a good idea to look for a bike with a chromoly alloy or titanium frame to ensure that the bike will be as light as possible.
Anyone who has decided to buy a folding bicycle will be glad to hear that there is a massively wide price range for this kind of bike so cyclists with virtually any budget will be able to find a model, which will be satisfactory for their needs. At the lower end of the range, eBay will often have listings for second hand folding bikes, which despite still often being in fantastic condition can be purchased for under £50. At the upper end, specially designed folding bikes with carbon fibre frames, drop handlebars and racing wheels will cost as much as £3000. Whilst these models sound expensive, they are the best performing folding bikes that money can buy and any cyclist with a large budget should see one as an option.
It is not uncommon to see electric folding bikes listed on eBay. Prices for these bikes start at around the £1500 area, but any city cyclist who finds this kind of model is within their budget should consider one as an option. Electric bicycles are fitted with a small electric motor with generates enough power to ease the strain on cyclists when pedalling uphill or accelerating away from junctions. They are particularly popular with commuters as they can arrive at work feeling less hot and sweaty than they would if they were pedalling a bike that was not fitted with a motor.
Buying Folding Bikes on eBay
Consumers often find that eBay is one of the best places online to shop for folding bicycles, not only because of the amount of choice on offer but also the great deals that are available on the bikes across this wide selection. Here are some tips on searching for a folding bike on eBay:
Use the tailored search functions, which are designed to help users find exactly what they are looking for. Simply search for "folding bikes" in the search bar at the top of the page, then use the filters on the left hand side of the page to narrow the results down a little.
For example, eBay users can browse folding bikes based on their brand, frame size, frame colour, frame material, wheel size and more. This insures that users only see bikes that they would potentially be interested in buying, making finding the perfect item fast and simple.
Another useful search function is the search by price filter. This enables users to manually enter the lowest and highest prices they are willing to pay for their new bike, which allows them to be confident in the fact that they will not overspend and they will be able to find the ideal folding bike whilst keeping on budget.