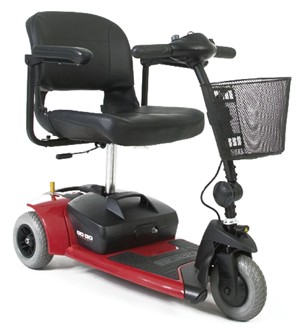 Folding mobility scooters, also known as travel scooters, are designed for people who have difficulty getting around but still maintain enough mobility without being confined to wheelchairs. The concept of the mobility scooter is to give people who otherwise do not have the opportunity, the capability and freedom of movement to enjoy places and events outside their own homes. Mobility scooters are an excellent alternative to wheelchairs because they provide their own source of power, which makes them nearly effortless for an individual to use.
When looking for a folding mobility scooter to purchase, there are several things for the buyer to consider, along with determining the primary purpose of the scooter. To make an informed decision, it helps the buyer to be aware of the various benefits of folding mobility scooters, understanding the ideal type of scooter that can accommodate the individual's needs. It is also of value to gain an understanding of how a folding scooter can be transported. Although folding mobility scooters are available at specialty retail shops, one can access a great selection online at eBay.
Benefits of a Folding Mobility Scooter
The main benefits of a folding mobility scooter lie in its compact size and ease of use. These scooters are easily taken down and transported and then reassembled. Folding mobility scooters can be taken anywhere that a wheelchair can go and offer individuals comfort and ease of use.
Compact and Portable
The primary advantage of folding mobility scooters is that they are small in size and easy to transport from location to location. Prior to the advent of mobility scooters, people with mobility issues were relegated to wheelchairs that were difficult to use on uneven terrain. Individuals with limited use of their arms or lack of strength in the upper body required assistance in wheelchairs. Folding mobility scooters are motorised, allowing the user to operate the unit with little effort. They are also easily broken down into a compact unit for ease of transport in the boot of a vehicle.
Indoor Manoeuvrability
Folding mobility scooters are small in size and thus inherently manoeuvrable in tight indoor spaces. Mobility scooters have the ability to turn in a tight radius that allows them to be easily manoeuvrable in areas such as kitchens and bedrooms.
Light in Weight
Folding mobility scooters are designed to be easy to transport, thus they are lightweight and can be broken down into several components that each weigh less than 14 kg. Often, the battery pack is among the heavier components of the scooter. Overall weight of a mobility scooter can vary depending on the size of the unit and the type of components used to construct it. Many scooters utilise lightweight materials made from plastics and aluminium that offer an excellent blend of weight and strength.
Comfort
Folding mobility scooters are designed to offer comfort to their users. Individuals who require the assistance of a powered scooter may need to sit for long periods of time and operate the scooter in tight and narrow spaces. Therefore, it is vital that the unit is designed with a comfortable chair and controls that are easy to reach. Many scooters offer chairs that are mounted on a swivel so that the user can turn to the side in order to easily mount and dismount the scooter. Quality scooters also have comfortably-positioned steering handles and thumb levers that are easy to reach and manipulate to control movement and speed. They also have an area where the user can place his or her feet in a manner that promotes comfort.
Capabilities
Folding mobility scooters are manufactured with different capabilities to address the unique needs of different users. Once the main purpose of a folding scooter to be purchased has been established, the buyer can better gauge the size and capabilities of the scooter needed.
Scooters vary in price, depending on the options selected. Three-wheeled scooters feature a turning radius between 76 cm to 122 cm while four-wheeled versions are capable of turning in 96 cm to 127 cm. Weight capacity of folding scooters can vary from approximately 113 kg up to 160 kg, depending on the quality of construction. Folding scooters have a battery range that can power the scooter from 11 km to 32 km per battery charge at speeds up to 8 km per hour. Generally, the longer the range capability and the higher the speed of a scooter, the larger, heavier, and more expensive it is likely to be.
Types of Folding Mobility Scooters
There are two main types of folding mobility scooters. Each type offers advantages to the user. The decision regarding the type depends upon the needs of the user, along with the purpose of the scooter.
Three Wheel Scooters
Three wheel scooters feature two wheels, designed for carrying the majority of the weight, at the rear of the scooter and one wheel in the front, to steer the scooter.
The advantage of a three wheel scooter is that it is lighter in weight because it has only one wheel in front rather than two. Another advantage is that three-wheeled scooters are highly manoeuvrable. This is because they have a tighter turning radius owing to the fact that they only have to turn one wheel as opposed to two. These scooters can more easily fit into tighter spaces as well.
The main disadvantage of a three-wheeled scooter is that it is not as stable as the four-wheeled version, and there is not as much legroom for the user. Three wheel scooters are ideal for people who need the smaller and more easily portable scooters. These scooters are ideally suited for indoor use, but they can accommodate the outdoors as well.
Four Wheel Scooters
Four wheel scooters are generally larger than their three-wheeled counterparts and are more stable. Four-wheeled scooters feature two wheels at the rear of the unit for bearing the majority of the load, and the two wheels in the front of the unit are utilised for steering.
Four-wheeled scooters do not offer the same tight turning radius as three-wheeled scooters, but they make up for that disadvantage by being more stable and having more legroom. The main drawback to the four-wheeled scooter is that is is heavier than the three-wheeled version and more awkward to deal with when breaking down for transport. Four wheel scooters are better suited to outdoor usage due to their higher stability and larger size.
Breaking Down a Folding Mobility Scooter for Transport
All folding mobility scooters and travel scooters break down for ease of transport and can fit into many types of vehicles. Scooters are often classified according to their overall weight when assembled as well as how heavy their individual pieces are. The process for breaking down a scooter for transport is easily performed without requiring special mechanical knowledge.
| Step | Description |
| --- | --- |
| 1. | Remove seat from scooter; some units allow seat to be folded down onto the main frame of the unit |
| 2. | Remove battery pack in preparation for transport |
| 3. | Remove retaining clips that secure front half of scooter to rear half of scooter; some scooters break in half completely, while others fold onto themselves |
| 4. | Fold down the steering column and steering wheel, or remove the assembly if able to do so |
| 5. | Place the various components into the boot of vehicle for transport |
Mobility scooters are specifically designed so that individuals with mobility challenges can easily put together and take apart the scooter without assistance. Users should pay particular attention to the weight of the heavier components in the folding scooter to be sure they can lift the components without assistance.
Buying a Folding Mobility Scooter on eBay
Once you have decided to purchase a folding mobility scooter, the next step is the take advantage of the powerful search tools available on eBay to help you search for a unit that can ideally suit your needs. You can begin your search by navigating to the eBay home page where you can enter a term such as "folding mobility scooter" into the search box. A list of applicable auctions are displayed that relate to the keywords entered, and you can browse through the results until you find a unit that meets your needs. If the list is too long, you can refine the search by selecting from various subcategories, including condition and price range, to help narrow the search results to a more manageable number.
Once you have found the scooter you are looking for, make sure to check the feedback rating of the seller prior to committing to the purchase. It is important to always do business with a seller with positive ratings and good feedback from customers. This helps you feel confident as you do business with such a seller.
Conclusion
Folding mobility scooters have been instrumental in opening up new possibilities for individuals who are incapable of moving around effectively on their own. Mobility scooters give individuals with physical challenges a way to enjoy the surroundings outside of their homes and outdoors without the need for depending on someone else to help them. This independence can go a long way towards giving physically challenged individuals more confidence to engage in their activities.
Folding mobility scooters are designed to be easy to take down and transport without the need for special tools or knowledge, and their compact and lightweight design ensures that people can accomplish this on their own. These scooters are comfortable to use for long periods of time, and their capabilities can be matched to accommodate the user's needs. Thanks to an online auction site such as eBay, it is possible for a shopper to find a folding mobility scooter that fits his or her budget while meeting specific requirements.