Capri 3000E
This is one of many illustrated classic car guides I've created for the community. I hope you enjoy it. If you wish to find out more about the classic Ford Executive car art featured in this guide please click here.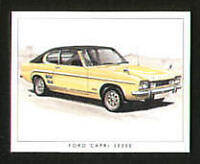 It was March 1970 when the E for Executive marketing suffix was applied to the Capri to produce a £1,541 3000E flagship. Replacing the 3000GT at the top of the range, the 3000E carried all the usual X, L, R options and added some extra touches such as a vinyl roof, pushbutton Ford branded radio, electric rear screen, opening rear quarter windows and very welcome cloth inserts for the seats. Fitted with the "Essex" coded ex-Zodiac V6 engine, the early 3000Es provided a performance little better than that of the 2-litre V4 models, although from October 1971 the 3000E and 3000GT were fitted with an improved engine and were now capable of 122mph and a 0-60mph in just 8.4 seconds. At the time Ford described them as the "fastest production line cars ever to marketed by Ford of Britain".
If you would like to see more guides on Ford Executive cars please click!
Thank you for reading my guide and I hope you found it interesting!