Ford Capri Mk3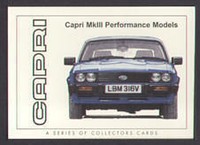 This is one of many mini illustrated classic car guides I've created for the community. I hope you enjoy it and if you would like to find out more about the classic Ford Capri Mk3 car art featured in this guide please click here.
The third-generation Capri which arrived in March 1978 was mechanically similar to equivalent Capri 2s, but used a revised body with new grille, bumpers and front valance incorporating airdam, together with four headlamps and extended bonnet leading edge. The UK range at launch was as follows: 1300L/GL, 1600L/GL, 1600S, 2.0GL, S or ghia and 3.0S or Ghia.
Capri 3000S 1978-1981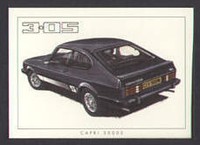 The third-generation Capris were introduced at the Geneva Show in March 1978, allegedly with 150 revisions, but in practice little different from their predecessors. The new extended bonnet gave the headlamps a sort of eyebrow effect. The S models ran on Ghia wheels but gained a soft plastic rear spoiler and prominent S side striping. Desirable extras from the options list were Recaro seats (75.84), headlamp washers (56.14) and a high quality steel sunroof (£146).
If you would like to see more guides on classic Ford Capri Mk3 cars please click!