Ford Cortina 1600E 1967
This is one of many illustrated classic car guides I've created for the community. I hope you enjoy it. If you wish to find out more about the classic Ford Executive car art featured in this guide please click here.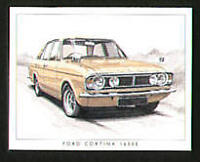 Following the success of the Corsair 2000E, the Cortina 1600E joined the Executive range in October 1967. Created to fit between the GT and Lotus in the Cortina range, the 1600E succeeded brilliantly with over 58,000 examples being built in its three-year production life. The package was excellent, there was the usual "E" refinements inside the car such as wooden facia and plush seats and on the outside, sporty Rostyle wheels, driving lamps and neat black rear panel. The near-to-the-ground stance made the model both distinctive and desirable. Performance was good, using an updated version of the "Kent" cross-flow with a capacity of 1599cc and producing 88bhp, the top speed of the 1600E was around 98mph with 0-60mph acceleration in around 12 seconds. Price when new in 1967, £982. All home market 1600Es were four-door but a few two-door cars were built for export only.
If you would like to see more guides on Ford Executive cars please click!
Thank you for reading my guide and I hope you found it interesting!