Executive Zodiac
This is one of many illustrated classic car guides I've created for the community. I hope you enjoy it. If you wish to find out more about the classic Ford Executive car art featured in this guide please click here.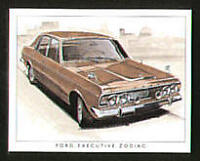 The luxurious Zodiac Executive first appeared in October 1966 and headed the Mk4 range with a remarkably comprehensive standard specification. Power steering was standard as was the steel-panel sliding sunroof. No-cost options were cloth upholstery in place of the standard hide (or vinyl), metallic paint, and the manual gearbox plus overdrive rather than the standard automatic transmission. Test by the motoring press early in 1967, the V6 Executive was found to be "a genuine 100mph car" and despite a laden weight of 31 ½ CWT, accelerated from rest to 60mph in just 13.1 seconds. A fine car, the Zodiac Executive laid down the foundation of the "all in" theme and later models in the Ford range were given the executive treatment with a great deal of success. Metallic colours included Silver Fox, Fern Green, Sapphire Blue, Evergreen, Glacier Blue, Pacific Blue, and Tawny.
If you would like to see more guides on Ford Executive cars please click!
Thank you for reading my guide and I hope you found it interesting!