Formula 1
This is one of many illustrated classic F1 racing guides I've created for the community. I hope you enjoy it. If you wish to find out more about the classic F1 racing art featured in this guide please click here.
This guide features several legendary F1 drivers.
Satoru Nakajima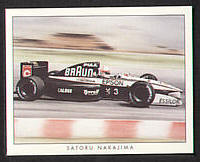 Satoru Nakajima was Honda's representative on the grid in the late eighties and was Japan's first regular Formula One Grand Prix driver. Ayrton Senna's team-mate at Lotus in 1987 and then teamed with Nelson Piquet in 1988 and 1989 (Lotus), Satoru was a worthy ambassador for the Honda company without posing a threat to his more highly regarded team-mates. His best finish was fourth at Adelaide in 1989 and his last two seasons were spent with the Tyrrell team before he quit at the end of 1991. His best finish in the championship was eleventh position overall in 1987 driving a Lotus. Total Grand Prix drives, 74. Since his retirement from Formula One, he has run a team in both Japanese Formula 3000 and Formula Three developing the next generation of Japanese racing drivers.
Andrea de Cesaris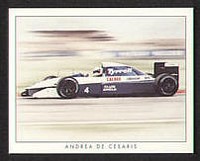 World champion in karts and a strong contender in British Formula Three, Andrea made his Formula One debut with Alfa-Romeo in 1980. He soon became known for his somewhat unpredictable driving style racing for McLaren in 1981. 1982 and 1983 were spent with Alfa-Romeo, where he produced third place at Monaco (a race he could have won), before moving to Ligier for 1984. Two seasons with Ligier produced little so it was on to Minardi, then Brabham, then Rial, then Dallara, then Tyrrell, Jordan again and finally to Sauber before his Formula One career ended in 1994. The second most experienced Formula One driver behind Riccardo Patrese, although without a win. Best race result, a second place in the German Grand Prix of 1983 and finished eighth for the title overall in 1983. Total Grand Prix drives, 208.
Nigel Mansell

Nigel's Formula One debut was for Lotus in 1980 and his first Grand Prix victory was for williams in 1985. 1986 saw five Grand Prix victories yet through cruel luck, no title. An accident in qualifying ruined his title hopes again in 1987 after six wins and it was beginning to look as if Nigel Mansell was to be the "nearly man" of Formula 1. In a bold move to Ferrari in 1989 he won his first race and the instant adoration of the Italian fans, but only finished fourth. 1990 with Ferrari was a disaster finishing ninth overall so it was back to Williams and winning ways in 1991. Five wins however were not enough with Nigel still having to play second fiddle to Ayrton Senna's McLaren. Finally in 1992 it all came right, Mansell storming to nine victories in a Williams-Renault that was in a class of its own. He still drove magnificently. After moving to Indy Cars in 1993 and incredibly taking the title at his first attempt, Mansell returned to Williams mid-season in 1994 before joining McLaren in 1995. He retired after just two races.
Damon Hill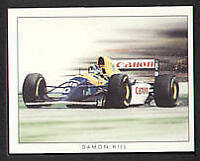 As a relatively late starter to car racing in 1984 with Formula Ford, Damon soon progressed into British Formula Three and then Formula 3000 before gaining his first F1 drive in 1992. Signed by Williams in 1993 to drive alongside three-time world champion Alain Prost, he gained three victories and finished third overall. Staying with Williams in 1994, this time with Ayrton Senna as team-mate, Damon was thrust into the role of team leader after the Brazillian's death and in a season burdened with Michael Schumacher's disqualifications closed a huge points gap to set up a grand finale at the Australian Grand Prix. Sadly for Hill, Schumacher's now famous chopping move just before mid-distance took out both himself and Hill, leaving Schumacher as champion by just one point. There were only four wins for Damon in 1995, enough to give him second place in the championship again.
Johnny Herbert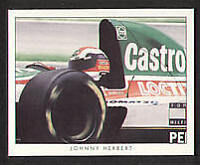 Johnny Herbert's talent was recognised when he won-from-the-back during the 1985 Formula Ford Festival. In 1987 he took the British Formula Three title and he was looking set for the 1988 Formula 3000 title when he suffered terrible leg injuries in a pile-up at Brands Hatch on the very day he had signed his Formula One contract with Benetton. Fighting back to health, Johnny produced an amazing fourth place on his Formula One debut. Joined Lotus in 1990 and stayed until 1994 before returning to Benetton in 1995 to race alongside Michael Schumacher, a year which brought two Grand Prix wins, the British Grand Prix at Silverstone and the Italian Grand Prix at Monza. Johnny finished fourth place overall in the championship with 45 points. In the last race at Adelaide he suffered a broken driveshaft on lap 70, with only 11 to go. Had he finished the race he could have easily finished third in the drivers' championship.
Martin Brundle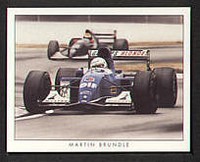 In 1983 Martin Brundle was racing in British Formula Three and made Ayrton Senna work very hard indeed for the title. For 1984 there was a Formula One drive for Tyrrell and after fifth place in his first Grand Prix in Brazil and a second to Piquet in Detroit the future looked good. Unfortunately at the next race Martin broke both ankles and later, to add insult to injury, Tyrrell were adjudged to be running illegal cars and all the teams results were cancelled. In 1986 he had four points scoring drives but 1987 was a disaster, after moving to Zakspeed. Drives for Brabham in 1989 and 1991 saw little improvement but signing for Benetton in 1992 was a good break and he finished sixth overall that year. For 1993 there was another move, this time to Ligier and a seventh place overall. He drove well again in 1994, this time for McLaren finishing seventh with two rostrum places. A return to Ligier was not very successful for 1995, Martin only achieving seven points in the Championship for an overall thirteenth position.
Michael Schumacher
After an eye catching debut in 1991, Michael was swiftly signed for Benetton where he became the key figure in the team's rise to the pinnacle of the Grand Prix world. It was soon clear that he possessed a special talent and during his first two seasons progressed rapidly to the position of pretender to Senna's throne. Sadly the terrible "black" weekend at Imola in 1994 saw the title pass to Michael Schumacher in the worst way possible; in the previous races he had shown that he had the car and the ability to stretch even Ayrton's talents to the maximum. In 1995 Michael Schumacher won the World Championship for a second time and became the first German to win his home Grand Prix since Rudolf Caracciola in 1939. Michael elected to move to Ferrari in 1996 taking the coveted "Number One" with him.
Ayrton Senna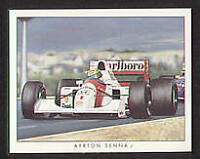 Ayrton was a natural talent. He won kart races from the time he started competing at eh age of thirteen, was Brazilian champion as soon as he was eligible for the senior ranks and when he came to Britain in 1991, won his third race at Formula Ford 1600. After British and European Formula 2000 titles, it was onto Formula Three for 1983 before Formula One and the Toleman team in 1984. His first win came for Lotus the next year, finishing fourth overall. He finished fourth overall again in 1986, with two wins and in 1987 he was third in the championship. Quicker progress was needed and McLaren provided a car to meet Senna's needs. Eight wins in 1988 gave him the title. His second and third World Championship titles followed in 1990 and 1991. When, at the San Marino Grand Prix on the 1st May 1994, Ayrton lost his life after hitting a wall at high speed, the sport lost one of its greatest figures, the ultimate sportsman and the fastest Formula One driver the world has ever seen.
Eddie Irvine

British Formula Ford champion in the mid-eighties, Eddie excelled at Formula Three in 1988 before moving to Formula 3000 with the Pacific Racing team in 1989 and the Jordan team in 1990. No Formula One drives were forthcoming so for the next three seasons Eddie raced sports cars and competed in Formula Three in Japan. The Formula One debut came at Suzuka with a sixth place. In 1994 Eddie was teamed with Rubens Barrichello at Jordan but his involvement in a huge accident in the opening round saw him banned for a race, later extended to three races after his attitude at the hearing. Once back he raced well for the rest of the season. For 1995 Eddie stayed with Jordan and drove well for his ten points and twelfth place overall. In the Canadian Grand Prix at the Circuit Giles Villeneuve, he finished third behind Jean Alesi and team-mate Rubens Barrichello. It was Jordan's finest race achievement in their five-year Formula One history.
David Coulthard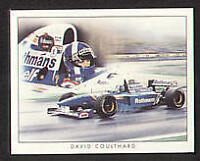 After a very successful career in karts, David graduated to Formula Ford in 1989 and drove so well that he was awarded the McLaren/Autosport Young Driver of the year award. Beaten by Rubens Barrichello in both the GM Euroseries and the 1991 British Formula Three series, Formula 3000 was tougher going and only ninth place overall in 1992 for Paul Stewart Racing was disappointing. After an improvement to third overall in 1993, David became a Williams test driver. His Grand Prix debut came in 1994, moving up to the top formula following Senna's death in the San Marino Grand Prix. The best that year was a second place in Portugal. 1995 was a very commendable first full year of Grand Prix racing bringing his first win in Portugal and a string of podium finishes. It wasn't enough however to stop him from being dropped in 1996 in favour of Jacques Villeneuve, son of late, great French-Canadian Giles.
Thank you for reading my guide and I hope you found it interesting!