Freebie in UK with every GREEN MAGAZINE while stocks last.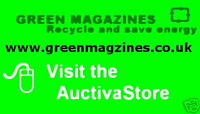 Should Ebayers include a freebie?
After long consideration GREENMAGAZINES is including a Freebie with all magazines, (while stocks last). It is a fridge magnet that helps you remember to recycle. It was considered, because it was difficult to find an environmentally friendly freebie. The fridge magnet was justified, as it does help increase recycling levels. So if you do want the freebie, just message GREENMAGAZINES via ebay or by email office@greenmagzines.co.uk
More Freebies
GREENMAGAZINES already send to you the reusable Degradamailer see the
Review
, and now you also receive the fridge magnet with every magazine while stocks last.