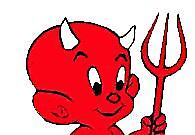 I make handmade fuffle! (Is it Fudge or Truffle?)
Available in many different flavours and sizes.

You can just eat it how it comes, but there are loads of other uses for it too!
Here are just a few ideas to get your tastebuds tingling.

Coffee or Hot Chocolate.

Just add a teaspoon of your favourite flavour Fudgeheaven fuffle to
coffee or Hot Chocolate for a naughty treat.
You'll never want an ordinary hot drink again!
Ice Cream




Soften some Fudgeheaven fuffle in a microwave
(do this gently in 5 - 10 second bursts to avoid over heating)
Swirl into your favourite vanilla ice cream.
Simple but gorgeous!
Cookies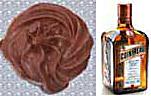 Ingredients:
4oz (110gms) butter
3oz (75gms) demarara sugar)
1dessert spoon Golden Syrup
4oz (110gms) self raising flour
pinch of salt
Fudgeheaven fuffle chunks (as many as you want)
Pre-heat the oven to gas mark 3, 325°F (170°C).
You will also need two baking sheets measuring 14 x 11 inches (35 x 28 cm), lightly greased with a flavourless oil.
Put the butter, sugar and syrup in a saucepan, place it on a low heat and let it all dissolve, which will take 2-3 minutes.
When the butter mixture has dissolved, take it off the heat.
In a large mixing bowl, sift in the flour and salt, then give this a quick stir before pouring in the butter mixture.
Mix everything together in the bowl until you have a nice dough.
Divide the dough into 10 lumps, roll into balls and place on the baking trays. remember to leave plenty of space between them as they will flatten and spread in the oven.
Place on the middle shelf of the oven for 12 minutes.
Do one tray at a time.
Meanwhile, chop up your favourite Fudgeheaven fuffle into chunks the size of marbles.
After 12 minutes, remove the cookies from the oven and gently press the truffle chunks into the tops of the cookies (about 3 per cookie).
Return to oven for 4 minutes.

When they're all cooked, leave them to cool on the baking sheets for 10 minutes, then transfer them to a wire rack to finish cooling.
Billionaires Shortbread (better than Millionaires Shortbread!)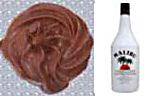 Soften some Fudgeheaven fuffle in a microwave
(do this gently in 5 - 10 second bursts to avoid over heating)
Spread over a large piece of shortbread and leave to cool for 10 minutes
Please email if you have any other uses for it.
Best recipes get a free 500gm tub of your choice.