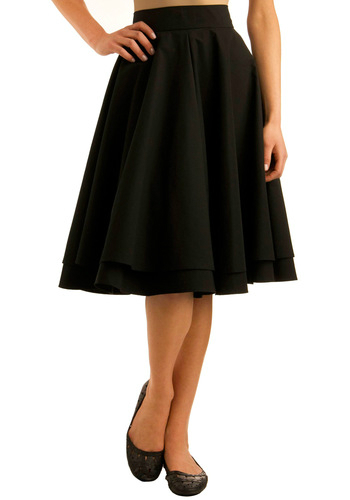 Full skirts use lots of fabric to create a voluminous effect that can be flattering for women of all ages and body types. Full skirts can be dramatic or playful, but are always feminine, hearkening back to the days of petticoats and hoop skirts. What's more, their volume covers flaws, trims the waist, and makes them quite comfortable to wear. Many full skirts can be dressed up or down for different occasions, making them a versatile item for any wardrobe.
Full skirts come in many sizes and styles, from mini tutus to ankle-length maxis. There are several things to keep in mind when shopping for a full skirt. The first is body type, since not all skirt styles and lengths are universally flattering. Knowing one's body type can help in finding the most figure-flattering skirt. Another consideration is what to wear with a full skirt, to balance its volume and femininity. With these things in mind, shoppers can find a full skirt that is flattering, comfortable, and stylish.
Skirts and Body Types
Knowing one's body type is very useful when shopping for clothes, and skirts in particular. The following chart outlines the basic characteristics of silhouette body types, based on the relationship between bust, waist, and hip measurements, as well as recommendations for full skirts.
| Body Type | Characteristics | Full Skirt Recommendations |
| --- | --- | --- |
| Hourglass | Bust and hips approximately equal, while waist is significantly narrower and defined | Accentuate curves without a boxy look; skirt should be slim-fitting through hips; flat fronts are flattering |
| Pear | Wider through the hips and thighs; slimmer waist and smaller bust | Slim lower curves by close-fitting through hips; keep fullness towards hemline |
| Inverted Triangle | Wider through shoulders and upper back; straight hips; little waist definition | Balance figure by adding fullness at hips; volume at hips, thighs or knees is a plus |
| Apple | Tends to carry weight on top through bust and waist, with little definition at midsection; hips may be narrower than bust and waist; often has slimmer legs | Showcase legs and draw attention away from middle; try asymmetrical hemlines and bias-cuts |
| Rectangle | Bust and hips of similar or same measurement; little definition at waist; weight usually evenly distributed | Create the appearance of curves with volume; tiers, ruffles, and tapered hemlines work well |
In addition to knowing their silhouette body shape, women should also keep their vertical body shape in mind, especially when it comes to selecting skirts. The vertical body shape has to do with the proportion of leg length to torso length. Vertical shapes can be divided into three types: long-legged and high-waisted, short-legged and long-waisted, and balanced. Women with shorter torsos look best in lengthening low-rise waistlines, although if they carry weight in the middle, mid-rise waistbands are a better choice. Long-waisted shapes benefit from mid- to high-rise waists, and balanced figures can wear waistlines of any height, depending on their silhouette.
General Skirt Length Guidelines
The length of a skirt can have a significant impact on how well it flatters the figure. The following is a guide for skirts of different lengths.
| Length | Guidelines |
| --- | --- |
| Short | Skirts falling mid-thigh can be flattering by elongating legs; particularly good for shorter or fuller legs; more mature styles can pair with elegant hosiery for an elegant line |
| Knee | Zone between just above the knee to just below is universally flattering; for shorter legs, just above the knee is preferable |
| Mid-Calf (Midi) | Should fall exactly at the slimmest point of calf; better for average-to-tall women and long-legged figures, especially those with lean calves |
| Long | Can be a good choice for all ages and most body types; should fall at or below ankle and be slim-fitting at hips, especially for petite frames |
Women can test different hem lengths by standing in front of a mirror and slowly raising a piece of fabric from the ankles, seeing where the most flattering points are.
Full-Skirt Styles
Full skirts vary in a number of ways, including length, cut, and ways in which their trademark fullness is achieved. The following are some common full-skirt styles, as well as recommendations for wearing them.
Circle Skirt
If a circle skirt were set on the ground with the waistband at the center, its hemline would form a perfect circle. Circle skirts come in mid-calf, knee, and mini lengths. While often featured in lightweight fabrics, circle skirts also can be made from wool or heavier cottons. They are particularly flattering to pear-shaped bodies, and their high waistband should also flatter other slim-waisted figures.
A-line
"A-line" describes the cut of the skirt, which moves from a narrow waist to a fuller hemline, though not as full as the circle skirt's. Regarded as universally flattering, the A-line skirt has been a staple in women's wardrobes since it was introduced by Christian Dior after World War II. For slimming around the hips and thighs, non-pleated styles in dark colours work best. The A-line's flared hem balances broader shoulders or bustlines; in this case, details drawing attention to the drape of the skirt are desirable. Women with hourglass figures can wear A-line skirts that emphasize their slender waists by looking for high, structured waistbands.
Tiered Skirts
Tiered skirts are constructed from horizontal pieces of fabric sewn together. The different tiers may be of the same or different fabrics. Tiered skirts come in all lengths, from mini to maxi. Long tiered skirts have a bohemian flair, while shorter ones can be flirty and youthful. Their waistline often sits lower on the waist or hips, which can elongate shorter torsos.
Pleated Skirts
Pleats are folds made in a fabric by doubling it back on itself. Pleated skirts come in a range of lengths and fabrics, and can be feminine, preppy, or elegant. A pair of flat pleats at the waist work as vertical details that slim the hips, whereas accordion and knife pleats are good for women who want to balance broader shoulders or add curve to a thin frame.
Maxi
Ankle length, voluminous maxi skirts are extremely versatile, working just as well at the beach as at an evening out. A snug fit at the waist and hips prevents maxi skirts from overwhelming petite figures, and selecting the right length is essential: the hemline should fall at least to the ankle bone, or, alternatively, just above the slimmest part of the ankle. Close-fitting, shorter tops work well with long skirts to offset the length.
Tutus
Not for the faint of heart, tutus are inspired by the traditional ballet skirt made of multiple layers of tarlatan or tulle. While many women may find tutus too girlish, tutu skirts can be successfully worn if balanced by a simple, no-frills top and chunky accessories. Tutu skirts work particularly well as evening wear, but knee-length tutus in dark colours can also be worn at the office when paired with a button-down shirt or blazer.
Bubble Skirts
Bubble skirts have extra fabric at the bottom which tucks up under the outer skirt and attaches to a shorter lining, resulting in a puffy hemline. Bubble skirts usually fall knee-length or shorter, and look especially great on rectangle and inverted-triangle body shapes and because they add soft curves.
Ruffled Skirts
Tiers of horizontal ruffles make the ruffle skirt youthful and flirty. Their fullness works well to balance rectangle and inverted-triangle shapes, and lower-sitting skirts with soft ruffles starting at the hips or thighs are good for apple shapes, as they draw attention away from the waist. Women fuller in the hips and thighs should avoid having ruffles in that area; instead, they should look for a flat-fitting waist with ruffles lower towards the hemline. As with the tutu skirt, it is important to pair ruffled skirts with toned-down tops.
What to Wear with a Full Skirt
Since full skirts themselves draw a lot of attention, it is important to balance them with the right tops, accessories, and shoes. Fashion experts generally advise pairing a full skirt with a simple, slim-fitting top. Boxy and loose tops should be avoided, as should frilly details. Full skirts go well with high heels, kitten heels, and pointy flats. As for accessories, chunky or even rough pieces offset the skirt's volume and femininity.
How to Buy a Full Skirt on eBay
There is a wide selection of full skirts available on eBay's auction website. To begin, enter specific keywords, such as "black tiered skirt", in the search bar on eBay's home page. You can sort the search results by factors such as size, brand, colour, style features, and more. For additional information on how you can find what you're looking for more efficiently, visit eBay's Search Tips page.
Before bidding on an item, read the product description carefully to be sure it is what you're looking for. Check for details like size, material, what the seller's return policy is. If you have questions about the item, you can contact the seller before placing your bid. It also helps to read a seller's feedback, to see what comments previous customers have left; a high percentage of positive feedback is a good indication that the seller is knowledgeable and reliable. Top-rated sellers have earned their status by consistently offering the highest level of customer service.
Conclusion
Full skirts can be an excellent addition to any woman's wardrobe. Many full styles are quite versatile, working well for casual, business, and dressier occasions. Because a full skirt's volume attracts attention, it is important to choose a style and length that suits a woman's figure, and then pair the skirt with the right clothes, shoes, and accessories.
Knowing one's figure type is helpful when shopping for skirts, and clothes in general. By comparing bust, waist, and hip measurements, women can determine what silhouette body type they are; leg and torso proportion indicate their vertical type. For the most flattering skirt, women should look for styles and lengths that create a sense of balanced proportionality, elongating where necessary, hiding flaws, and emphasizing positive attributes. Fortunately, there are many full skirt styles that work with a number of different body types. Finally, to help a full skirt look its best, it should be paired with slim-fitting tops and heels or pointed flats.
With knowledge about their body shape and the different options available, women can find a full skirt to fit their figure and personal style.