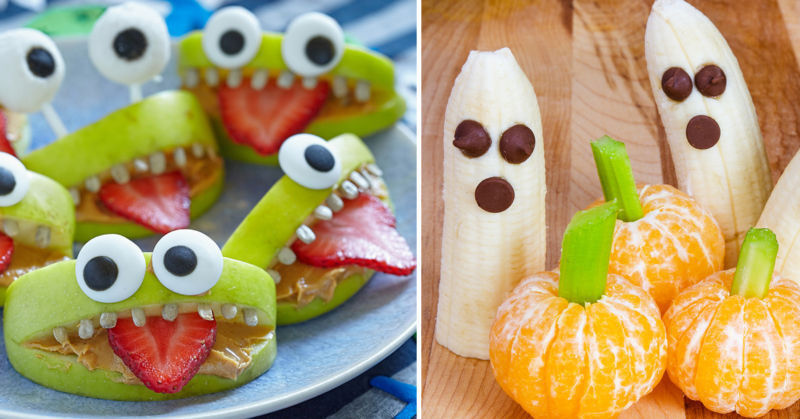 Halloween
is my favourite time of the year to make fun food for the kids! There are so many great ideas for making monsters, ghosts and ghouls out of fruit and vegetables. Now is the time to make food fun so they might try new things!
Today I'm sharing a few simple ideas for how you can easily make some fun Halloween snacks for kids. I hope this inspires you to get in the kitchen and ask the kids to join you! They will love whipping up these creepy and cute treats.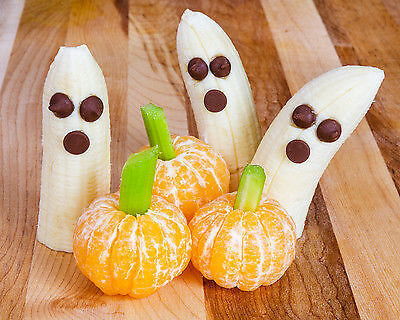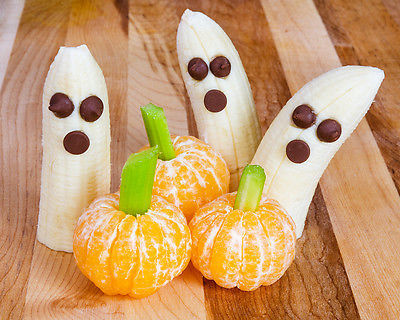 Banana Ghosts & Fruity Pumpkins
These sweet treats are about the easiest things you can make to ensure a Happy Halloween!
You'll need:
Bananas
Chocolate chips
Peanut butter
Mandarin oranges
Celery
Banana Ghosts: cut a banana in half and add chocolate chips with a little dab of peanut butter.
Orange Pumpkins: dice celery into small sticks, peel the orange and place the sticks into the middle of the orange. Easy peasy!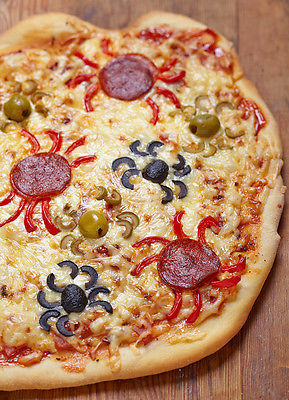 Spooky Spider Pizza
When it's time for a spooky Halloween themed dinner, this spider pizza should definitely be on your menu!
What you'll need:
Slice small spider legs out of the red pepper and olives. If your kids don't like red peppers, just make the legs out of pepperoni. Now create your spiders all along the pizza out of the pepperoni and olives.
Place your pizza onto a
pizza tray
and bake for 15-20 minutes until cheese has melted and base is brown. Serve it up on some fun
Halloween plates
. This recipe is so easy and fun!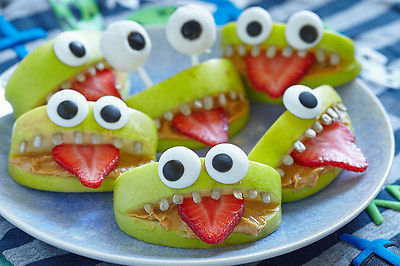 Monster Bites
All you need are a few ingredients and some imagination to make these hilarious monster bites! Watch out...they might actually bite.
What you'll need:
Eyeball sweets
Green apples
Peanut butter
Strawberries
Slice a few strawberries into thin pieces. These make the perfect tongues! Cut a few apples into mouths. Spread some peanut butter into each mouth and stick on a slice of strawberry for the tongue. Now add some teeth with sunflower seeds, then use peanut butter to glue on the eyeball sweets. Kids will love this fun Halloween treat!
More Halloween Fun
Click a photo below for more fun Halloween ideas. Have a Happy Halloween!