P400 Dimmer

The versatile P400 dimmer features hand-finished switch plates of robust 2mm thick solid metal, available in the following finishes:
Stainless Steel Polished - hand polished to a high lustre
Stainless Steel Brushed - matte finish resists marking
Brass Polished - hand polished to a high lustre and lacquered
White Metal - powder-coated brass with engraved logo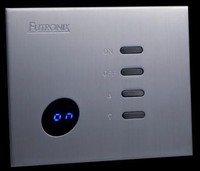 P400
Perfect for your home cinema, living areas and den rooms! The Futronix P400 scene dimmer puts the convenience of total room lighting control at your fingertips with four channels of all-digital dimming and an additional 2 channels of 1-10v fluorescent dimming. Create the authentic cinema experience with preset fading rates, repeatability and programmable scene setting. Programme your preferred light levels with a generous 20 scenes, and recall them with just a touch of the remote or wall mounted switch panel. Easily schedule convenient wake up, welcome and security scenes with the 24/7 timer feature. An in-built switchpanel databus provides for multi-point switching and mastering via Futronix switchplates and also allows multi-room lighting control with connection to further P400 dimmers or to Futronix top-of-line P800 residential dimmers. Elegant hand-finished switch plates in solid metal complement the design of any room. This full-featured, all-digital dimmer allows you to customize the "look" of your rooms to your exact requirements. The P400's 4 channels can be programmed to any level of brightness from 0 to 100% with the levels automatically stored as one of 20 scenes per channel, each offering a different "look" to your entire room or space. Set lighting to create different moods - for entertaining, relaxing, reading, watching TV or a movie - or for security or energy saving. Once set up, recall your favourite scenes simply by touching a single button on either the switch panel or the supplied remote control unit.
Remote Control

Your choice of dimming levels can be selected from the remote control supplied with the P400. Programme dimming levels, master raise and lower, fade rate and sleep timer duration - all from the convenient remote control. Or adjust any of the lighting levels without storing them. Choose power up dimming options, either the last dimming level selected or OFF. Additionally, the P400's remote control commands can be "learnt" by any universal learning remote control.

Timer

Programme the P400's timer to select any scene at any time and on any day of the week - up to 70 different events each week (10 Per Day). In the Bedroom, the P400 sleep delay timer can be set to automatically switch lights off for up to two hours after being selected. Or set the timer to wake you up gently in the morning by fading up your bedroom lights. For living spaces, uses range from "welcome" scenes - which automatically fade the lighting on for when you return home - to selecting security settings. Use the timer to control lighting for 4 channels - set scenes to appear at pre-programmed times and adjust the atmosphere of a room or space, even if you are away from your home.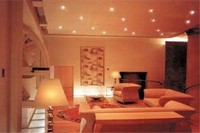 Security

Programme a security sequence that can last several minutes or many hours, giving the impression that the property is occupied. Automatically sequence through your pre-set scenes, displaying each one for any variable length of time.
Zones

The P400 domestic dimmer can control the lighting in up to four different areas or rooms, meaning you can set 20 scenes in each of the 4 rooms. For bigger systems providing multiple channels of lighting with even more flexibility, multiple P400 and/or P800 dimmers can be connected together via the in-built switchpanel databus.
Display

Create dramatic lighting displays with the P400 by linking a series of scenes with pre-programmed duration and fade rate. This is ideal for your home cinema - you can easily create a "transition" light show before and after a movie. Also applicable for architectural highlighting, product display and exhibitions. With the P400 you can effortlessly control the lighting in your own home, as show in the demonstration of scene dimming below.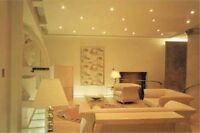 Demonstration of Scene Dimming

In this First scene, the lighting has been programmed to create a comfortable atmosphere.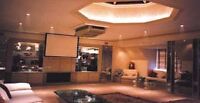 The Second scene creates a bright ambient atmosphere - with the emphasis on highlighting pictures and ornaments it is ideal for entertaining.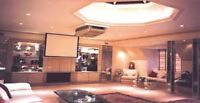 The Third scene is set for watching movies. Main lights and cabinet lights are off, with the ceiling and wall lights dimmed to create a home cinema look.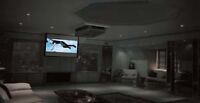 In the Forth scene lighting is set to provide a level of dimming suitable for watching television. The main lighting is provided by the spots, with cabinet lights dimmed so as not to distract the viewer.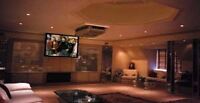 A Fifth scene could provide low level lighting throughout the room with lighting focused on the table area for dining.
A Sixth scene could act as a minimum level for security at night.
The twenty programmable scenes available with the P400 offer a versitile choice of lighting effects suitable for every mood.
Features:

4 Channel 1.2kW dimmer
2 Channels of 1-10v fluorescent ballast dimming control
No minimum load on any channel
Control up to 4 circuits (channels) with 20 programmable scenes
Multi-zone (can control up to 4 rooms independantly)
Infra-red remote control
Built in LED information display and infra-red receiver
Variable fade rates from 0.5 seconds to 2 hours (to gradually turn lights on/off)
Temporary circuit adjustment without save
Master raise and lower
Exit Delay
Sleep Timer
Built in 24 hour 7 day event timer (battery backed)
Security settings
Permanent memory (in the event of a power blackout you don't lose pre-set scenes or need to re-programme your dimmer)
Specifications

4 Channels @ 300W - Max 1.2kW
No minimum load on any channel
Controls: Tungsten, Halogen and low voltage