P800 Dimmer
Switch plates for the unique Futronix P800 dimmer are stylish and robust solid metal plates 2mm thick, available in the following elegant finishes:-
stainless steel polished hand polished to a high lustre
stainless steel brushed - matte finish resists marking
brass polished - hand polished to a high lustre and lacquered
white metal - powder coated brass with engraved logo
P800
The P800 puts the luxury of multi-rrom control in your hands. Your favourite lighting levels in four rooms can be operated from the attractive wall mounted switch panels. You can create the mood or set the scene in each area for every purpose.
The all digtal dimming design is so compact that not only does the unit contain 8 channels of dimming but it is approx 1" (25.4mm) smaller in all dimensions than any comparable product. With the robust, pre-wired, steel back-box supplied with each P800, convenient and easy installation is assured.
Up to 10 x P800's can be linked - an impressive 80 channels of multi-zone lighting control. So, in addition to providing ultimately flexible lighting control for luxury homes, the P800 can be used for conference rooms, seminar rooms, small restaurants, bars, hotel rooms and other light commercial applications.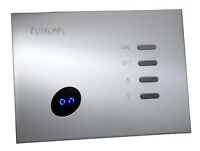 Scene Dimming
The ability to create scenes is one of the featuers that distinguish a top-class dimmer. The P800's 8 channels can be programmed to any level of brightness from 0 to 100% with the levels automatically stored as one of 20 scenes simply by touching a single button on either the switch panel or the supplied remote control unit.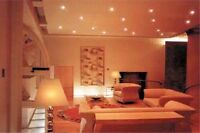 Remote Control
Your choice of dimming levels can be selected with the remote control supplied with the P800. Programme dimming levels, master raise and lower, fade rate and sleep timer duration - all from the convenient remote control. Or you can adjust any of the lighting levels without storing them. The P800 also can be controlled by 3rd party remote control devices including touch screens via the industry standard IR interface.

Timer
Programme the P800's timer to select any scene at any time and on any day of the week - up to 70 different events each week (10 per day).
For the bedroom, the P800 features a 2 hour sleep delay timer, or the timer can be set to fade up bedroom lights in the morning.
For home cinemas or living spaces, uses range from "welcome" scenes - which automatically switch on selected house lights for your return home - to selecting security settings. Use the timer to control lighting for 8 channels - set scenes to appear at preprogrammed times and adjust the atmosphere of a room or space, even if you are away from your home.
Security
Programme a security sequence that can last several minutes or many hours, giving the impresion that the property is occupied. Automatically sequence through your pre-set scenes, displaying each one for any variable length of time. Outstation switch plates are available for the P800 dimmer. They can be used as multi-location switches to select the scenes in any or all of the different rooms or areas.
Zones
Unique to the P800 domestic dimmer is the ability to create multiple lighting zones. Normally a zone corresponds to a room, and with the P800 you can create up to 4 zones - meaning you can set 20 scenes in each of the 4 rooms.
For bigger systems with even more flexibility up to 10 x P800's can be connected together, providing up to 80 channels of lighting.
Display
By linking a series of scenes and programming the duration and fade rate, the P800 can be used to provide lighting displays. Applications of this feature include exhibitions and home cinema where it can be used to create a "transition" light show before and after a film.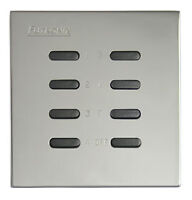 Fluorescent dimming
4 channels of 1-10v industry standard fluorescent dimming control are built into the P800 as standard. Up to 30 dimmable ballasts can be connected to each of the 4 control outputs.
Features
8 channel 2.0kW dimmer
4 channels of 1-10v fluorescent ballast dimming control
no min load on any channel
control up to 8 circuits (channels) with 20 programmable scenes per area
multi-zone (can control up to 4 rooms independently)
infra-red remote control
built-in LED information display and infra-red receiver
variable fade rates from 0.5 seconds to 2 hours (to gradually turn lights on/off)
temporary circuit adjustment without save
master raise and lower
exit delay
sleep timer
built in 24 hr and 7 day event timer (battery backed)
security settings
permanent memory (in the event of a power blackout you dont lose preset scenes or need to re-programme your dimmer)
pre-wired wall box for electrician-friendly installation
Wall Mounting Back-box
The P800 comes with its own wall back-box, fabricated of robust steel with welded corners, and welded screw lugs to prevent them being knocked out when clearing away plaster after decorators have finished their work. The electrician simply fits the wall box and connects the building's wiring to the connector on the back. Then, once the wall decoration is finished, the P800 dimmer is simply plugged into the back-box connector and screwed into the back-box.
Features:-
pre-wired with flexible wiring - easily folded to fit into the box
colour-coded cable markers
large each terminals
built-in fuse holder
high quality German-made connectors
Specifications
8 channels @ 1KW - Max 2.0kw
No minimum load on any channel
controls tungsten, halogen, low voltage, neon and fluorescent (HF)
P800 - Electrical Specification
Mains supply input 220-240V ac 50Hz
voltage 208-270v ac 60Hz
and frequency 120v ac 60Hz
Mains supply input 16A (max) incoming supply
Number of channels 8 channgels per P800
Maximum number 10 x P800's can be interconnected
P800 channel systems = 80 channels
Zone 4 Zones (areas/rooms)
Switch panels 3 switch panels per P800
Dimming output 1kW per channel (max)
Total Dimmer Load 2kW across all 8 channels (max)
Dimming output 1kW per channel (max)
Load type Tungsten, mains halogen, neon and fluorescent (HF), low voltage (magnetic & leading edget dimmable transformers)
Network connection 12 V four core non twisted pair
Protection Fuses 2 x 8A
Approvals CE
Wall box sizes 160 x 102 x 65mm (W,H,D) (pre-wired type)