First sign of a fake
Q: Has the card tag thats been attched on the beltline been sewn on? answer: yes
Q: Is the size printed on the belt line card tag? answer: no
Q: Is there the size printed on the white inner washing label? no
I any of the above apply to you then they are defo fakes!!!!!!
Lots coming from china and I have noticed many on ebay recently but regarless of these points above they are badly made and often logos in wrong place or upside down in my case.
Ask to see the white label from a seller thats only thing you need to see really as these con-artist's make one label for them all!!!!!!!!!!
I asked a seller to show me the white label and he ignored me so I reported it to ebay but nothing happend... He is still selling 165 pound jeans at 34 pounds buy it now price and the jeans were the same kind and for that price he must be buying in bulk from this facory I have recently reported to the G-Star fraud department in the netherlands :)
Hope this helps guys I just want a bargin not a shit a pair of fakes email youu local G-star customer service with details and photos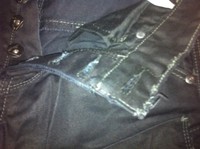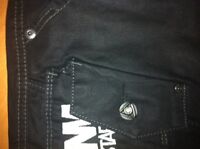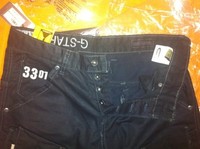 Many thanks
Mark Pledger