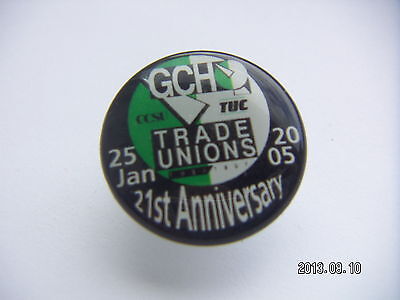 GCHQ TRADE UNION BADGE GUIDE
The joint trade unions at the Government Communications Head Quarters were derecognised by the Thatcher Government on the 25th January 1984. Trade union members were offered money to relinquish their union membership, a number refused and were sacked. This started a 13 year campaign for trade union rights at GCHQ. Only with the advent of the Labour Government in 1997 were trade union rights restored to union members at GCHQ.
During this campaign a number of union badges were issued, the first of these is below;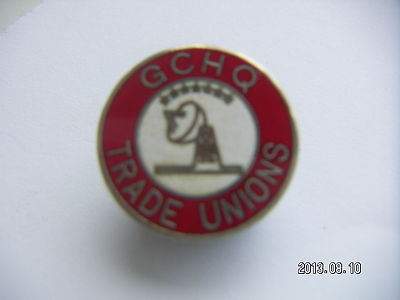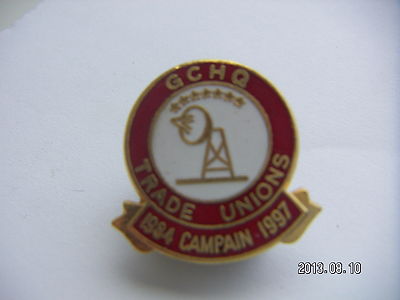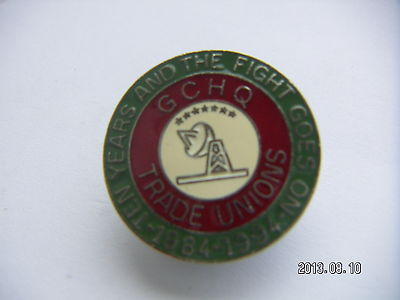 This badge was also produced in green/white and chrome and only issued to the GCHQ loyalists. In 1987 a second enamel badge was produced this was 19mm round with a scroll and had the word "campaign" mis spelt. This is the second badge. The third badge above was to mark 10 years of the campaign.The 25 years on badge is the final GCHQ enamel badge produced
These were the only enamel badges produced for the GCHQ campaign. A number of button/tin badges were produced some of these are pictured below;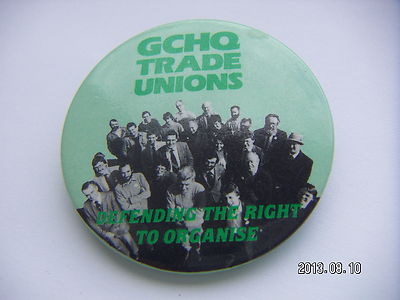 The second of the badges above was produced for the 21st anniversary of the banning of trade unions at GCHQ. Other button badges produced include 55mm yellow badge which states on it "On the 25th January 1984 all members of GCHQ were informed---" and a 55mm pink and yellow badge which states on it "Caution Maggies rights for the individual on the 25th January etc---"
The Council of Civil Service Unions also produced the badge below for the GCHQ campaign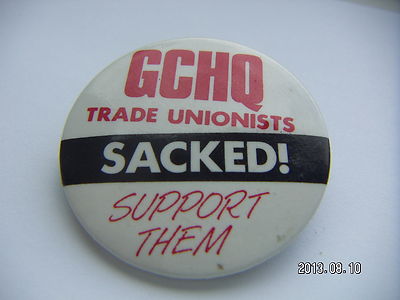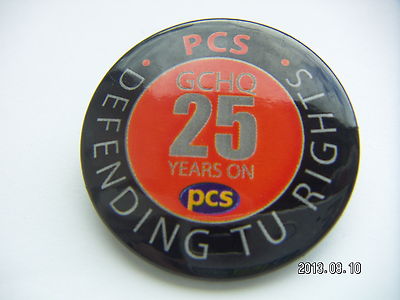 The forth badge is one that the members of GCHQ have produced as a branch/group badge the initials on it stand for Government Communication Group. If you have found this short guide to GCHQ trade union badges useful please click the tab to show this. There is now two new GCHQ badges commorating 25 years they are identical designs one is a tin badge the other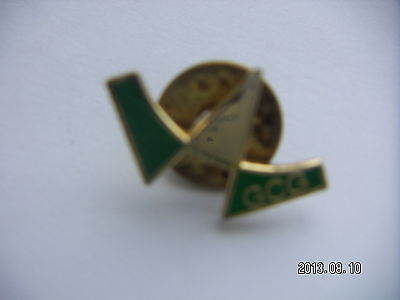 enamel


Sorry some how the pictures have got out of order
The top badge is the 21st anniversary badge and is made of reisin. The second badge is the first enamel one issue and the third is the one with campaign mispelt.The forth commorates 10 years of the campaign. the fifth is a button badge issued by CSCU. the 6th is the first button badge issued. the 7th is a 25 year button badge. The eight is the branch badge and the ninth the 25 year enamel badge