This product is affordable, easy to install, energy efficient, and extremely versatile. No rewiring or damage to decoration. The GET Smart Wireless Lighting System allows you to preset lighting scenes or set lighting levels on an individual basis at your home or office.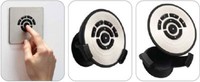 At the touch of a button, control your building's lighting, create a special ambience when entertaining friends or colleagues, during family meals, or any other special occasion. As indoor and outdoor lighting can be controlled, you can illuminate areas of your property from up to 30 metres away - an excellent security feature.
Feature Summary:-
Easy to install and simple to programme
System can be extended at any time
Controller can be located anywhere without wiring
Dramatic effects can be created
Matching Accessories
Technical Support Helpline for All Clients
GET plc was founded over 50 years ago and is committed to customer service, leading the field in technical innovation, with stylish and modern products.