The GT STS DH (Downhill) was one of GT's top spec Downhill MTB's of the late 1990's. I would only rate one bike higher and that's the stunning GT Lobo.
The STS DH retailed for around £3500 new and was used by many pro's and amateurs on the Downhill circuit.
The Standard spec was
GT STS DH frame made from Thermoplastic and Aluminium. Thermoplastic bicycle frames are essentially carbon fibre frames with the fibres embedded in a thermoplastic material rather than the more common epoxy materials. GT was one of the first major manufacturers to produce a thermoplastic frame. This is a picture of mine undergoing a rebuild.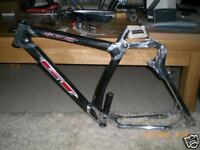 Rock Shox Judy DHO Triple Clamp Forks
Rock Shox Super Deluxe rear suspension unit
Shimano XT Groupset 24 speed
Azonic Stem and Bars
GT CNC Hubs with Mavic 221 Rims
All in all this was / is a stunning bike and is sure to be a rare collectors piece in the future. If you ever come across one of these be sure to buy it. You won't see many of them around but if you do it may be me riding it because I'm lucky enough to own one