EDIT: After contacting ebay customer service and explaining the situation, they have agreed that the negative feedback left by the scammer is indeed false and defamatory. Such feedback has therefore been removed.

Recently, I received a negative feedback from a buyer (2014lw0)
(http://www.ebay.co.uk/usr/2014lw0) claiming that I have cancelled his order "without reason". However, it is a complete lie.

First, I cancelled his order because his account activities look suspicious. At that time, his account received no feedback over a year and his paypal delivery address was not "confirmed" and his paypal account was not verified as well.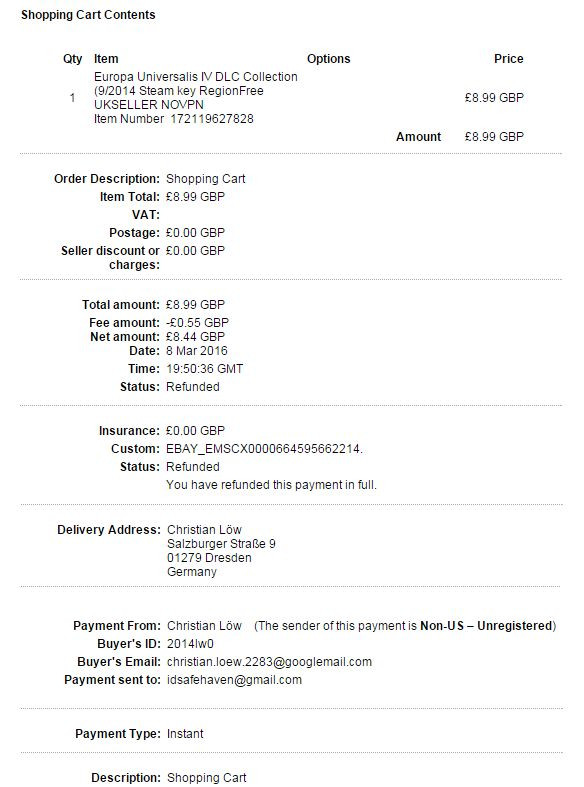 Considering that I have lost a number of items to oversea scammers who exploited the seller protection programme, I cancelled the order from this suspicious buyer.

Yet, I did not keep the buyer uninformed as he claimed. Through both ebay and paypal message, I have clearly stated the reason for cancellation and in a polite manner (see the screen shots below for the exact messages).

I therefore doubt the motive of this buyer in leaving such fault and defamatory comment. The only explanation I could think of is his resentment over a failed scamming attempt especially refund was given immediately and the buyer did not lose anything in the process.

As game key scams start getting prevalence on ebay, I feel obliged to warn other fellow sellers to be aware of this potential scammer especially when paypal does not seem to decide cases in favour of sellers in general.