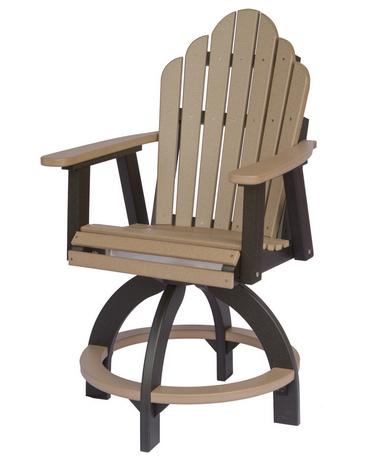 Sitting outside in the summer can be a relaxing activity. The best way to do this is with a comfortable garden armchair. Using a garden armchair to sit in the garden can be a way to de-stress or share time with a friend or a loved one. It is also a wonderful place to curl up with a good book or a favourite magazine. There are a variety of garden armchairs available for purchase, and each type of armchair has its pros and cons.
There are also accessories for these chairs, such as covers and pads. These waterproof chairs are made to be used outdoors. A waterproof coating helps to protect the garden armchair from the elements. Garden chairs are sold at DIY shops, garden supply shops, nurseries, and even on the Internet auction site, eBay. The materials from which the chair is made often dictates the type of chair. By comparing garden armchair materials, the climate in which they are used, and accessories, one can choose a chair that suits one's needs and comfort.
Common Types of Materials for Garden Armchairs
There are a few common types of materials used to construct garden armchairs. The most common today is a plastic or resin armchair. This is an inexpensive, durable material that is easy to keep clean. Another common garden armchair material is wood. Wood is also durable but more expensive and harder to keep. Many of the older, more ornate garden armchairs are made from metal. To keep the metal from rusting, it is often coated. Aluminium and steel are the two most common metals for garden armchairs.
Material

Pros

Cons

Plastic

Inexpensive

Easy to clean

Stackable

Can become fragile when exposed to weather

Wood

Strong

Lasts longer than other materials

Can swell when exposed to water

May be exposed to wood rot

Metal

More ornate

Lasts in a variety of conditions

More styles available

Can rust

Has to be coated

Heavy, if not aluminium
These materials are not the only materials used to make garden armchairs. Manufacturers use a variety of plastics, metals, and resins to construct garden chairs as well. Most of the other materials have the same properties as these primary three materials. Each of these materials reacts differently to different climates. Even though manufacturers have attempted to correct this, some of the flaws still exist.
Garden Armchairs for Cold Climates
When selecting garden furniture for cold climates there are two schools of thought. There are those who bring their garden furniture in for the winter months, and then there are those who either cover it or leave the furniture out if it is strong enough to survive the winter. There are also coatings and coverings for furniture left outside during the winter.
Lightweight Winter Garden Furniture
Those who move their garden furniture in for the winter prefer lightweight furniture. The materials of this type of garden furniture can be made of wood, resin, plastic, or lightweight metal. The designs of all of these different types of chairs differ. The smaller, lighter weight of this type of seasonal garden armchair makes it easier to move. They can be almost of any shape or design. If it is a themed garden, a gardener may want to choose an armchair that corresponds with his theme.
This category of seasonal winter garden furniture includes plastic or resin garden armchairs. These are lightweight, stackable, and often less expensive than their counterparts. Unfortunately, plastic does not hold up to extreme temperature changes. Plastic garden armchairs are likely to become brittle and crack if left out in the winter.
Lightweight metal or aluminium garden armchairs are also stackable and easily moved. In the realm of garden armchairs, these are available in the most decorative styles; however, these chairs are liable to rust.
The wooden garden armchair is one of the more popular forms of armchair. It can either be lightweight or heavy. The lightweight version of a wooden garden armchair is stackable, but tends to be bulkier than other materials. Natural woods are heavier and tend to be more expensive than their plywood cousins. The natural woods are also stronger than plywood.
Permanent Winter Garden Armchairs
This class of armchair is heavier, bulkier, and not meant to be moved. Most of these garden armchairs are wooden, such as the Adirondack chair that has a slanted design. These chairs are normally made of natural wood instead of plywood because of their strength and water resistance. Heavier wooden chairs also have a heavier bolt design to make them more resistant to the weight of snow.
Many people leave plastic chairs out in the winter months. Since the plastic versions of the garden armchair are inexpensive, it is not too costly to replace them. Those who leave them out usually leave them under covered porches. There is also a metal version of the garden armchair that has a coating, which keeps the chair from rusting quickly. It is not foolproof and the chair rusts faster than if it is kept indoors for the winter. These chairs come in more ornate forms than the wooden and plastic garden armchairs. One can purchase garden furniture covers for these outdoor cold weather climates as well.
Garden Armchairs for the Warm Climates
Although there is more of a selection for summertime garden armchairs, they do come with their own set of problems. Many people in warm climates leave their garden armchairs out during the winter months. This means that the furniture is exposed to the elements all the time, particularly the sun. This can make the garden armchair brittle, particularly when made from plastics. Some garden armchairs that are not often seen outdoors in cold climates are wicker chairs. Some manufacturers make these out of bamboo and rattan. All of these materials do not take the cold well and tend to break down at the base of the chair.
A common difficulty in warmer climates is the rain. Wood swells when exposed to water and even though the manufacturers compensate for some expansion, it is impossible to compensate for it completely. Wood is also known to break down through fungus and wood rot particularly in wetter climates.
Accessories for Both Warm and Cold Climates
Even though the garden armchairs for both warm and cold climates may be slightly different, the accessories designed for them have very few differences. One of the more popular accessories is the cushion. Many garden armchairs do not come with a cushion. There are cushions that cover the entire chair, and cushions that just support the back or bottom of it. Covers are also available for chairs of most sizes. A good cover can prevent damage during storms and other adverse conditions. Many of the newer chairs have umbrellas that may be hooked onto them. For chairs that are meant to be brought inside for the winter, garage racks are sold to keep them from becoming damaged. One can purchase paints and stains for each of these chairs. If a garden armchair is not available in a desired colour, then a stain or a paint may be just the thing to create the perfect chair for the garden.
Buying a Garden Armchair on eBay
To buy a garden armchair on eBay one simply has to go the website, enter the term "garden armchair" into search box, and click search. This populates a list of the different chairs for sale, then it is just a matter of browsing to get ideas or purchasing a garden armchair. When looking for a garden armchair, remember that they ordinarily come in sets of four, six, or eight. It helps if you put the number that you wish to purchase in the search box as well as the search terms. One can also purchase garden furniture accessories on eBay. Another helpful hint is to try different search terms if you do not find exactly what you are looking for on the first search.
One should make sure to read the listing carefully as well as the shipping and return policies. Also, take a look at the seller's feedback and rating. This is an important tool for knowing which sellers are trustworthy and which are not. There is also a Top Seller designation that is only provided to the best of eBay's sellers. To receive this designation, a seller has to have an excellent reputation with both its customers and eBay.
Conclusion
Knowing the effects of the different climates on garden armchairs can assist in making a more informed decision when making a purchase. It may not seem important, but having a purchase destroyed due to weather is never pleasant. Even with this information, it is important to consider the overall design of the garden and personal tastes, as well as the comfort of the garden armchair. Try several different styles of garden armchairs before making a decision on which one to purchase. It is impossible to relax if the armchair is too big or too small. Regardless of the climate in which it is used, make sure to sit in it and check that it is comfortable before making a purchase. One should also consider accessories when making a purchase. If the chair does not have a cushion, perhaps adding one can make it more comfortable. Choosing the right garden armchair can mean the difference between a relaxing afternoon and an uncomfortable experience.