Contents
Things to consider
Which materials to choose:

Wood
Metal
Rattan
Plastic

How to care for your furniture:

Wood
Metal
Natural Rattan
Synthetic Rattan
Plastic

Other considerations
Key things to consider before buying garden furniture

What will I use my garden furniture for?
How do you plan on using your outdoor living space? Do you want to create a cosy hide-away to relax in or a party area to entertain friends and family on warm evenings?
What is my budget?
With such a huge range of garden furniture available, there is something for every budget. Remember, certain materials will be more affordable than others.
Plastic furniture
, for example, is likely to be cheaper and more durable (especially around children).
On the other hand, stainless steel furniture can be more expensive but it can last for a lifetime with minimal care , as it is able to withstand the elements and will not rust. We'll look at benefits and disadvantages of the various materials later on in this article.
How much space do I have for garden furniture?
Whatever the size of your garden, with the right furniture you can create extra living space outdoors and really bring your
garden
to life! If space is limited, or you only have a small area such as a balcony, it is well worth considering folding or stackable furniture.
Do you have the space to store your furniture indoors, in a shed, garage, or are you planning on leaving it outside? If you are storing it outside, consider the material you choose; will it withstand sunlight and rain?
A
furniture cover
is a good idea if you are storing your garden furniture outdoors, as it will protect against the elements. Usually available in heavy duty materials like polypropylene or polyester, these items can be bought in a variety of sizes and shapes, ensuring the best fit for your particular garden furniture and reducing the chances of water collecting in folds, which will shorten it's life.
What style will suit my garden?
With so many types of garden furniture available, there is a style to suit every taste. Whether you like classic wooden benches, chic aluminum tables and chairs, or rattan style furniture sets; there is a wide choice of materials and colours to choose from.
There are a range of established styles out there, from English Cottage Gardens to Japanese Pond Gardens, and there are even more products designed to fit in to them, but remember you can also get creative and hone in on your own personal style with the help of accessories such as cushions and parasols.
What material should I choose for my garden furniture?
Materials at a glance:
In a rush? This table is designed to show the pro's and con's of all the listed materials with the aim of providing a quick and easy guide to your purchase.
| | Care | Comfort | Weight | Cost |
| --- | --- | --- | --- | --- |
| Wood | With the right treatment and regular maintenance, wood furniture can last a lifetime. Check our section on how to care for your garden for tips. | Wood furniture can be very comfortable as it doesn't get cold or hot, however, the addition of a few cushions will soften even the hardest of hardwoods. | Wooden furniture varies in weight, as the density of various wood types differs. As a rule of thumb though, the heavier the wood, the more durable is it is likely to be. | The cost of wooden furniture can vary greatly. If you are on a budget, try and avoid the protected species and pick faster growing woods, like pine. |
| Stainless Steel | Due to its inherent qualities, stainless steel is a relatively low-maintenance material to deal with, however, it is not entirely rust-proof. Keep it covered when it's not in use to avoid weathering. | Like all metals, steel furniture can amplify the surrounding environment, become very cold in cool weather or burning hot in sunlight. Consider a cushion or cover for extra comfort. | Stainless steel is a medium weight furniture. It is heavy enough to be kept in a windy area without worry, but it's light and strong enough to be safely stacked away when not in use. | Because of its popularity as a building material, steel is not the cheapest of furnitures, however it has a range of benefits to justify the slightly higher price tag. |
| Aluminium | Aluminium furniture requires very little care and attention beyond keeping it clean. However, avoid abrasive cleaners as they can damage the material. | As a strong conductor, Aluminium can get hot or cold depending on the weather but will quickly come to match the temperature of whoever is sitting on it. | Aluminium is a very lightweight material that can be easily transported or stacked, and is usually heavy enough to withstand all but the strongest winds. | Because it's such a strong material, a relatively small amount of metal can be used to make a lot of furniture. This brings down the price, making it the cheapest metal option. |
| Wrought Iron | Wrought Iron needs to be treated with anti-rust solutions, or better yet, coated with a layer of protective paint. This is vital for those items that are kept outside all year round. | Wrought Iron is a surprisingly comfortable material. Because it's often painted, it tends not to suffer from the same temperature issues that affect items made from other metals. | The heaviest of furniture options, Wrought Iron is a dense and durable material, which makes it a popular choice for permanent garden features such as benches and fences. | Unlike Cast Iron, Wrought Iron is not easily mass produced and, as a result, carries a pretty high price tag. However, it can be well worth it as wrought iron furniture often outlives its purchaser! |
| Rattan | Both the synthetic and natural varieties of rattan require very little care other than cleaning. However, it would be wise to store it away in a dry place during winter. | Although they are usually found with cushions, the pliant nature of rattan makes it one of the most comfortable materials available – even without the cushions. | A very light material, rattan is very easily moved or stacked. However, unlike other materials, the mesh-work style of construction means it is less vulnerable to high wind. | Rattan furniture is low cost in comparison to other types of furniture, and the fact that it often comes with cushions included makes it a popular choice for conservatories. |
| Plastic | Probably the most low maintenance of all garden furnitures, plastic needs little more than to be kept clean. However, sunlight can shorten the life of plastic furniture, over a period of years. | A highly comfortable material plastic is not susceptible to the extremes of temperature and its flexible nature makes it perfect for chairs. | The absolute lightest of all the garden furniture types, plastic can be easily stacked or carried – even by children. However, plastic furniture must be watched or weighed down in high winds. | Plastic furniture is a highly cost-effective solution for garden parties. Its lightweight and flexible nature make it ideal for family gardens and camping holidays too. |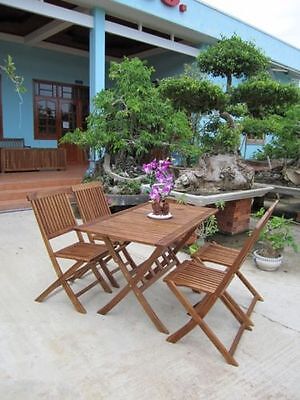 Wooden Garden Furniture
: Wood can create a beautiful authentic look in any garden and is made to endure all types of weather.
Wooden garden furniture offers good durability and is often very cost effective. Hardwoods such as eucalyptus and teak are very popular as they are the ultimate all-weather choice – for example, Teak contains resinous oil which ensures its survival through the hot summer months and also the cold of winter. That said, it is a good idea to cover it up with a furniture cover through the winter months to prolong its life even further.
Wooden furniture generally requires little maintenance, but it is recommended you treat the wood with suitable oils and stains to protect against weathering.

Types of wood
| Name | Description | Pros and cons |
| --- | --- | --- |
| Oak | A dense hardwood with natural resistance to insects and fungi. | Oak carries a reputation of quality and weathers well, looking better with age. |
| South East Asian Hardwoods & Keruing | A general term for over seventy species of South East Asian hardwoods | Durable and rich in resin, it is often used as a cheaper alternative to oak. |
| Spruce, Pine and Fir | These cost-effective alternatives to hardwood are usually sold untreated, as a pale colour. | They will need to be protected, but they take paint and treatments easily. |
| Teak | A tropical hardwood with a high natural oil content. It is a protected species, so can be expensive. | Teak is often golden to dark brown in colour and doesn't cause rust or corrosion in contact with metal. |
| Eucalyptus | Eucalyptus is a tropical hardwood and also has a high natural oil content. | Offers similar properties to teak, such as good durability – but without the price tag. |
| Mahogany | Mahogany is a South American hardwood that is increasingly rare, and thus can be expensive. | Usually a rich red, but can vary in colour and will fade in strong light over time. |
| Cedar | Cedar is a softwood commonly used for fencing and is resistant to cracking. | Contains natural oils but can still dry out faster than other woods. It weathers well, but is less durable than hardwood. |
| Shorea Balau | Sometimes referred to as 'lauan', these woods are commonly used in SE Asia. | Shorea balau is a more affordable alternative to teak, but be hard to work with, due to its high density. |
| Courbaril | Actually a legume, this hardwood is common in central and south America. | Similar to teak but denser and, a a result, more durable. Has a pleasant scent. |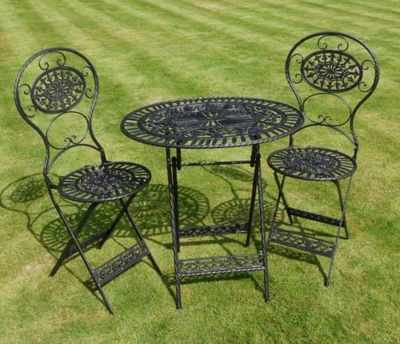 Metal Garden Furniture
: There are lots of different choices of
metal garden furniture
and it can be the obvious choice if you are looking for something that is hard-wearing and low-maintenance. Metal styles are often foldable or stackable, so great for saving space when not in use!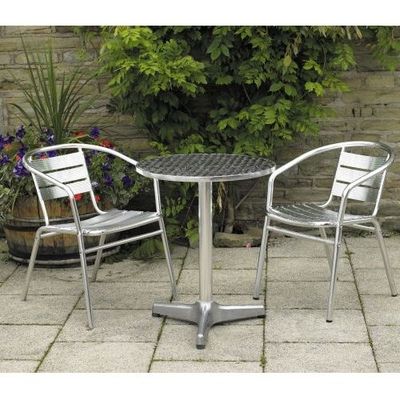 Aluminum garden furniture is becoming increasingly popular. It has many beautiful contemporary styles and cool colours to choose from, it is easy to care for and lightweight. Many pieces of aluminum furniture are powder coated, making it weatherproof and scratch resistant, and therefore not subject to corrosion or rust.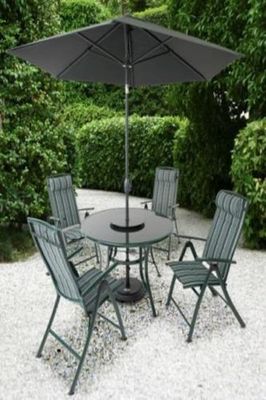 Stainless steel
furniture
is a good compromise between lightweight aluminum and heavier wrought iron styles. It's strong, durable, and be able to withstand the outdoor elements such as intense sunlight and rain. It will not rust like other metals, therefore can last for a lifetime with minimal care.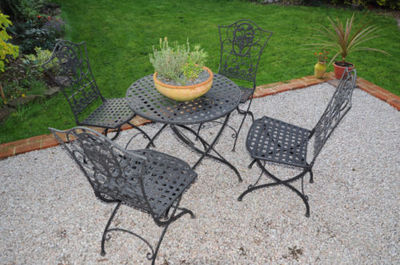 Wrought iron furniture is very sturdy and is often heavy in weight, making it an ideal choice if your garden is exposed, and comes in a variety of classic and heritage styles. However, it is advised to protect against rust with various paints, lacquers and powder-coating.
Rattan, Cane and Wicker Furniture
:
Rattan is a type of palm, and something, along with cane and wicker (usually reed or willow) that has been used for centuries to make furniture. Nowadays a synthetic equivalent keeps all the charm of the natural material, but has enhanced durability and weather-resistance.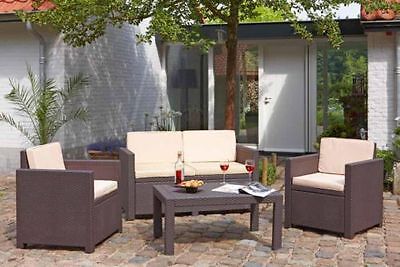 Unlike natural rattan, synthetic doesn't crack over time and withstands the elements such as frost, water and UV rays very well (which prevents it from fading). It's easy to move, weatherproof and can be great for relaxing on with the aid of big comfy cushions.
Natural Rattan, on the other hand, is one of the strongest wood fibres available, but needs to be stored indoors due to its relative susceptibility to weathering and sunlight, making it the perfect choice for a conservatory or summer patio.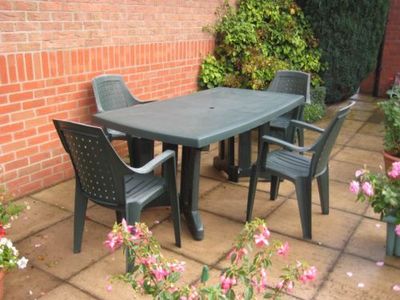 Plastic furniture is a budget friendly option, very low maintenance and often available in a range of colours and designs. It is generally stackable and lightweight, so can be easily moved around or stored away; ideal if you have a small garden. Plastic furniture can be left outside all year round and is easy to clean; making it a good option if you have children.
How to care for your garden furniture
Like any piece of furniture, the better you look after it, the longer it will last. Maintaining your garden furniture is important and will ensure best value for your money.
Wooden Furniture
Wooden furniture generally requires little maintenance, but it is recommended you treat the wood with suitable oils and stains to protect against UV damage and water, and consider a furniture cover to increase its longevity. Depending upon the wear and weather your garden furniture endures, it is good practice to clean and treat once or twice a year.
Brush down and wash with mild soapy water or specialist teak soap.
Make sure wood is completely dry before treating it with products like teak oil, otherwise it will react and turn the wood black.
Wood Oil treatments will give a more natural finish, soaking into the wood, but often need more maintenance.
Wood Stains often give a richer colour and longer lasting protection.

Metal Furniture
Wipe with a damp cloth to keep clean.
DO NOT use abrasive cleaners or pressure washers as these may damage the furniture.
Wrought iron furniture should be treated with anti-rust solutions (depending upon the weather your furniture endures it is good practice to clean and treat once annually).
Natural Rattan Furniture
Wipe down with a barely damp cloth to keep it dust and grease free.
Removable cushion covers can be washed as necessary.
Cushions will need to be stored away when not in use.
Do not use abrasive cleaners or pressure washers as these may damage the furniture.
Must be stored indoors.
Synthetic Rattan Furniture
Although it can be kept outdoors in winter, storing it away in a dry, cool place will help to prolong its life.
Wipe with a warm, soapy damp cloth to keep clean once a year.
Removable cushion covers can be washed as necessary.
Cushions will need to be stored away when not in use.
Do not use abrasive cleaners or pressure washers as these may damage the furniture.
Plastic Furniture
Wipe with a warm, soapy damp cloth to keep clean whenever necessary.
Spray with a high pressure hose or pressure washer to remove stubborn grime.
Be aware of strong sunlight; plastic that warms up and cools down a number of times tends to crack.
Other Considerations
Although a garden can be a beautiful work of art, it's also there to be used, lived in and loved, and there are a huge number of products to help you make the most of your outdoor space.
Garden furniture can be made far more comfortable with the right set of garden cushions, and most garden tables feature a convenient hole for the addition of a parasol. As mentioned above, there are also a variety of covers available to help maximize the useful life of your garden furniture – an essential purchase if you've made a big investment!
Since you'll already have a set of garden furniture, a good complementary product would be a barbecue, or if you're just looking for something a little different, then a firepit or heater might be just the thing to add a little atmosphere and warmth on those cooler evenings.