Paving a garden to create anything from a seating area to a path can add value, comfort, and beauty to a space. Before undertaking such a project and seeking out necessary items, homeowners may want to explore some creative ideas in garden paving. These possibilities can provide homeowners with the inspiration they need to make their garden space a lovely and vibrant place.
Using Ring Circles in Garden Paving
Using a ring circle layout with garden paving stones creates a visual space for a small cafe set or seating area. A ring circle consists of paving slabs that have two curvilinear sides and two straight sides. Various sizes of these slabs are placed in a radiating circle pattern that create a visual boundary for an eating nook or small outdoor dining set. Using contrasting tones in this ring circle can create an even more pronounced visual space.
Combining the Old with the New in Garden Paving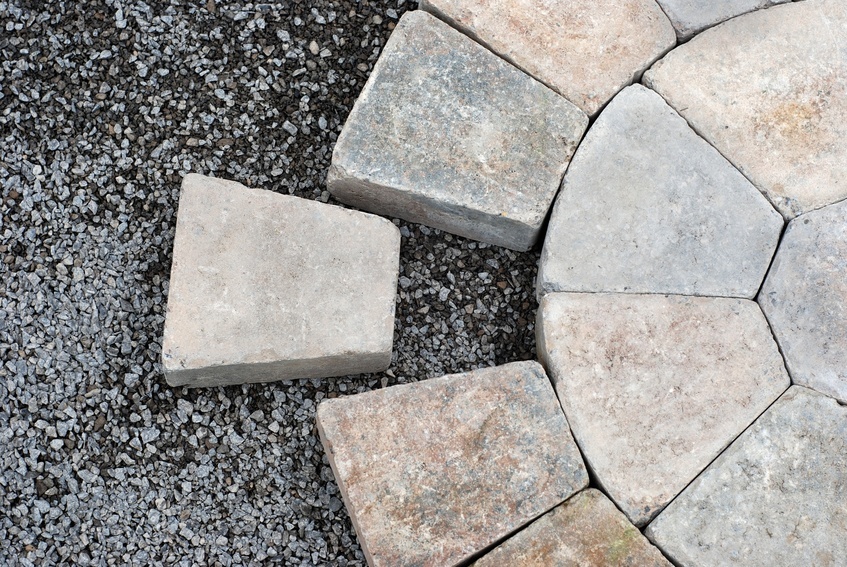 Many garden paving slabs are reclaimed stone, giving them a natural and old world feel. These types of stones can contrast nicely with modern-themed outdoor furniture. Contemporary outdoor rattan furniture with square lines in a woven and flexible pattern can add to the distinct contrast, mixing materials to create a fun and eclectic look. Create a spacious patio seating area using large reclaimed paving slabs in dark and light greys and then use softer materials in the decor and plants to create a vibrant sense of contrast.
Utilising Contrasting Colours in Garden Paving
Garden paving does not have to match exactly. In fact, some of the best layouts feature subtle contrasts in colour. Take advantage of the natural variations in materials such as Indian sandstone to create this visual contrast or actively seek out slabs that are in the same colour family such as Raj Green but are lighter or darker variants of one another. Randomly intersperse lighter and darker slabs throughout a layout to create an engaging space.
Working with the Natural Layout of a Garden

A garden path set with paving stones does not need to cut straight through a space. When planning a path's layout, use natural landmarks such as trees or large boulders to define the path's course. This can give a garden space a much more laidback and casual feel, bypassing the very formal look that can come with structured paving. Look for paving slabs and stones that have a natural finish and texture and do not appear too refined or polished or even used paving slabs that show sign of wear to enhance the natural beauty of your outdoor space.