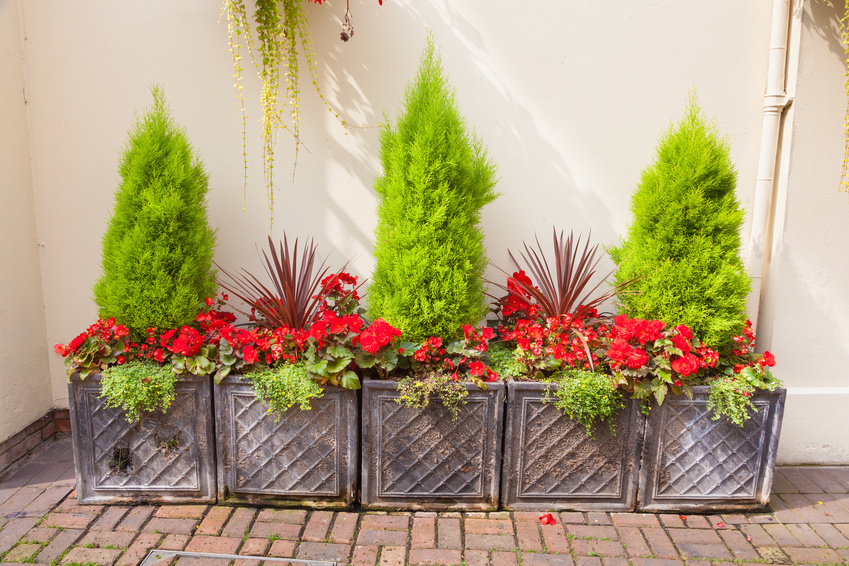 Planting a garden can be a rewarding project, but it does take work. It also takes having the right supplies and equipment. You can choose to install a planter in a front, side, or back yard, or you can create a container garden and design a world of flora and fauna in any type of outdoor space. Knowing about garden planters can help you exercise your green thumb.
Your Container's Size
When it comes to planting a container garden, size matters. The design of your garden can be uniform or eclectic and different size containers create a more unusual look. Size also matters in the practical sense, as larger plants need larger pots. You can also use large pots for smaller plants. A bigger container helps ensure the health of the soil. A larger pot can hold more water, meaning your soil stays moist longer and you do not have to water your garden as often. However, if you are able to tend to your garden often and want smaller pots for aesthetic purposes, you should still be able to keep your garden healthy.
Terra Cotta Containers

Perhaps the most common of all garden planters, terra cotta containers come in a variety of colours, sizes, and styles. You can find glazed types that come in shades of red or blue, or choose one with a natural finish in a light rust colour. Terra cotta planters are also healthy for garden life. The porous material allows oxygen to seep through, which in turn helps your plants grow and thrive.
Wood Containers

Wood is frost proof, so you can keep these planters in your garden all year long. They also add a rustic look to your outdoor property. The wood also acts as an insulator for plant roots, allowing them to absorb nutrients easily and thrive. You can also achieve the same look with wicker baskets, but both baskets and wood discolour and deteriorate more quickly than terra cotta. You can paint the wood every few years for a fresh look, but baskets can deteriorate after a few seasons.
Stone Planters
For a look that blends with the rest of your hardscaping, choose stone planters made from concrete material. While stone planters can be quite heavy, they are also quite sturdy and hold up in harsh weather situations. You can plant larger shrubs in these containers, but if you want to rearrange your garden frequently, these planters are not the ideal choice due to their weight.
Plastic Planters
Easy to move at will and rearrange whenever the whim hits your, plastic planters or pots made from other synthetic material are idea decorative containers. They come in a variety of colours and often have printed designs to give your container garden an unusual look. They are frost-proof, so they hold up in cold temperatures and do not break easily the way terra cotta planters may.