Do It Yourself!
It took me a while to build up the confidence to invest in a gel nail system so that I can do my own gel manicure/pedicure at home. Gel nails are great as it is a long lasting polish, which does not chip or lose its shine and stays on for up to 2 weeks! I think this a great investment having spent about £80 all in (including 3 gel colour polishes) for all of the equipment; considering if I was to visit a salon every two weeks I would be about £20 per trip. Of course, leading up to a special occasion I will visit my favourite salon to get pampered but general day to day nails I now love to do it at home!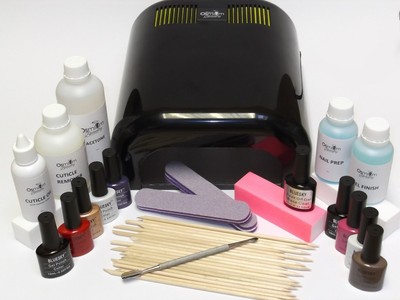 How does it work?
Gel polish looks like ordinary nail polish, however it needs to cure with a UV or LED light. After about 120 seconds exposure to a curing lamp the gel has completely dried and hardened. Once dried you can go about your daily business without worrying about what will happen to your nails, you can even do the dishes by hand!
What do you need to know before you start?
There is a large range of gel nail systems, with this range comes a large range in price too. Personally I use the Mylee 36W UV Lamp with Timer, this is not an overly expensive model but works perfectly and does the job. Gel polish can be tricky the first few times to apply, the secret - don't skip any of the steps and take your time! Finally, when doing your nails you can't do anything else as they are not set until the final step. This means no eating, no drinking, no texting or phone calls! If anything touches your nails before the final step it can contaminate them thus affecting the results.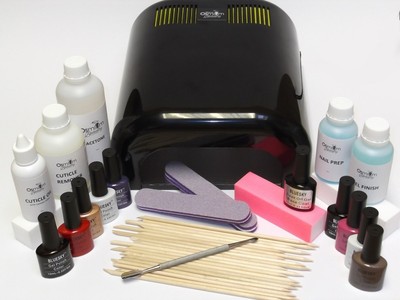 What equipment do you need?
To create your own gel polish look you need to have an LED or UV lamp, 99%isopropyl alcohol, base coat, gel colour, top coat, file/buffer, cuticle pusher and nail wipes. All of these items can be found readily on eBay!


How to get started!
The first thing you should do is find a comfortable place to sit, with good lighting and make sure you have all of the products you need. You don't want to have to go looking for products during the process as once you apply the first layer of polish your nails will have a tacky layer. This can cause dust, dirt or oils to stick to them, therefore contaminating your finished look.
Apply all the polish in thin, even layers! If applied too thickly this will cause the nails not to cure properly under the light. Furthermore don't do all your nails at the same time as this will lead to smudging and contamination. Start with one hand first then on completion start the other hand.
Preparing your nails
Preparing your nails correctly ensures that the polish will stay on properly for the desired time period. When preparing your nails, you have to be meticulous, patient and thorough. If your natural nail is shiny and/or oily polish will not stick to it properly.

1. File you nails to the length and shape that you want. At this stage a 180 grit file works best.
2. Gently push your cuticles back
3. Buff your nails gently to take the shine off of your nails. Be careful around your cuticles and try to get as close as possible.
4. Remove the dust with an alcohol soaked lint free wipe.

Once the first coat of polish is applied to your nails, you can't stop until the final coat has been cured. If you do, you are at risk of ruining

Applying the Polish
First, ensure that your nails have no shine to them at all. If this is not the case, repeat the previous step. The first polish you need to use is the gel basecoat, only use a small amount of the product and apply a thin layer. If any gel polish product touches your cuticle this will cause your manicure to peel off. So, you want to get the polish as close to your cuticles as possible but not touching. Once you have finished applying your basecoat to your nails, place your hand under the UV/LED lamp and cure according to your lamp instructions.
Once your nails are cured, they will still be tacky so don't touch them. Now you are ready to apply your gel colour polish. Only apply a thin layer over your entire nail and get close to your cuticle. Once all your nails have polish on, cure them again. Then, apply a second coat of your gel colour polish, and cure again. If the gel colour is still not what you would like you can apply a third coat.
The final polish you should use is a gel topcoat, apply this like you have the rest of the polishes and then cure.
Finally you have to remove the tacky layer. To do this use an alcohol soaked lint free wipe to remove the tacky layer from your nails. Now you should have a perfect manicure, looking gorgeous and glossy!

Is it worth the investment?
For me, yes! I love having a manicure on my nails and going to salon every couple of weeks spending £20 per session was becoming too expensive. In total I spent about £80 for all of my equipment to create a perfect manicure, this also included three gel coloured polishes.
It took me a few practise runs for me to achieve a look that I am happy with, but with a little patience and practice anyone can get great results!