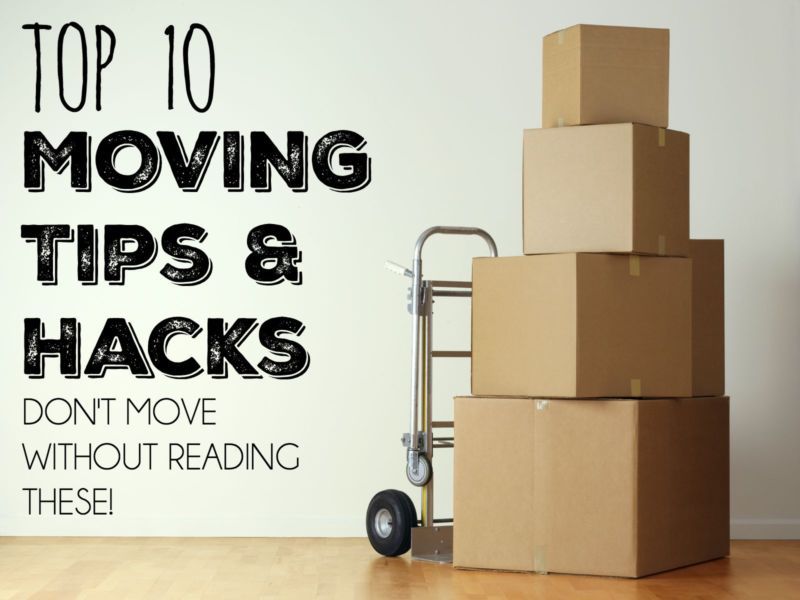 My husband and I are about to make our 10th move in as many years that we've been married. TEN!! I know. It's insane. Hopefully this will be our last move for at least another handful of years.

However, in the meantime, I'm gearing up to pack and box our entire lives.... again.

It took us more than a few moves to perfect the technique; but by our eighth home, we had moving down to an art. These are the most useful tips and tricks for organising a successful and - more importantly - functional move I have found in all of our past experiences. There are a lot (A LOT! Trust me, I know!) of articles on moving hacks out there, but these 10 tips are absolutely the most helpful ones I've come across.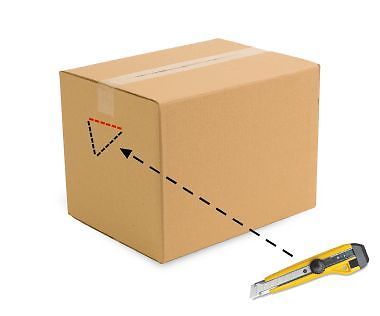 DIY Box Handles
I think this trick is just so nifty. Turn any moving box into an easy-grip, easy-carry box with handles by making two simple cuts with a
box cutter
.
Cut a V into the box, and then push in to form the third line going across the top (in red). By folding here, instead of cutting out a full triangle, you keep the handle part of the triangle slightly padded. Otherwise, the cardboard cuts could really hurt your hands and not make it any easier to carry at all!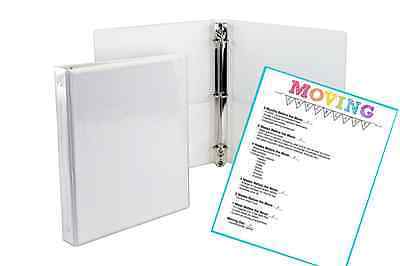 Organise a Move Notebook and Checklist
This isn't so much a tip or "hack" as much as it is good common sense.

A move is a total upheaval of your life, which is utter chaos at best! Keeping track of important documents, important dates, phone numbers, and crucial to-do's is essential to a smooth move.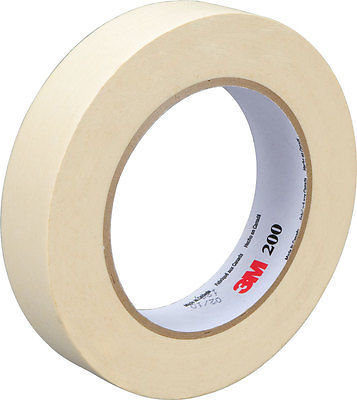 Tape the Mirrors
Make a large X using
masking tape
across the full length and width of mirrors or large glass surfaces. It helps absorb shock, which may prevent it from breaking. And if the glass breaks anyway, the tape helps to keep broken shards together.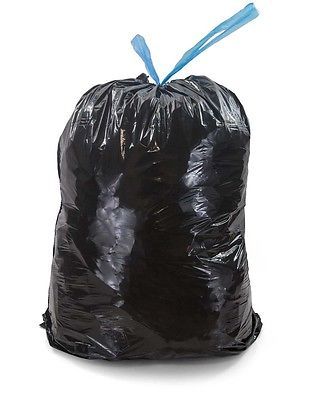 Hang Clothes in Bin Bags
This is a truly fabulous tip. It's a lifesaver in so many ways. First, because packing up all of your clothes in a box is a gigantic pain. It takes forever. And ever. And then a day more than that.
What's worse than packing up all the clothes is unpacking all the clothes.
And what's even worse than that is not being sure where your clothes are, because you're living in a sea of boxes for the first couple of weeks after moving anyway!
Here's a far more pleasant alternative: leave your clothes on their hangers, and just slip them into
bin bags
. The clothes stay protected during the move thanks to the bin bags, and they stay on the hangers. And then all you have to do is hang them up in the new house and rip off the bags! Bam.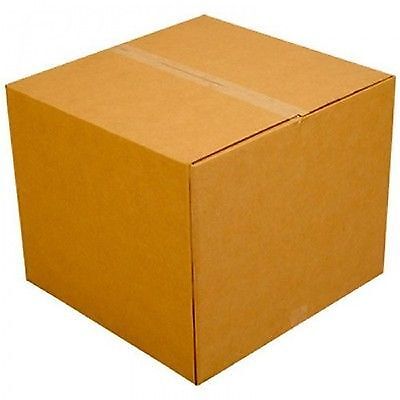 Pack a First Night Box
This tip is worth its weight in gold, people.
We have spent way too many first nights (and days) in a new home completely miserable, because we simply can't find any of the amenities we packed up and didn't realise were so essential to our every day living.
For instance... a
shower curtain
. I will always and forever pack a shower liner in my "First Night" box every time we move. Because, otherwise, your options are a bath (and in apartment living, we just don't do that) or shower without a curtain. I've done both, and neither one is fun.
Another crucial "First Night" item:
phone chargers
. Now, we wouldn't ever go packing these cords up in the deep recesses of our moving boxes. But what has happened several times is that we kinda, sorta forgot about them until the last minute and simply "threw" them in the nearest box/basket/bag/whatever that was heading to the new place... figuring we could just as easily grab it when we needed it. Which we could have... if only we'd remember where said box/basket/bag/whatever ended up. I always pack spare cords in the "First Night" box.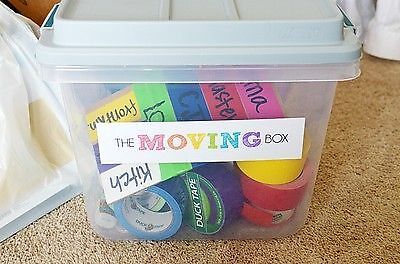 Designate a "Moving Box"
Different than the "First Night" box, which you only need once you arrive at the new house; the "Moving Box" is for use during packing, moving, and setting up the new place.
Having a designated, separate location for all the little things you need during a move takes away a lot of the headache. In my moving boxes, I always keep:
packing tape
coloured duct tape for labelling boxes
several large Sharpies
a flat head and Philips head screw driver
spackling and scraper
a small container of touch-up paint
a small razor blade (it comes in handy more than you would think!)
painter tape
plastic wrap
gallon-sized zipper bags
work gloves
pens (you always end up needing pens at odd times when you're moving)
rubber bands
monkey hooks
lots and lots of 3M hanging products (these have become my best friend, since we move so much)
box of assorted screws, nails, bolts, etc...
And, on moving day, I usually end up tossing in washing up liquid and a sponge,
rubber gloves
, and a few other odds and ends that I may need for cleaning or prepping the new house. And no matter how hard I try to keep papers in the designated Moving Notebook, documents usually still end up making their way into the box. Mostly because I know I'm less likely to misplace the box than I am "The Notebook."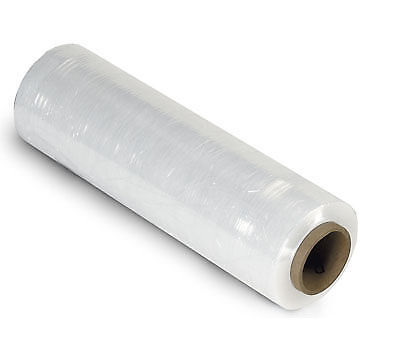 Shrink Wrap Everything
The last time we moved was the first time I used shrink wrap to pack up our belongings, and I felt like I was seeing the light for the first time in my life! It is seriously unreal how incredibly versatile and useful plastic wrap is while packing. I used it for E-V-E-R-Y-T-H-I-N-G. Such as...
Wrapping all of our
canvas prints
, wall arts and frames. This was the first move in which we didn't end up with some seriously damaged picture frames! The plastic keeps them from scratching each other, prevents other items from damaging the frames, and pads them nicely as well when multiple wrapped pieces are stacked together.
Keeping smaller items together like utensils, desk contents, and even jewellery.
Protecting furniture. It wraps so perfectly around all those edges and corners that are often times left exposed in a moving truck, and prevents all manner of scrapes, scratches, dings, and dents. That
shrink wrap
is tougher than it looks when wrapped in layers!
Keeping fragile items from bumping around. For example, instead of individually wrapping my plates in bubble wrap or other packaging material, I simply wrapped a stack of plates snugly in several layers of shrink wrap and then boxed them up with other kitchen supplies. We didn't have a single broken plate!
And all of that is just the tip of the iceberg. Seriously... wrap everything.
I just used your typical, everyday kitchen-use cling-film that you can find in supermarkets for our last move. But I've already purchased an "industrial strength" roll of much larger wrap for this move!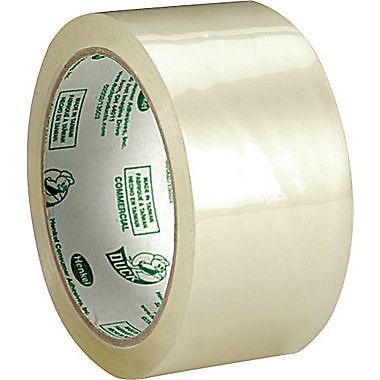 Tape Screws, Bolts, etc.
This is particularly helpful with furniture. Just group the screws/bolts/whatever that all go with a certain piece of furniture, and use a large strip of packing tape to secure the entire grouping directly to that piece of furniture. This way you won't be missing a single screw or bracket when you arrive in your new home, and you'll be able to assemble everything without hunting down itty, bitty pieces of hardware.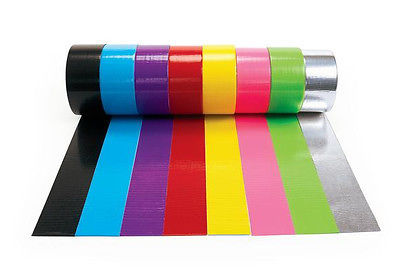 Colour Coordinate Room Labels
We've found that colour coordinating boxes with strips of coloured Duct Tape is a life saver when it comes to unpacking at the new house. There is such a wide variety of coloured and patterned
duct tape
available these days, which is so much easier than trying to print off little labels. Plus, coloured tape sticks out so much better than writing directly on the box!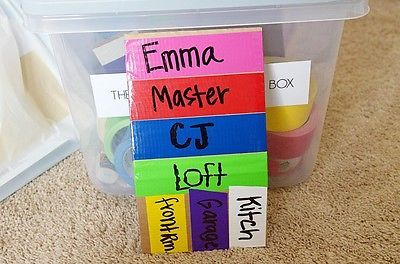 Create a Colour Key for Packing and for Moving Day
Be sure to create a master colour key of the different box colour labels you used to pack each room. This makes unpacking that much easier.
I hope you find these tips, tricks, and ideas as helpful as we have in our moves. Even though moving is disruptive no matter how well you do it, it is possible to minimise the chaos and confusion with proper planning and preparation. Good luck!