So you've received an invitation to an event marked 'Black-Tie', 'Tuxedos', 'Dinner Jackets/Suits', or 'Semi-formal' (see end). If you're on ebay, you've probably already realised that buying is much better in the long-run; rented suits are expensive, usually fit poorly, and often smell. This guide is a traditional, piece-by-piece analysis of classic Black-Tie, written in response to odd suggestions and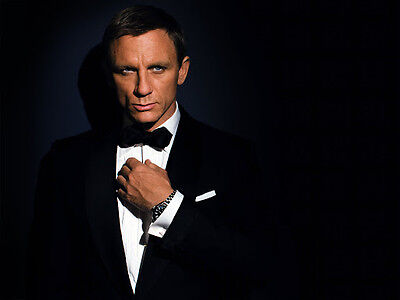 misinfor
mation in other guides. Follow these guidelines and you can achieve a timeless, elegant look, and avoid looking like a teenager at their first prom.
After the specific details, I will draw them together and explain why the rules are so precise. Look upon it as a uniform, designed with purpose to create a visual illusion.
Jacket
Cut

Single or double-breasted fine

Jacket should only be undone whilst sitting, and a double-breasted jacket not necessarily even then

No vents preferable, followed by two vents. Single-vented jackets not preferable

Fabric

Black or midnight-blue, with satin or grosgrain lapels

Lapel cut

Peak - emphasises height and breadth of shoulder. The more traditional and formal option, derived from the tailcoat.
Shawl - smooth and casual. Informal, derived from the smoking jacket (a garment only worn in the most casual settings)
Notched - not appropriate; the first thing they signal to the discerning eye is a factory production line that has simply stitched some satin onto the lapels to pass the jacket off as a dinner suit
Trousers
Should match the jacket material
Must have a satin stripe down each side of the leg, covering the seam
Preferably cut for braces, not a belt
Shirt
White only
Marcella (Pique) or pleated fronts. Stiff-front shirts rare and traditional, but acceptable
Should be fastened with shirt-studs, not buttons. These should preferably be in black, with silver surround
Turndown collar only

A wing collar is common, but undesirable, as it leaves an ugly black band around the neck.

Double cuffed - fastened with tasteful, understated cufflinks (often matching the shirt studs)
Neckwear
Black, self-tied bow-tie

At my first black-tie event I wore a pre-tied bow tie. Halfway through the main course, it unclipped without my noticing, and to the great amusement of the table I spent several minutes with a bow tie dangling from my collar. Pre-tieds can be spotted a mile off, so learning to tie a bow-tie is a skill worth investing in

Long ties are not an acceptable alternative. Similarly, colourful bow-ties are acceptable only if they represent a club or society
Waist covering
Waistcoat - Black, and low cut only. The waistcoat should only be barely visible when the jacket is fastened - a normal suit waistcoat is not appropriate. Wear a waistcoat with a peaked-lapel jacket. Caution: Very difficult to find!
Cummerbund - Black. This is more common, and perfectly suited to shawl-lapel jackets. Do not opt for colourful cummerbunds. The pleats should be facing upwards, leading to the misconception that the item is to catch crumbs.
Shoes
Black, highly polished or patent leather Oxfords

Accessories (optional)
Hat - A homburg or fedora. Do not wear a top hat or a bowler hat
Scarf - White/cream satin or silk, with tasselled ends. To be worn across the shoulders of the jacket with the ends hanging down and not thrown around the neck
Coat - Black/charcoal, woollen, knee-length
Cane/Walking stick Please spare everyone the embarrassment of taking a walking stick if you do not actually need one. Especially these black canes with silver heads. They're the ultimate mark of a child at a fancy-dress party. However, feel free to take a tightly wrapped walking umbrella if you feel you must have something in your hand.
Pocket Handkerchief - White preferable, although this presents a chance to throw in a reserved flash of colour. Keep this to a rich maroon, purple or blue and avoid bright colours.

So you may well be wondering what the point of all these rules is, and rightly so. I shall therefore attempt to explain.

The dinner suit is widely held to be the modern pinnacle of elegance, and for a reason. It creates a formidable visual effect, and deviation from these rules break that. That is why arguments that 'dress must constantly evolve' ultimately fail - the design of a dinner suit is fixed not because to change it is to destroy the visual effect.

The effect
The dinner suit creates a stark contrast between white and black. Black shoes, trousers, and jacket all serve to slim the wearer. Against this background, a white V shape is created by the shirt. This V draws attention up towards the face, whilst pointing out towards the shoulders. This creates a powerful illusion of height and breadth of shoulders, whilst suppressing the waist - features almost universally considered attractive. Peaked lapels magnify this illusion, whilst shawl lapels soften it. The bow tie draws attention upwards towards the face, adding further to the effect.

When it all goes wrong
Common mistakes:
Long tie - The white V is cut in half, destroying the visual effect and drawing attention downwards, away from the face. This coincidentally transforms elegant evening wear into funeral attire.
Coloured bow-tie - Breaks up the black/white image, and draws attention to the bow tie rather than to the wearer.
No waist covering - leaves visible white around the waist, which shatters the V illusion and draws attention to the waist.


A final note
Well, you've finished the guide! I hope it was useful. If you abide by all of the rules here then you can blend into any black-tie gathering with ease - from the Oscars to royal occasions. I feel compelled to state that the dress-code is 'Black Tie', and you wear a 'Dinner Jacket' to these events. 'Tuxedo' is an American word derived from the Tuxedo Club where the garment was first introduced.

(Semi-formal is technically the correct designation of dress code. Formal refers to full evening dress, which consists of an evening tailcoat/trousers, white waistcoat, white bow tie, wing collar (detached) on a stiff-front white shirt, and either court shoes or highly polished Oxfords.)