Our pride and joy
With over 11 years experience in retailing, wholesale and on line selling. We have great experience in understanding what customers are looking for.
We believe the following are key factors.

*Communication - you must remember you have all sorts of customers online, when you are NOT dealing with someone face to face, it is harder to understand sometimes what a customer really means. Be precise, accurate and honest with your answer. Take into consideration that not everyone has knowledge about phones and people may have had bad past experience, so reassure your customers by being friendly, honest and patient.

*Honesty - Be honest about your product, a customer should not be disappointed when they receive their phone. Not only does that mean they will return the phone, it also means you may not get the feedback comments you want and most importantly they will not be coming back to you. Remember that you do not want to sell one product, if you are serious about online selling, you need to see the bigger picture, you will have make sacrifices and compromise, being flexible with prices and profit margins but as your business expands, your customers increase, you will incur more revenue.

*Customer Support - I have already mentioned communication but I need to emphasis on customer support as this is very important. After a customer has bought and used your product, they may have questions or have problems, do not fob them off or think its not your problem any more. Being helpful will make a customer bring more customers, it will also help you understand where you maybe going wrong or how you can improve your product or service. Always keep an open mind and take customers comments seriously so that you can improve.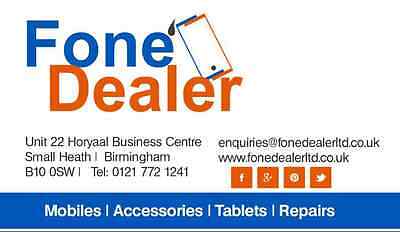 Add a caption
Retailers of mobiel phones, tablets and accessories. Repair and unlocking specialists.
When we have competition from leading sellers, why will people buy from us???
Just look at our phones, what you see is what you get. If a phone is listed like new, its is new, when we say a phone has minor marks, it will have some or no marks. Customers will always be happier when they receive their phone not be disappointed.