As a collector and researcher of Baxter Prints I have been constantly watching Ebay for many years. As a dealer in Baxter prints, apart from a few sales very early on in 2001, we have always restricted our Internet presence to our own website. This is purely because it is a specialist market and I can't sell too many items, too quickly, as stock of the right quality is hard to replace.
However, I now feel the time has come to create a Buyers Guide, to help the new or experienced Baxter Collector from inadvertently parting with good money for fake items. As such, I think it is only fair that if I'm writing a guide, I should be playing an active part in Ebay, so from now on I will be selling a small number of guaranteed genuine items. So if you think my feedback score is low, that is why.
Virtually all the Baxter sales I have seen over the years are either general dealers selling the odd Baxter item/small collection or private sales. 99.9% of all Baxter items are honest descriptions as the seller sees it, I'm sure there is no intent to deceive. Conversley I have had occasions where people have contacted the website for a valuation and been advised that it is a 'worthless' fake, only for them ignore the information and place it on Ebay describing it as a genuine article. I have never felt it was my place to intervene - buyer beware etc. but...hopefully this very simplistic guide might help. For more indepth information please see the 'Fake and Forgeries' page on our website - and even this only touches on the subject!
Why so many fakes? In the 1920's the value of Baxter Prints went through the roof, totally disproportionately to other antiques - a rare 'Launch of the Trafalgar' sold at auction for £400 - perhaps the value of a good sized house? Todays value? Nearer the price a cheap second hand car! At the time there was no fully illustrated guide and information was scant so people would try to pass all sorts of things off as Baxters Prints. So here we go - How to identify fake Baxter Prints:
Rule 1 - You should know if the image is one that Baxter produced - at any one time on Ebay there is bound to be prints described as 'Baxter Prints' that are not. Some are just using the term very loosely and they are in fact Kronheim or Le Blond prints etc. that are printed by his method so, at best, they should be described as 'by the Baxter Process' or 'Baxter Process Prints'. There are many examples of sellers using the term Baxter Print to describe any mid Victorian looking colour print - we highly recommend that any collectors should purchase a copy of 'The Price Guide to Baxter Prints' which illustrates all known examples, as at 1984, it has been out of print for a number of years.
Rule 2 - Don't trust the embossed seal! - In the 1920's someone faked Baxter's embossed seal (with and without title) which can be embossed onto any piece of card and any old print could suddenly look genuine - please see Rule 1. In my vast collection of fakes there are prints by Le Blond, Kronheim, Mansell, Nelson and who knows who else on card with an embossed seal - this can be even more confusing when the embossed seal has a title giving the name of a genuine Baxter print. I have examples of Belle of the Village, Parting Look and Napoleon I (all prints produced by Baxter) all with embossed seal with title but the print is nothing like the print that Baxter produced.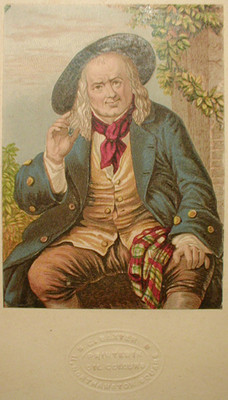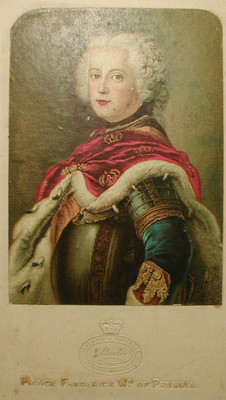 Two examples of FAKE embossed seals trying to be Baxter Prints - A Mansell print and a print of 'The Prince Frederick of Prussia' even with embossed title but neither are prints by Baxter 2) A very common fake, could be any two prints from Le Blond's Regal or Fancy sets, on a fake mount.
Rule 3) If it's printed just in red, its guaranteed to be a 1920's fake - the most common being the second one shown below, the round print usually called The Little Gardeners being a large version of a genuine Baxter Print.
The Gleaners a later reprint taken from Baxter's plate and then the most common fake in this catagory, The Little Gardeners, larger and in reverse than the print by Baxter.
Rule 4) If the print has the wording 'Baxter Patent Oil Printing 11 Northampton Square' printed just under the image on the right hand side, just like the images below, it will be a fake.
They can be found printed in brown, in red (see Rule 3) and also hand coloured, ANYTIME you see any of the images below they will always be fakes with or without the lettering noted above.

Clockwise from top left - Going to Church, The Trysting Place, The Gleaners and The Moorish Bride all fakes printed after Baxter's death hence sometimes called the Posthumous Plates (possibly the plates were produced but never printed from by Baxter)
However, I mention one print 'Boy throwing stones at Ducks' specifically because Baxter did print from this plate in 1836 but if it has the lettering as decribed above it is definitely a fake. If the lettering is trimmed off and hand coloured, how do you tell the difference? There is a 95% chance it is a fake. Please see our website for further information and comparison.

Both of the examples above are fake, to the left it has the lettering as described and a small amount of hand colouring. The more sophisticated fake to the right has had the lettering trimmed, the hand colouring is virtually complete and also, the finishing touch, a coat of Gum Arabic to fake a distinctive Baxter gloss finish.
Rule 5) Beware of 1920's photographic copies - many were faked and the four most common are noted below, Nelson, Duke of Wellington (with Arm), Napoleon I and HRH Prince Albert. Please see our site for further information.

Rule 6) Beware of prints of Nelson and Peel - Circa 80% of examples are fakes. Nelson can be a photographic copy (Rule 5). They are on the same printing plate which was reprinted from in the 1920's, shown below. If you see the text under the print there is a 99% chance that it is a fake. One easy way to tell the difference with Peel is that if the trousers are beige it is a fake as in the Baxter version they are black.
Rule 7) Beware of the 'signature' 'Published Oct 7th 1854 by G Baxter Proprietor and Patentee London'. This text only appeared on one print 'Belle of the Village' but a rubber stamp was made up with this wording and applied to many thousands of prints, mainly Le Blond and Le Blond Baxter prints, to pass them off as the real thing. It is virtually always crooked (sorry about the pun) and sometimes hidden in the corners. If the print has this date and it's not Belle of the Village it is not a genuine Baxter. A Le Blond Baxter version of Belle of the Village with this faked signature would be a little harder to spot!

Rule 8) Handcolouring - under this section, in theory, any Baxter print could have been faked, at any time a black & white 'first pull' from the plate could have been taken BUT then hand coloured with the intent to pass it off as the real thing. The only way to protect yourself here is to be vigilant, watch out for wishy washy colours and colours that appear wrong or prints that are only half coloured, experience will tell. In this category beware of prints of 'Me Warm Now' - Circa 80% of examples are fakes being hand coloured in varying quality, some are easy to spot but others can be a lot harder and can only be distinguished under a magnifying glass.

Two very common fakes being hand coloured reprints from Baxter's plates - The May Queen set - 80%+ copies seen are fakes, Me Warm Now and a hand coloured copy of HRH Prince of Wales which might fox all but the most vigilant collectors!
Rule 9) Don't always believe the seller, make your own judgement. This might seem harsh as I'm sure no seller would ever lie but as you can see from any of the above any non Baxter specialist can easily be fooled by just describing what they see. As to condition, again, always make your own judgement, we see examples on Ebay all the time saying "Excellent condition" when in fact the print is badly faded. How does the seller of general items know it is in unfaded condition when they have possibly never seen this particular Baxter print before and possibly it might be the first Baxter Print they have ever sold? Please feel free to use the images on our site to compare with and see what a good print should look like.
This guide will continue to be added to as other further examples become available. If you have anything you can add we would be very pleased to hear from you.
Hopefully this brief guide will be of assistance, it doesn't cover anywhere near all the possible fakes out there but, I feel, it does cover 80%. We are limited to just 10 images on the guide page so please look at our website 'Fakes and Forgeries' page for further information and use the images on our 'For Sale' and 'Gallery' pages as a reference. If you have specific queries or would like an unbiased opinion on any item please feel free to email, details on our website or on our Ebay 'About ME' page.
Regards - George