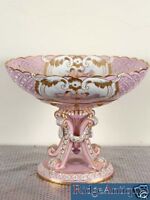 German Meissen porcelain comport
German Meissen (porcelain), hard-paste porcelain was made at a factory established in 1710 at Meissen, near Dresden, in Saxony, east-central Germany. (The ware was once known as "Dresden" in England, and is still called "Saxe" in France.) From the time that Oriental porcelain first reached Europe, potters in France and Germany—to whom the ingredients of true, or hard-paste, porcelain remained unknown—could only imitate it, using artificial, or soft-paste, porcelain. In 1708, as a result of his research into china clays (seekaolin), an alchemist, J. F. Böttger, produced a white porcelain like that of the Chinese. As a result, Böttger's patron, Frederick Augustus the Strong, Elector of Saxony, established the Meissen factory in 1710.
During its early period, in the years 1710 to 1719, the factory produced porcelain wares that replicated the shapes of Chinese pieces or imitated those of contemporary silver vessels. At this stage, the porcelain body was a light greyish-yellow rather than pure white, and the decoration, often floral or in the form of chinoiserie, was executed in colours of rather coarse hues. From 1710 to 1730 the factory also produced a red stoneware known as Böttger stoneware.
In the 1720s the Meissen factory's distinctive white paste was perfected and decoration of the wares became brighter and more refined. The years 1720 to 1735 were dominated by the work of the painters J. G. Höroldt and A. F. von Löwenfinck. Chinoiserie decoration became particularly dominant and the influence of Japanese porcelain affected both the shape and the decoration of Meissen pieces. In the early 1730s, European-style flower paintings, landscapes, and topographical subjects were also used.
Martin Worster