and what you will need to do, to prepare for the arrival of your new dog or puppy, will ensure you both have a long and harmonious relationship.Helping to keep doggie tails wagging and the family their sanity ..... "Whoof Whoof!"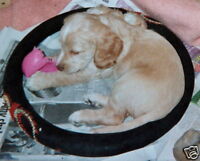 Before the arrival of your puppy it's a good idea to locate your local veterinary clinic. Your puppy will have had it's 8-week vaccination, but will require a second vaccination at 12 weeks of age, then annually thereafter. The puppy will also have been wormed, but again this will need to be continues together with flea control. I personally recommend Stronghold, which is obtained from your veterinary clinic and treats both worms & fleas. Micro-chipping is also a very good idea in case your dog becomes lost.
Insurance
There are many companies offering competitive rates to insure your pet, but please take the time to check out the small print. Cheaper policies often will not cover lifetime treatment, i.e. if your puppy or dog unfortunately became ill and needed treatment for the duration of his life, you may not be covered. Also be careful when an insurer says there is lifetime cover up to a certain amount i.e. £5,000, split this figure over a period of say 7 years and include inflation, you'll soon realise this will not be enough.
Collar - with id. disc displaying your contact details. Avoid putting on a home tel no, use a mobile, for if your dog goes missing chances are you'll be out looking for him. Avoid putting your dogs name on the disc, this will make it easier for your dog to be stolen.
Lead - until the puppy is well trained a short lead will offer more control.
Dog Crate Cage- to be placed in a permanent position in the main family area. see below
Bedding - 2 or 3 to allow for washing. In the early days inexpensive beds are a good idea as young puppies will often chew.
Newspaper - to line the base of the crate / cage.
Water Bowl - a heavy ceramic bowl so that the puppy can't tip the bowl over.
Feeding Bowl - with a non-slide rubber base.
Poo Bags - use environmentally friendly, pop a few in the car glove compartment and coat pockets, it's easy to forget before going for a walk.
Dog Brush - daily or weekly grooming to keep fur tangle free
If you have young children, avoid giving your puppy soft fluffy toys, this could encourage the puppy to chew the children's toys. Likewise a puppy can't tell the difference between an old unwanted shoe and a new pair!
Try to arrange beforehand to be at home with your new puppy as much as possible in the first few days. Once you arrive home with your new puppy, carry him into the house and place immediately into the crate / cage. The carte should have been prepared earlier with bedding, toys and chews and a cover across the top to help the puppy feel more secure. Leave the puppy in the crate / cage for approximately an hour, this will help him to realise this is his den. Walk away and let him settle and explore his new surroundings. To train a young dog to go into the crate/ cage you will need to find a command. I use for my girls "BBs bed" (Bonnie & Bisto) & point to the crate There's a great added bonus to using such command, when ever we are out I can still use this command to request the girls sit and stay in a designated area.
In the early days use newspaper to line the crate / cage, because of overnight accidents. If bedding is used to cover the whole area a puppy will frequently pull the bedding to one side to do his toilet.When leaving your puppy alone for any time ensure the crate is securely locked. For a puppy under 16 weeks old try to avoid leaving him alone in the crate during the day for more than an hour or so.
Your breeder should have given you details of the puppy's diet, when introducing a change do this gradually over a period of 3 - 4 days. Feeding your new puppy will depending on age be either 2 or 3 times a day, ensuring there is always fresh water available. Evening meal is best given before 6pm to avoid any accidents after you have gone to bed.
Some puppies will struggle to spend the whole night in their crate; try placing his blanket in a small box inside the crate, this will make your puppy feel more secure. If the puppy becomes extremely stressed you could place a box next to your bed for about a week , as the puppy will probably (just like a young baby) wake during the night and desperately need some company. When he wakes just stroke him for a few moments (don't pick up and cuddle) this will normally calm the puppy down and fall asleep again. By 10 - 12 weeks of age they should be able to sleep in their crate overnight, but you will need to get up early to let them out for toilet. There is no need to leave any food or water in the crate /cage, but items to play with and chew are necessary.
A good breeder will be more than happy to offer ongoing help and advice if you have a question or a problem should arise, don't put up with any bad habits, seek help ASAP. before things get out of control.