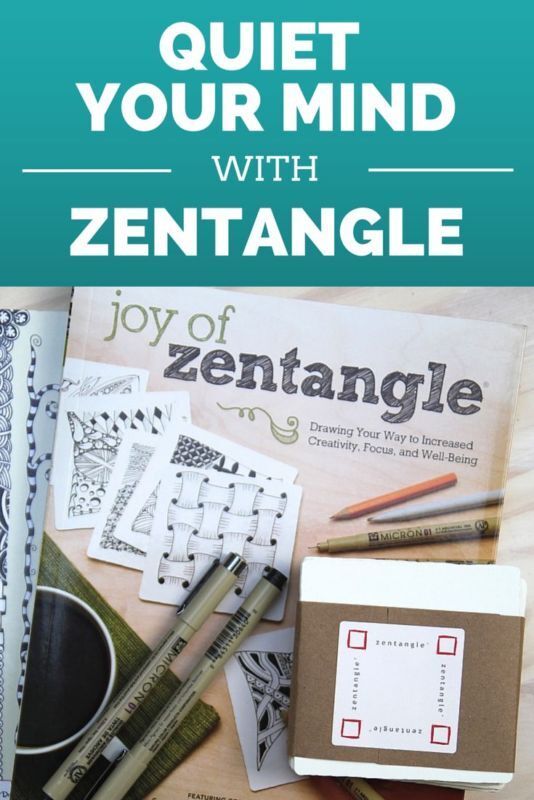 One of my current favourite mindfulness meets creative self-care activities is to start my day with Zentangle. I sit at the kitchen table and while I'm eating breakfast, I take out one of the smaller Zentangle tiles and open up one of the books I have about Zentangle and begin to draw a "tangle."

Zentangle was created by Maria Thomas and Rick Roberts. It combines the mindfulness of quieting your mind by focusing on your breath and then drawing and the creativity of creating something beautiful through simple, easy-to-learn patterns. Thomas and Roberts have established a series of patterns along with a special process that invites in a slowing down and noticing of one's breathing and then beginning the tangle in a specific way.

In the last few months, I've taken a few Zentangle classes with a local teacher and have really enjoyed dipping my toes into this world. If the idea of combining a creative and meditative practice + simply doodling in a mindful way appeals to you, here's what you'll need to get started.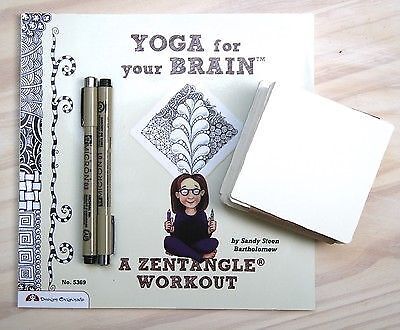 A Zentangle Book
Because Zentangle is a practice of specific doodles and shapes, which the creators call "Tangles," you'll need a book that teaches you how to make the individual tangles. It will also give you insight into the specific way one does the Zentangle method.
There are a wide variety of
Zentangle books
out there. Some focus on creating a
tangle a day
, others on adding colour to your tangles, and others on introducing Zentangle to kids. My current favourites are
Joy of Zentangle
and
Yoga for the Brain: A Zentangle Workout.
There is also a lot of information on the main Zentangle website and you can easily find some videos by doing a quick search.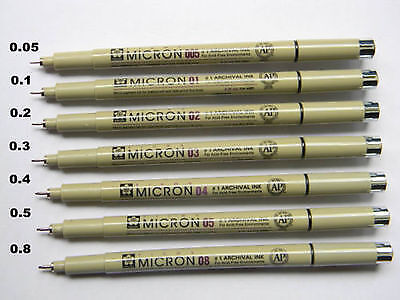 Pens
Zentangle teachers recommend
Micron pens
. I have to admit that they're my favourite too. The ink flows onto all kinds of paper very smoothly. That said, I pretty much think you can never go wrong with a
Sharpie
. You'll want a fine tip.
And if you're going to invest in Microns, it's a good idea to get
a set
that has a variety of sized points so you can use the thinner points for line work and thicker for filling in. I'm notorious for pushing way too hard on my pens in my rush to get things written down quickly, but if you do this on the finer points, you'll ruin your pen. Zentangle is so good for me because it not only forces me to slow down and be in the moment, but it also invites me to create at a slower pace, which is what you want when combining mindfulness and creativity.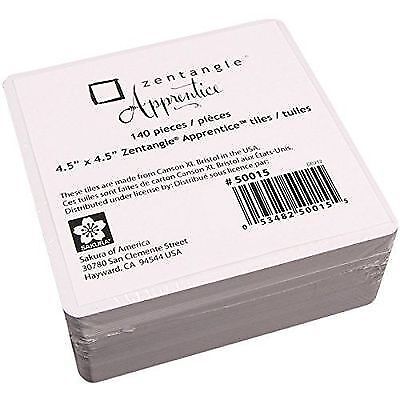 Paper
The creators of Zentangle recommend and sell special
paper tiles
in a couple of sizes. One thing that's nice about using the tiles is that their small size makes you focus on just what you're doing in a small space without getting overwhelmed by too much scary white space to fill.
You can also Zentangle and doodle in a diary (I love
watercolour Moleskines
) or on watercolour paper. I've also taken a Zentangle tile and traced a few onto pages in my diary to give me the smaller space to work from inside a diary I like to use for lots of different kinds of art.
And this is the part where I tell you that I want to empower you to know that you can use any diary, notebook, or paper you have on hand because the doing part of this is more important than the perfect paper.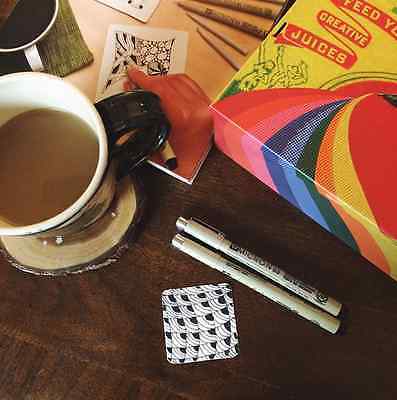 A Time Set Aside for You
In order to incorporate a practice into your daily life, you have to set aside a time to actually make it happen. So often we put things on our "one day I'll do this list" instead of actually doing them. Our intentions are there but we don't follow through. So this is your invitation to set aside a few minutes for you to give yourself the gift of creating space just for you to breathe and just be while giving your mind something to focus on as you "doodle" away.
So Just Get to It
Zentangle can be a great way to bring in self-care and mindfulness to your daily life. You don't need many supplies and you can do it just about anywhere. Plus it doesn't take long to notice the benefits of setting this time aside for you.
It's also an awesome idea to take a class with a CZT (certified Zentangle teacher) if there's one in your area. You can find one with a quick internet search and by visiting the Zentangle website.
Visit my
Get Your Zentangle On collection
for more tools to help you get started with this practice.