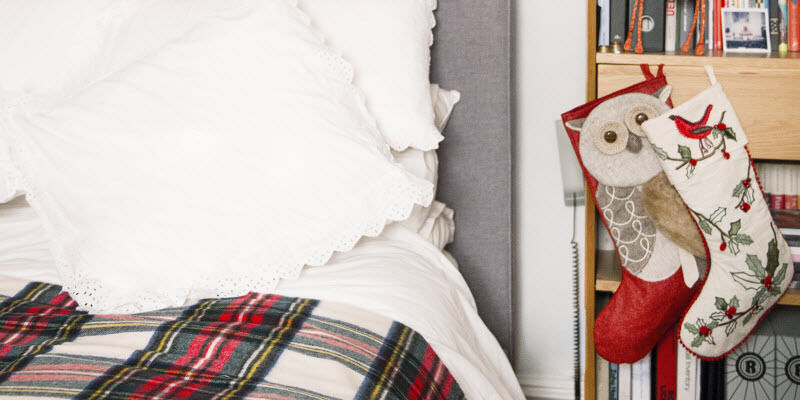 This year it's your turn to host the big day – panic! Where's Nan going to sleep, and Uncle John with his bad back? How will everyone fit around the table? Don't worry, we're here to help you turn your house into a B'n'B for the holiday and give your guests a warm welcome. Top tip – invest in furniture that can be packed away, such as sofa beds and day beds and trestle tables so it's easy to get back to your normal life afterwards. Buy mini toiletries and extra towels for that extra special touch.
Lisa Patton, Home and Garden
A day bed
Day beds
are a stylish way of adding extra sleeping space into your home. Scattered with pretty cushions, they work as an informal sofa by day and with this stowable trundle transform into a double bed for guests.
Price: £79.99
Flexible futon
Futons
suit contemporary minimal interiors and provide incredibly comfortable sleep. Best of all there's no mattress to worry about, just put a sheet over the cushions and add a duvet.
Price: £99.97
Airbed with electric pump
If there's no space for a guest bed,
airbeds
work a treat - make sure you get one with an electric pump to save your puff.
Price: £45.99
Guest bed with trundle
A sturdy bed with comfortable mattress is what you need if your guests are staying for longer. These
guest beds
are great for creating multi-purpose spare rooms as you don't sacrifice all your space. When guests aren't staying stow away the trundle and use the room as a study or playroom.
Price: £189.98
Zzzzz bed
The ultimate foldaway bed, the
Z bed
is great for small spaces and it easy to move and put up when and where you need it.
Price: £79.99
Spare duvet and pillows
A
spare duvet and pillows
will come in very handy but you don't need to spend the earth. These are great value, perfect for occassion use.
Price: £14.99
Neutral bedding
This
pretty double duvet set
with matching pillows will make your guests feel right at home. Choose a neutral theme so you can use it in other rooms too.
Price: £12.49 for double with 2 pillow cases
Kids love sleeping bags
Turn a sleepover into an expedition - just add
sleeping bags
! They're lightweight and easy to wash - perfect for kids with their Christmas chocolate.
Price: £8.99
Mini toiletries
It's the little touches that make the difference, and these little
toiletry sets
placed on your guests' beds show you've thought of everything.
Price: £2.45
Guest towels
When guests arrive, the bathroom gets busy and the last thing you want to be doing is endlessly washing
towels
. Buy a few extra and save yourself the job.
Price: £11.98
Everyone around the table
It might not look that special, but the main thing is that everyone is together. And this plain
trestle table
can easily be transformed into a festive masterpiece with some beautiful Christmas decorations and crackers.
Price: From 23.99 for 4ft
Take a seat
These
fold-up cushioned chairs
will come in handy all year round and they're really light and easy to store away.
Price: £9.99