Gibson SG Special (Faded edition)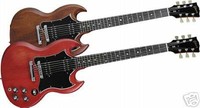 The Special series of the SG range is akin to the Studio make of the Les Paul offerings, simply put, they are the most affordable of the lot. Many would dismiss these entry levels as compromised guitars, but having tried them in person, I disagree.

The faded series will turn you off if you dislike Fender`s Highway1 guitars & basses. The whole guitar lack the final lacquer gloss & it felt absolutely worn in, very seasoned, virtually bare wood for sale. With that in mind, the visible grain of the guitar looks dried up & very unpleasant, even the 2-piece joint is visible- be warned. the other attributes of this guitar is a typical SG spec, dual humbucking, dual volume + tone, tune-o-matic bridge & the works... do refer to the gibson homepage for a more detailed spec, yes? The feel is absolutely amazing IMO but the neck heavy peculiarity is still there- typical SG... I have great expectations from this faded wonder simply because it sounded very loud unplugged, no kidding! No complains on the fit & finish, it`s a Gibson, enough said...
Gibson should offer more humbuckers uncovered as a personal option if you ask me, this guitar had more clarity than many gibsons I`ve tried. Even the neck humbucker had a tad more definition & not too much of that mud ringing in my ears. Playability is tops but the .010 default strings are lethargy inducing (personal bout this one...). the action is a little high for impressive shredding but it`s very bend-friendly.
Again, this guitar underscores the unique tonal capacity of a lacquerless finish. Coupled with uncovered humbuckers (which induces more midrange FYI), it`s ear candy. weeeee.... I would like the fretboard to be more rounded (if it wasn`t already) as the slightly wider neck profile (compared to an LP Std) necessitated more stretching & after some time, you can feel the edge `cutting` into your fingers. This faded SG loves to be driven & a very fine, clean player too. Worth every cent...
Well, well, what do we have here? a simple, stripped down gibson which is really appealing & much overshadowed by its other, more visually stunning, siblings. Somtimes, it`s a simple formula that works, this faded SG proved just that. With a boutique name like `Gibson`, we are often disillusioned by the looks of things rather than the quest for playability & tone.
It`s absolutely ok for one to invest in good looks but at the end of the day, the tonal contribution of such attributes is marginal. Do give this guitar a try the next time it crosses your path. If you are into Gibson`s lacquered necks, this one would turn you off. Those of us who are into a brighter Gibson offering, this would be a good start.
Have fun and I hope you've found this guide useful. If you've learned something or you have further clarifications, feel free to drop us an email. We'll love to hear from you!
Do also visit our store for specialized guitar backing tracks. At DollarBackings, we've a wide range of unique and original guitar backing tracks covering all genre and all playing styles! See you soon.
Regards,
DollarBackings Admin
Your #1 source for Professional Guitar Backing Tracks