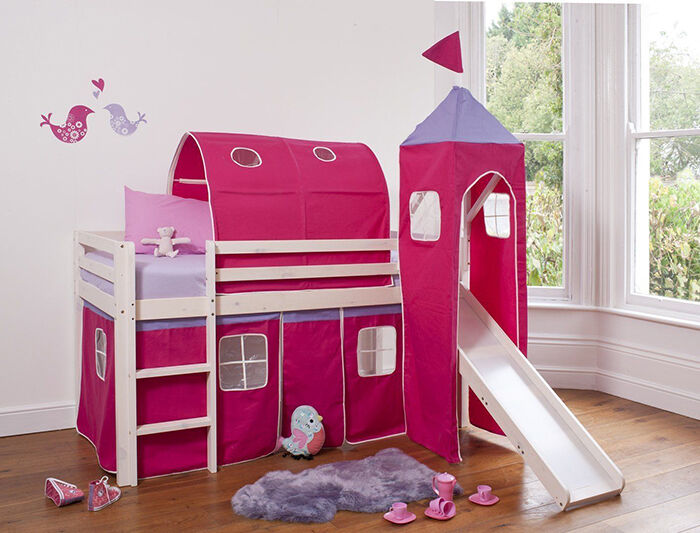 Cabin beds are those that are raised off from the ground in order to create storage or recreational space underneath the bed itself. They are extremely popular amongst children who enjoy both the element of sleeping high up, as well as having the extra room for recreational activities underneath. Parents also appreciate the concept of cabin beds, as they provide the opportunity for ample storage like toys and clothes without the hassle of purchasing and assembling a number of different storage units, such as wardrobes or chests of drawers.
There are cabin beds that have been designed with girls in mind and feature accessories and quirks that appeal to their nature. These are available for sensible and practical prices from auction sites such as eBay and the range is extensive and appealing to a variety of tastes.
This guide aims to take those who wish to purchase a girls' cabin bed through the wide variety of considerations and options available.
Components of a Girls' Cabin Bed
There are a variety of components that make up a cabin bed as a whole. Whilst some are included in the construction of every cabin bed, others are additional accessories that may affect the price of the product. The following are some of the more commonly used components that make up a cabin bed designed for girls:
| | |
| --- | --- |
| Cabin Bed Component | |
| Frame | The frame supplies the main support for cabin bed. It is the platform on which other elements of the bed can be attached or placed. The frame can come in a variety of different sizes that can be purchased in relation to the age or height of the girl that the bed is being bought for. The frame of a cabin bed can also come in a multitude of different materials, such as wood, metal or plastic. The advantages and disadvantages of these materials will be discussed later on in the guide. |
| Ladder | With the actual bed being raised off the ground, it is a pre-requisite for a cabin bed to have a ladder.. The majority of the time the ladder is fixed to the cabin bed. However, there are some cabin beds available that have detachable or movable ladders. Ladders on cabin beds tend to be made of the same material as the frame so as to ensure design consistencies. |
| Railings | The railings on a cabin bed are extremely important components. This is down to the fact that they ensure a child's safety whilst sleeping and prevents them from falling off in the during the night. Due to the nature of a cabin bed, in that it sits relatively high off the ground, railings make sure that they remain safe at all times. |
| Desk | A desk is not included in every single cabin bed. However, they do feature regularly. More often than not they are placed in the space underneath the raised bed. Cabin beds with desks underneath are appreciated for their space-saving qualities, as well as their propensity to encourage creativity and study time. |
| Storage Units | Whether shelves or a larger, more efficient storage unit, such as drawers or smaller wardrobes, there are some cabin beds available with storage units underneath. Again, these are appreciated by the adults that buy cabin beds for their children, because it enables them to save space and ultimately money as they manage to find two pieces of bedroom furniture for the price of one. Most storage units fit the same design brief and materials as the rest of the cabin bed. However, there are some cabin beds that allow for the removal and replacing of storage units if necessary. |
| Slide | Again, this is not a feature of every single cabin bed. On the other hand, they are very popular and often requested amongst children who wish to add a fun way of getting out of their bed. More often than not, cabin beds with slides attached are no higher on the price scale than those without. Also, cabin bed slides are often considered by parents to be a safer way of getting down from a cabin bed than climbing down a ladder backwards. |
Style
There are many different styles of cabin bed available for purchase on eBay. These varying styles appeal to a number of different tastes, as well as being able to be easily matched with other bedroom furniture. Here are some of the more popular styles of girls' cabin beds that are readily obtainable:
Modern: most modern girls' cabin beds are made from materials such as metal or lighter woods. These tend to be raised higher than other styles of cabin bed and feature a greater number of add-ons and accessories. A lot of modern style cabin beds either have desks or extensive storage space and are easily assembled and transported.
· Contemporary: contemporary cabin beds for girls tend to be more minimalist in their approach to design. They also feature less add-ons, yet retain a high level of storage space underneath. Metals of different colours tend to be popular amongst designers and sellers of contemporary style girl cabin beds.
· Antique: cabin beds of this nature are extremely popular amongst girls. Their design features tend to appeal to their sensibilities, as well as commonly fitting in with other design tastes concerning other types of bedroom furniture. Antique style cabin beds for girls are often made from wood and feature intricate design twists, as well as providing a lot of storage space. Antique style cabin beds tend not to be raised as highly as the likes of modern or contemporary style cabin beds.
Girls' Cabin Bed Material
The materials used in the manufacturing of girls cabin beds differs depending on taste and occasionally budget. Some of the materials used provide more space underneath the bed and for the rest of the room, whereas others are more robust and will ultimately last longer. Here is a table defining the more commonly used materials in the manufacturing of girls cabin beds:
| | |
| --- | --- |
| Material | Advantages and Disadvantages |
| | Metal cabin beds are often easy to assemble and light, which aids with their transportation. They also tend to have smaller frames than cabin beds made from other materials, and this is advantageous because it does not take up a lot of space. On the other hand, the thinner frames of most metal cabin beds mean that they are not as robust and stable as the likes of wooden cabin beds. Girls cabin beds made from metal are available in large numbers and thus can be found at a reasonable price. |
| Wood | Cabin beds made from wood are often a favourite amongst girls. A commonly used wood in the production of cabin beds is pine,, a wood that is used regularly in the production of other types of bedroom furniture. Antique style cabin beds are often made of wood. However, cabin beds made from wood can often be bulkier and heavier, meaning that they take up more space than those made from metal. Popular cabin beds for girls are those made from wood, which are then painted white. Generally, wooden cabin beds feature higher up on the price scale than those made of metal, as they are often more durable and less prone to damage. |
Buying a Girls' Cabin Bed on eBay
eBay is home to both girls cabin beds that can be purchased as new, as well as those that are used. The range is extensive in design and price.
Girls' cabin beds can be found in the Home & Garden section of the site, after then visiting the Beds & Mattresses tab and searching for the desired product in the keyword search bar.
When using eBay to place a Bid on an item, be sure to be extensive in your research on the product that you want to buy. In terms of the product description, make sure that it the specifications of the product are detailed, and also its condition and accessories are stated. If anything is unclear then contacting the seller directly may be a good idea.
Be conscious of eBay and Pay Pal's terms and conditions, as well as being aware of the advantages of the Buyer Protection Program that is provided by the site.
Conclusion
Before purchasing a girls' cabin bed,, there are some things that need to be considered:
· Space: It is always wise to measure out the amount of space that is available for a cabin bed. Do not forget to account for the height of the bed, as well the ceiling height to allow room for a child to sit up without any injury occurring. As well as height, width and depth are also important, as some cabin beds can be a lot bulkier than others.
· Accessories: When buying a cabin bed, it may be an idea to decide on what accessories are being looked for before starting a search. Whether it is a desk, a slide, or even a tent,, deciding beforehand on what is desired can make a search easier and more efficient.
· Condition: If buying a new girl's cabin bed, then ensure that it is in its original packaging and that the packaging shows no sign of damage or being opened. If buying a used girl's cabin bed, also make sure that all the parts are included and that if some are even slightly damaged then the price being paid is a true reflection of this.
Once these things have been taken into consideration and one is aware of the benefits of buying from an auction site such as eBay, a girl's cabin bed can be purchased securely and affordably.