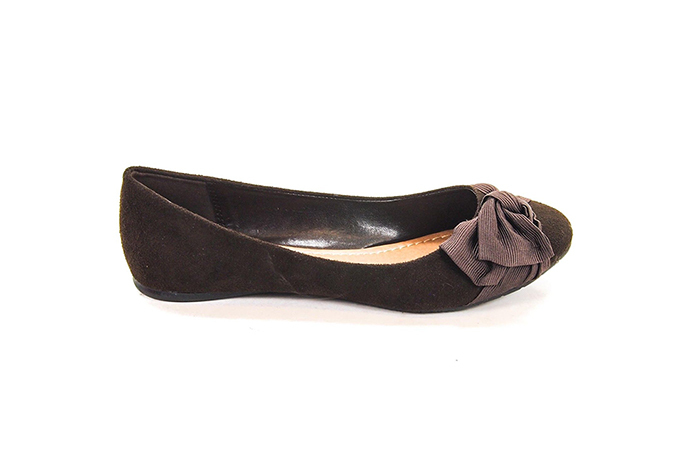 The right pair of shoes can make or break an outfit, so it is important to choose footwear wisely. Finding stylish shoes for girls that are also comfortable can sometimes be a chore. Whether it's flats for everyday wear, classic black shoes for school, or sandals for an elegant outfit, choosing girls' comfortable shoes requires creativity, an eye for the detail, and quite a few hours of shopping. The good news is that buying comfortable shoes does not mean a girl has to sacrifice fashion: there are many styles of shoe that are both easy on the foot and easy on the eye.
Even though the primary role of comfortable shoes is to prevent injury and protect the feet, they should also fit well. Shoes that are too large, too small, or too narrow may cause injury, discomfort, and, in some cases, even permanent deformity. Understanding the architecture of shoes as well as what constitutes the proper fit can help buyers make a sensible shoe purchase, whether online on eBay or in high street stores.
The Structure of Girls' Comfortable Shoes
When selecting girls' shoes, buyers should keep in mind that a durable construction is vital for protecting the feet and keeping them comfortable as well. The basic rule is that shoes should fit the shape of the feet, and not the other way round. A girl's feet should never be forced to conform to the shape of a pair of shoes. Poorly fitted shoes may lead in time to a number of problems, including blisters, calluses, soreness, and even permanent malformations of the foot.
Architecture of a Comfortable Shoe
Girls' comfortable shoes consist of several parts that help the foot's complex system of muscles, bones, and joints by absorbing shock and serving as a buffer between the body's weight and the ground. These parts include a strongly built arch, a slightly raised heel of up to 5 cm, and built-up padding and sides near the front of the foot. A comfortable pair of shoes is usually crafted of breathable, natural materials that help ventilation in order to avoid foul odour or conditions such as athlete's foot.
Girls' Comfortable Shoes and Heel Height
Girls' shoes come in different heel heights, the choice of which is dependent upon the girl's age and individual style. However, it goes without saying that, in order for a shoe to be comfortable, the heel should not be too high. The higher the heel, the more pressure it puts on the front of the foot. Heels are symbols of femininity and in recent years they have been incorporated by shoe manufacturers into shoes intended for girls of very young ages. Ballerina flats or boots with a heel of up to 2 cm are good choices for providing a girl comfort for prolonged periods of time. Anything over 2 cm, especially when worn by young girls, may cause discomfort and improper foot development as well as long-term spine problems. Buyers who wish to purchase high-heeled shoes should opt for squared heels, as they are more comfortable than other models.
Soles for Comfortable Shoes
Any shoe or boot has an outsole and an insole. As their names suggest, the outsole is the one contacting the ground and the insole is located inside the shoe. Softer soles, both inner and outer, make shoes more comfortable, as they allow better shock absorbance. Those who desire a soft sole should look for leather soles rather than soles made from rigid materials such as plastic or rubber. Soles should be sturdy enough to protect the girl's feet from injury, but flexible at the same time in order to bend with the foot.
Shoe Materials
Shoes can be made from a variety of materials, and this choice of material can affect the level of comfort and the way the shoes fit a girl's feet. Softer materials such as leather, suede, or canvas are preferred for comfortable shoes, as they decrease the amount of pressure on the foot. Shoes made of stiff materials, including plastic and synthetic materials, are not only uncomfortable but may cause soreness and blisters, especially when they are new. Canvas and leather are two of the best all-around materials for comfortable children's shoes, because they allow the feet to breathe while being comfortable at the same time.
Choosing the Right Size for Girls' Comfortable Shoes
Even shoes that are well-made and constructed of the softest, most breathable material can be ill-fitting and uncomfortable if one chooses the incorrect size. Buyers should be aware of the fact that a girl's shoe size will change, even from one season to another. It is thus vital to buy shoes of the proper size for ultimate comfort.
Brands and Sizes
Unlike adults, who can tolerate a 'breaking in' period without any damage to the foot, children must have shoes that are immediately comfortable. The table below provides UK shoe sizes for girls according to foot length, as well as US and European conversions.
| | | | |
| --- | --- | --- | --- |
| Cm | UK | EU | US |
| 15 | 8.5 | 26.5 | 9 |
| 15.5 | 9 | 27 | 9.5 |
| 16 | 9.5 | 27.5 | 10 |
| 16.5 | 10 | 28 | 10.5 |
| 17 | 10.5 | 28.5 | 11 |
| 17.5 | 11 | 29 | 11.5 |
| 18 | 11.5 | 30 | 12 |
| 18.5 | 12 | 30.5 | 13.5 |
| 19 | 12.5 | 31 | 13 |
| 19.5 | 13 | 31.5 | 13.5 |
| 20 | 13.5 | 32.2 | 1 |
| 20.5 | 1 | 33 | 1.5 |
| 21 | 1.5 | 33.5 | 2 |
| 21.5 | 2 | 34 | 2.5 |
| 22 | 2.5 | 35 | 3 |
Shoe sizes can differ greatly from one brand to another, so when buying shoes online buyers should always check the chart provided by each manufacturer. If opting for high street stores, girls should try multiple sizes and choose the one that allows enough space for the foot without being too roomy.
Measuring the Foot
Buyers can use measuring tape or a ruler to determine shoe size. The easiest way to accomplish this is to draw the outline of the foot on a piece of paper, then measure the length from the bottom line to the top line of the drawing. This should be done for both feet, and the buyer should choose the larger of the two measurements as the accurate size for a new pair of shoes. For running shoes, the type of foot must also be determined (flat or high arches, for example) before buying. Running shoes must be at least half a size bigger than regular shoes because feet tend to swell when running, so it is important to allow for some extra space.
Girls' Shoe Styles
There are multiple types of shoes available for girls and choosing the best pair depends on a number of factors, including comfort, individual style, and the wearing occasion. Every girl should have several pairs of shoes appropriate for different activities and events such as school, playing, special events, outdoor trips, and more.
Ballerina Flats
Ballerina flats are a good option for school-age girls as they are suitable for a wide range of outfits, from dresses and skirts to pants. They also look great with socks or tights, which makes them a versatile type of shoe for everyday wear. As their name suggests, the main characteristic of ballerina flats is their perfectly flat heel, which makes them comfortable for prolonged wear.
Mary Janes
Mary Janes are a timeless style and go well with casual clothes such as jeans, as well as with dresses. They are all-purpose shoes, suitable for school and everyday wear. The strap across the the instep and low heels are two characteristics that make Mary Janes comfortable and ideal for long days at school or walks.
Boots
It is important to keep the feet warm and dry in the winter and the best way to do this is with a pair of boots. When choosing girls' boots, buyers should consider whether they want a fashionable style or a pair that protects the feet against wet or cold. Waterproof models that feature anti-slip soles are an ideal option for buyers who are primarily looking for function in a pair of boots.
Athletic Shoes
Whether for gym or everyday wear, athletic shoes are often preferred by many girls because they are very comfortable and go with most casual outfits. From fashion trainers to running shoes, there are plenty of styles to choose from. The most comfortable athletic shoes are those made from genuine leather, and they should be preferred over those made from synthetic materials.
How to Find Girls' Comfortable Shoes on eBay
Girls' comfortable shoes are available from a wide variety of brick and mortar shoe shops and high street stores as well as online. eBay has an extensive selection of girls' shoes, ranging from casual shoes and trainers to sandals and slippers. You can start your search for girls' comfortable shoes on the eBay home page. Use the search bar to find girls' shoes or navigate through the eBay menus, narrowing from fashion in general to shoes to girls' shoes. You can then narrow the listing according to your preferences, such as shoe style, size, material, brand, and condition.
When buying shoes online, it is important to have up-to-date sizing information, because this way you will not lose time and money with returns in case the shoes do not fit properly. You can find accurate sizing information either in the description of the product or on the seller's profile page. If you cannot see this information, you may contact the seller directly.
Conclusion
Wearing properly fitting and comfortable shoes is essential for a girl's sense of wellbeing throughout the day. A child may not complain about shoes being uncomfortable, so it is the parent's job to make sure a girl's shoes fit perfectly and are suitable for her age or daily activities. Parents should also check the girl's shoes periodically in order to see if the shoes are still working for her. Toes bending upwards are a sure sign the shoes do not fit anymore, while worn-out heels or toes may also mean that it is time to purchase a new pair of shoes. When it comes to purchasing girls' shoes, buyers should take into account the daily activities and the length of time the girl wears the shoes in order to make the most suitable choice. Shoes are often available at local stores, and eBay features a wide selection of girls' comfortable shoes to suit any age and fashion preference.