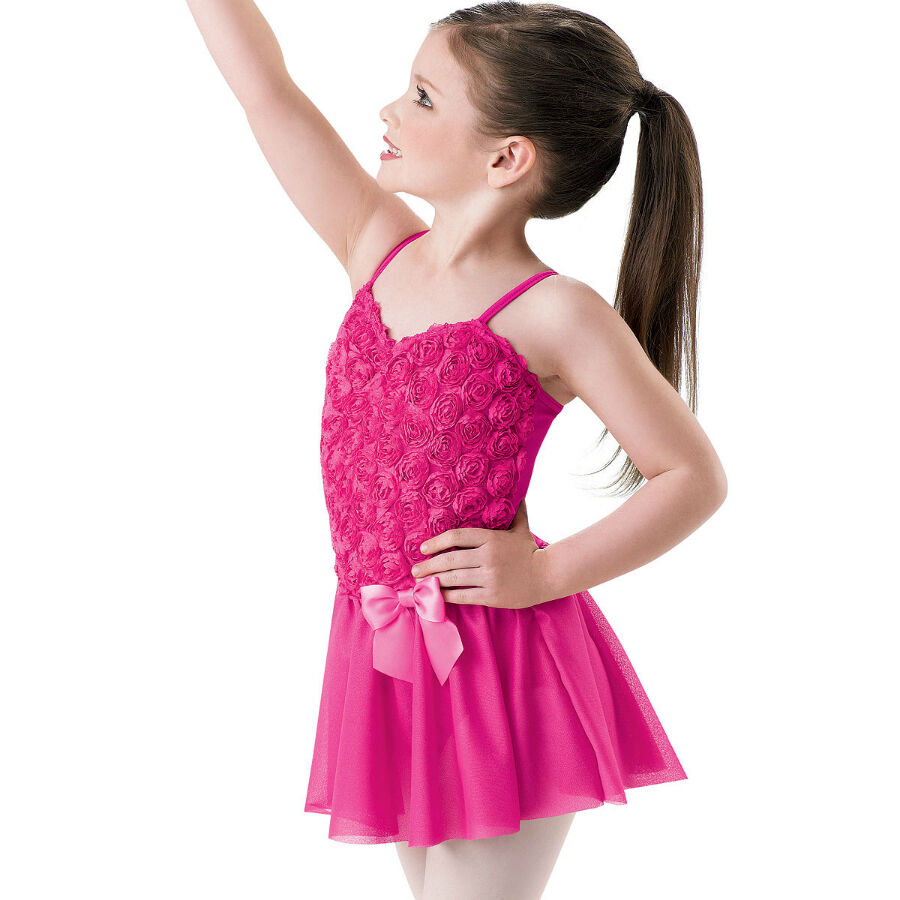 Girls are likely to attend at least one dance in their lifetime, but will probably attend several such occasions. These events usually require girls to dress in their finest gowns for a night of fun and celebration. Whether shopping for a dress to wear to a wedding reception or a formal school dance, there are several types of dresses, styles, and options to choose from. There are strict dress codes to follow depending on the event. When a girl is shopping for a dress to wear to the dance, she needs to take the dress code into consideration when evaluating the different options for a gown. Once she has confirmed the dress code, she can select a type of dress and decide on the style, length, sleeve type, and more. By taking all of these options into consideration, she's sure to find a dress that will accentuate her best features and allow her to stand out amongst the rest of the party guests. Shoppers can turn to eBay to find a huge selection of formal and informal dresses to wear to a dance.
Event Dress Code
Dress codes can vary from event to event, and the host or hostess normally specifies what the guests are expected to wear. Dancing can take place at school functions or weddings, and the types of dresses that girls should wear to either of these functions varies greatly. When shopping for a dress to wear at a dance, the shopper needs to first confirm what the dress code for the event is to ensure that the dress she chooses meets the guidelines. If the dress code is unclear, then she can check with the host or hostess for clarification. Dress codes range from formal white tie to the less formal cocktail attire.
White Tie
White tie dress code is the most formal dress code. When a white tie dress code is specified, girls and women are expected to dress in their finest dresses. These gowns should be full-length or reach the ankles at least. Ballerina style dresses reach the ankles while full-length dresses reach all the way to the floor. It is acceptable for younger girls to wear dresses that are a little bit shorter, but short dresses are never permissible for anyone. Dresses worn to a white tie event should be made of silk, satin, taffeta, and velvet only. Depending on the event, bare shoulders might be acceptable. If the guest is unsure, she should make sure that her shoulders are covered.
Black Tie
A black tie dress code is still formal, but has slightly less restrictions than a white tie dress code. If an event specifies a black tie dress code, then girls and women can wear evening gowns, cocktail dresses (less formal party dresses), or dinner suits. These dresses typically range in length from just above the knee to ankle or calf-length. Some evening gowns are floor length as well. Suitable materials for dresses worn to a black tie affair are silk, satin, chiffon, and velvet.
Types of Dresses to Consider
Once the dress code of the event has been confirmed, girls can consider the types of dresses that they should look for when shopping. The three types of dresses that can be worn to the dress codes mentioned in the above section are evening gowns, cocktail dresses, and ball gowns. While many of the dresses are similar, and some even overlap certain categories, there are a few distinct differences between these three types.
Evening Gown
An evening gown is a long, flowing dress that is worn for black tie and white tie events. A tea-length evening gown ranges in length from mid-calf to ankle. Ballerina evening gowns have a skirt with a length that reaches the ankle. Full-length evening gowns reach all the way to the floor. Evening gowns come in many styles and bodice shapes. They necklines have different shapes, and they are available with straps, sleeves, or halters.
Cocktail Dress
A cocktail dress can be worn to black tie events and cocktail parties. These dresses are usually shorter than evening gowns and are cut above the ankle or shorter. If a formal dance is to follow, then girls and women should consider wearing something more formal. Cocktail dresses can be more fun and festive than those worn in to events with more formal dress codes. A black dress is often referred to as a woman's 'little black dress'.
Ball Gown
A ball gown is a full length dress that is worn to a formal dance. These gowns always reach the floor and are usually sleeveless. These dresses are made from the finest fabrics, and are traditionally made from silk. While the terms 'evening gown' and 'ball gown' are used interchangeably, a ball gown is considered to be more formal than an evening gown and is never strapless.
Dress Options to Consider
There are many dress options that shoppers should take into consideration. As with any other article of clothing that a girl buys, she wants to make sure that the features of the dress highlight her best qualities. She should choose a dress that accentuates her body type, is comfortable, and allows her to be confident in her appearance. While staying within the above mentioned guidelines, shoppers should also consider length, sleeve type, dress style, and size when making a selection. Narrowing down dresses by these features can also make the search more efficient, especially when shopping online.
Length
The dress code of the event often dictates what length dress should be worn. The dress code should always be consulted first before choosing the length of the dress. For a dance where a girl has more freedom over the attire she chooses, she can decide if she wants floor-length dresses or something much shorter. Women who wish to show off their shoes as part of the attire may opt for ballerina length dresses. The temperature, weather, and time of day should also be taken into account when choosing the length of the dress.
Sleeve Type
Sleeve type is really a matter of personal preference when it comes to choosing a dress for a dance. Girls should keep in mind that it is best to avoid strapless dresses to events where vigorous dancing will be taking place. The various sleeve types include long sleeves, short sleeves, and sleeveless.
Dress Style
The style of the dress should be chosen based on the girl's body type as well as the amount of dancing that she'll be doing. While ball gowns are designed for formal dances, cocktail dresses can be worn to dances that require less formal attire. The styles of cocktail dresses range from short and form-fitting to long and flowing. Some of the styles that girls can consider when making a dress selection are described in the table below.
| Style | Description |
| --- | --- |
| Bodycon | Tight dress that highlights the curves of the wearer |
| Maxi | Floor or ankle-length dress; has a form-fitting top with a long and flowing skirt |
| One Shoulder | Dress has only one strap or sleeve while the other shoulder is left bare |
| Shift | One piece dress that ranges in length from mid-thigh to the floor |
| Tunic | One piece dress with attached sleeves and a round neckline; usually flowing; informal dresses that can be worn when cocktail dress is specified |
Body type should really be taken into consideration when deciding which style of dress should be purchased. The tunic and maxi dresses can be flattering on all body types whereas the bodycon and one shoulder style dresses are form-fitting and more revealing. When possible, girls should try on various styles to see which ones are the most flattering.
Size
When shopping for a dress for a dance, girls need to be sure that they purchase the proper size. Buying a dress that is too big or too small can result in an unflattering appearance. A dress that is the proper size helps the wearer feel confident in her appearance. Additionally, a proper fitting dress ensures that there are no mishaps while on the dance floor.
Measuring for the Right Size Dress
The only way to find a dress that is the right size is to take measurements prior to purchase. For best results, these measurements should be taken by another person. A soft measuring tape should be used, and while it should be snug, it should not be pulled tightly when making the measurement. The three measurements that need to be gathered are bust, waist, and hips. The table below describes which parts of the body need to be measured in order to find these sizes.
| Measurement | What to Measure |
| --- | --- |
| Bust | Measure around the fullest part of the bust |
| Waist | Measure around the natural line of the waist |
| Hips | Measure around the hips going across the buttocks |
Accurate measurements are important to have as dress proportions can vary from one dress designer to the next. While a girl may fit into a certain size for one style of dress, she might need a completely different size for another type of dress. The measurements are also helpful to have when shopping for a dress online, since the shopper will not be able to try the dress on prior to purchase. The bust, waist, and hip measurements can be compared to online size charts to find a dress that fits.
Finding a Girls' Dance Dress on eBay
eBay is a large online marketplace that brings buyers and sellers of formal dresses together from all over the country.There are hundreds of thousands of garments to choose from on eBay. Start by typing a description of the dress you're looking for into the search bar on the eBay homepage. For example, if you type 'blue formal girls ' dresses', this action will bring up a results page with only listings with that search phrase in the title. To find a dress that matches what you're looking for, apply filters to narrow down the listings by size, length, condition, brand, style, colour, occasion, and more. You are also able to specify a price range so that only those dresses within your price range are shown. If you are looking for a specific gown, use the Advanced Search feature to locate it quickly.
Conclusion
Getting dressed up for a dance is something that many girls look forward to in their lives. Choosing the perfect dress for the event is part of the fun. Many of these dances and events have specific dress codes, which means that there are guidelines to follow when dress shopping. Whether looking for a ball gown for a formal dance or a short cocktail dress for a night out dancing with friends, there are several options to choose from when it comes to finding that perfect dress. The first step in shopping for a girls' dance dress is confirming the dress code for the event. This will greatly reduce the number of options that the shopper has to choose from. Within each dress code, girls can find different types, styles, and lengths of dresses to match their personal styles and tastes. With any luck she'll find the perfect dress to accentuate all of her best features and let her individuality shine. While several shops specialise in girls' dresses for dances, shoppers can also find a huge selection on eBay.