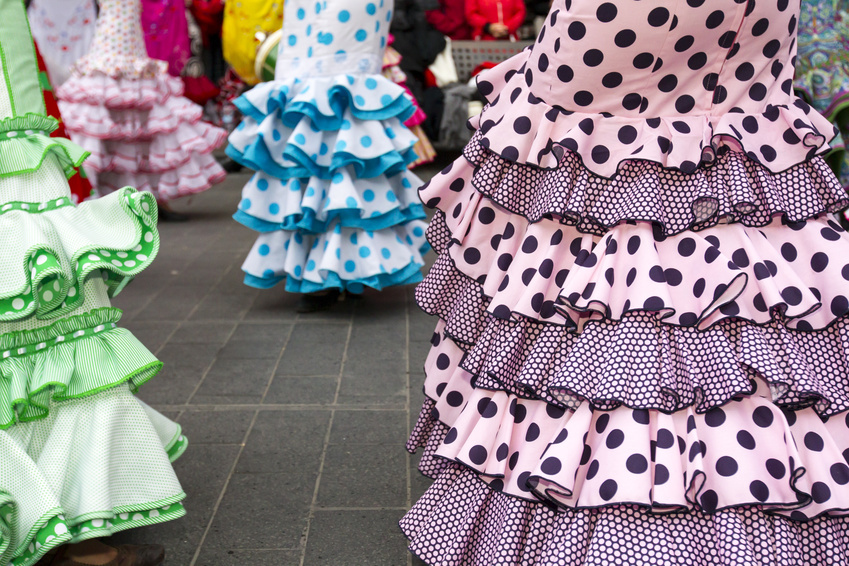 A dance skirt is an important part of a dance outfit for almost any type and style of dance. A girls' dance skirt comes in a range of styles to suit one's particular dance style, as well as being available in a selection of different materials, sizes, and lengths, and colours.
Popular Styles of Girls' Dance Skirt

Girls' dance skirts come in a range of styles to suit any type of dance. For women, belly dance skirts and salsa dance skirts are most popular. Belly dance skirts come in a great selection of colours. Long belly skirts often features small metal bells and beads for decoration. A gypsy skirt can be useful for dancing or for wearing as part of an everyday outfit. A professional belly dance costume is the best option for keen belly dancers. When looking for Latin dance skirts, options include flamenco skirts, rumba skirts, and samba dance skirts. For younger girls, ballet skirts are a popular dance skirt option. Ballet skirt styles include chiffon ballet skirts, ballet wrap skirts, and tutus.
Girls' Dance Skirt Materials

A Lycra dance skirt is a suitable choice of girls' dance skirt for ballet practice. Soft, flexible, and comfortable to wear, Lycra dance skirts are relatively inexpensive to buy and easy to clean. Chiffon dance skirts are soft, delicate skirts that are ideal for ballet or other dance styles. An inexpensive option for a dance skirt is a nylon dance skirt. Nylon tutus are also inexpensive tutu options, ideal for a young girl. A practice dance skirt can also be made from nylon.
Girls' Dance Skirt Sizes
Girls' dance skirts come in a range of sizes and lengths. Long dance skirts sit anywhere from below the knee down to the ankle. Long dance skirts suit particular dance styles, like some Latin dance styles, some contemporary dance styles, and even ballet dance styles. Short dance skirts suit jazz dancing, ballet dancing, and various types of salsa dancing. Knee-length skirts are also available. When measuring for accurate dance skirt sizing, simply measure the girl's waist, then choose the desired skirt length. A girl's dance skirt needs to fit comfortably, offering enough flexibility to give ample freedom and movement, while still ensuring the skirt stays securely in place around the waist no matter how actively the dancer moves.
Girls' Dance Skirt Colours
Dance skirts are available in a range of colours. Black dance skirts suit any style of dance and are a popular colour choice. Pink dance skirts are often used for ballet, while belly dance skirts come in a range of bright colour shades, including blue, green, and pink. Latin dance skirts are often red.