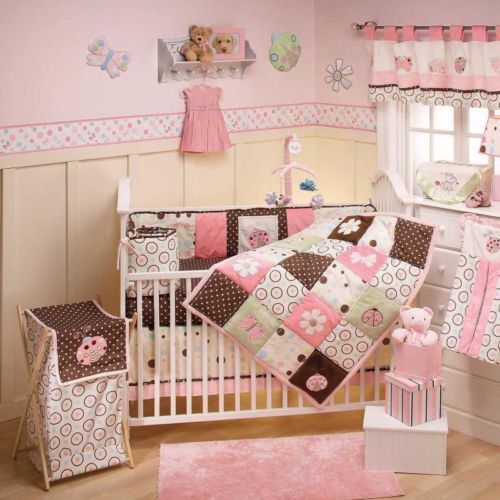 Choosing nursery bedding is one of the most exciting parts of preparing for a new baby girl to arrive. Decorating the nursery is one of the ways that expectant mothers experience 'nesting'. Nesting refers to how the mother prepares for her new baby, which includes cleaning or decorating the nursery before the baby is born. Even when the mother is approaching her due date, finding a baby girls' bedding set is quick and easy with the help of eBay.
Baby girl bedding sets are purchased in brick and mortar baby stores, or online using eBay. Not only does eBay have a large selection of bedding sets for girls, it allows the parents to purchase the bedding from the comfort of their own home. Many women choose the nursery bedding first, and then decorate the baby' nursery based on the bedding decor. However, choosing baby bedding is about more than just style. While style is a consideration, it is also important to understand the different types of nursery bedding sets and which types of fabric are best for the baby.
Types of Girls' Nursery Bedding Sets
If desired, baby bedding can be purchased in individual pieces. The benefits to purchasing bedding sets are that they are usually more affordable, and they have a matching style for all the pieces. The different types of bedding sets varies by the number of pieces. Although all of the main pieces are included in the bedding set, many parents choose to purchase extra pieces in case one gets dirty or soiled. A baby's bedding is often determined by age. Most newborns sleep in bassinets, and move to cradles, cribs, or toddler beds once they get older. Other babies sleep in their cribs from birth until they are toddlers.
Baby Girls' Bassinet Bedding Sets
Bassinets are small, freestanding baby beds that feature a canopy or hood used from the time the baby is born until she is about four months old. They are generally oval in shape, and resemble a cocoon for the newborn. Bassinets are generally placed in the parent's room or the nursery, and are considered to be one of the most lightweight and portable types of baby beds available.
Bassinets feature a thin, small mattress and an adjustable canopy or hood. Bedding sets for bassinets include a fitted mattress sheet, a padded liner for inside the bassinet, a canopy or hood cover, and a decorative skirt. Many sets also include a pillow and a blanket. Many parents also choose to purchase a waterproof mattress pad to protect the mattress and ensure that it lasts. Popular colours for baby girls' bassinet bedding sets are whites and pastels such as pink or purple.
Baby Girls' Cradle Bedding Sets
Cradles are small, narrow versions of cribs with curved rails at the bottom to rock the baby to sleep. Like cribs, cradles also feature slatted sides. Many parents choose to use cradles until the baby is old enough to sleep in a crib. Because of their size, cradles are also used in either the nursery or the parent's room.
Cradle bedding sets include a fitted sheet, a quilted comforter, and a cushioned bumper that protects the baby's head from hitting the side rails when rocking or sleeping. Purchasing additional fitted sheets and waterproof mattress pads protects the mattress and makes for easy cleaning of spit-ups or spills. Cradle bedding sets for baby girls are usually chosen to match the nursery or crib decor.
Baby Girls' Crib Bedding Sets
While some parents choose to use a bassinet or cradle for newborns, others choose to put the baby in the crib from birth. Others simply use the crib for tummy time until the baby outgrows the cradle or bassinet. Cribs are used for babies until they become toddlers and outgrow this type of bed. Cribs are bigger and less portable than cradles and bassinets, and usually feature a thicker mattress. Firm mattresses are recommended for babies to ensure their muscles grow and develop properly.
There are many different pieces included in girls' crib bedding sets . Bedding sets start with three pieces, and some sets include up to thirteen pieces. Most bedding sets include a fitted sheet, cushioned bumper, quilt, and bed skirt. Since babies still use the crib when they are a bit older, it is important to choose simple bedding without buttons or ribbons that are safety hazards for the baby. It is also recommended to look for a bedding set with snug-fitting sheets to ensure the child does not get tangled in the sheet or blanket. There are many different styles and colours for baby girl bedding, ranging from vintage prints to stripes or polka-dots. Some parents choose to go with fun, girly prints, while others prefer soft, feminine designs.
Toddler Girls' Bedding Sets
Many parents choose to purchase toddler beds for children that have outgrown their crib, but are not ready for a standard size bed. Toddler beds are built low to the ground in case the child rolls off the bed. Toddler beds usually use the same size mattress as a crib, so using crib sheets or mattress pads save the parents from having to buy additional bedding.
Toddler bedding sets often include a flat and fitted sheet, a quilted or full-size comforter, and pillow cases. Some bedding sets also include a bed skirt or pillow shams. Toddler bedding sets come in a variety of colours and styles. Many parents choose the toddler bedding to match the nursery, or choose their daughter's favourite colour or cartoon character.
Baby Girls' Nursery Bedding Fabric
It is important to choose a soft and washable bedding fabric when choosing bedding for a nursery. Choose bedding sets with pieces that are all machine washable for the easiest clean. In addition, the fabric should be soft and breathable since it comes in contact with the baby's skin.
Cotton Bedding
One hundred per cent cotton or cotton polyester blends are popular options for baby bedding. Cotton is soft, breathable, and easy to clean. 100 percent cotton is a great choice for bedding, and cotton polyester blends are soft and comfortable as well. All cotton is machine washable and dryer safe, making for easy cleaning.
Flannel Bedding
Flannel bedding is warmer than cotton or other fabrics, and is a popular choice for winter. Flannel bedding keeps a more constant temperature than cotton or other fabrics. In colder weather or climates, flannel bedding helps keep the baby snug and warm. It is also very soft, breathable, and easy to clean, since it is also machine washable and dryer safe.
Organic Bedding
Most nursery bedding fabric is also found in organic options. Organic fabrics are known for being unbleached, undyed, and chemical-free. However, they are oftentimes more expensive than non-organic fabrics. Organic bedding is also soft, breathable, and machine washable. Common reasons why parents choose to go with organic bedding is because they think it is safer for their baby, as well as better for the environment.
How to Purchase Girls' Nursery Bedding Sets on eBay
After understanding the different types of girls nursery bedding and determining which fabric is best for your baby, you are ready to start your search for the perfect bedding set for your daughter's nursery. You can begin by measuring your baby's bassinet, cradle, or crib, which helps to ensure the bedding is the correct fit. After knowing the measurements, you are ready to begin your search on eBay. eBay offers thousands of different sizes, colours, and fabrics for baby girls' bedding sets. In addition, shopping on eBay lets you find exactly what you are looking for, without leaving the comfort of your own home.
Performing a keyword search is an effective way to find the right girls' nursery bedding set. To do this, simply type in your preferred keywords in the search box located on any eBay page. If you already know the type of fabric or brand you are looking for, you can start with a specific search such as 'cotton girls' nursery bedding set'. To browse different options and prices, you can search a broader phrase, such as 'girls' nursery bedding'. eBay also makes it easy to narrow results by brand, colour, material, or price.
Conclusion
Finding the perfect bedding is one of the most exciting parts of decorating a baby girl's room. Aside from style, bedding should be soft and comfortable, since newborns spend up to 18 hours a day sleeping. Following the manufacturer's safety instructions is also one of the most important precautions to take with new baby bedding to ensure that the baby does not get harmed by improper use. Purchasing extra sheets and waterproof mattress pads are helpful to avoid stains and prolong the life of the mattress.
Girls' bedding comes in many different styles and patterns, making it easy to find something to fit every decor. Some people prefer bold, lively colours and patterns, while others prefer soft, feminine colours with soft, girly details. Style and patterns are a matter of personal preference and with the large selection of girls' bedding sets on eBay, it is easy to find a style for every baby girl.