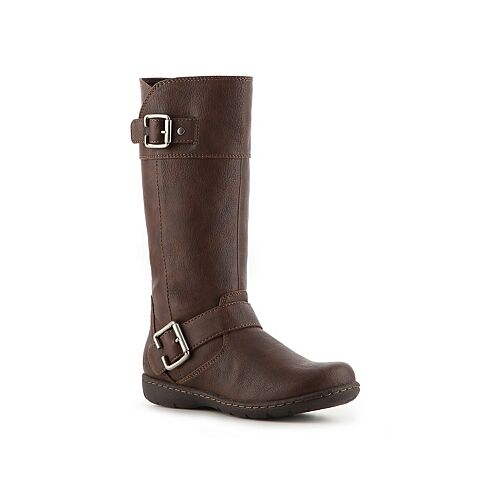 When it comes to riding, it is important to have all of the proper clothing and equipment. One of the most important components to being a prepared rider is to have the right footwear, which involves the perfect pair of riding boots. Riding boots for girls are made in several different styles, which girls can select based on their style preference, fit, and individual needs. There are traditional tall riding boots, also called long boots, or there are stylish, shorter jodhpur boots. Special boots which are worn in mud and rain are called mucker boots or wellies.
Girls' riding boots are traditionally made from leather and come in black or brown, but there are some other colours available such as navy, pink, or purple riding boots and muckers. Riding boots are meant to protect and support the legs and ankles while girls are riding, while also being comfortable, durable, and sturdy at the same time. Select the perfect pair of girls' riding boots on eBay from a wide variety of styles which include tall and shorter riding boots.
Styles of Riding Boots for Girls
Riding boots for girls are typically broken down into two main styles, which are long boots and jodhpur boots. Both boots are good choices, and are really a matter of style preference. Long riding boots are the more traditional choice for riding boots, while short jodhpur boots are a stylish and trendy approach to riding boots. Girls should really select boots based on their needs as well as which style fits and feels the best.
Jodhpur Boots
Jodhpur boots, also known as ankle boots, are an alternative to the more common and standard long riding boots. Jodhpur boots come in a wider range of colours than long boots do, and they are made with different materials, such as leather or suede. They typically do not have laces, but rather, slip on easily with the use of elastic on each side.
Jodhpur boots are lightweight and comfortable, and are sometimes referred to as paddock boots. They are good options for riding or for spending time in the stables. A great pair of jodhpur boots also has durable soles for extra traction, and inner linings for added comfort. Though there are jodhpur boots which lace up, the elasticised gusset style is generally the most common style.
Long Riding Boots
Long riding boots are the tall, traditional style of riding boots that come to mind when most consumers think of riding boots. Long riding boots for girls are made of leather and come in either black or brown colours. Long riding boots give the riders extra support and protection for the calves and the ankles, and they sometimes help eliminate the possibility of leg injuries in the case of a riding accident or fall.
For riders who are riding in less than perfect weather conditions, long boots keep legs, ankles, and feet dry and protect them from a muddy mess. Long riding boots look elegant and stylish, and they are a timeless style that always looks classic no matter what the riders are wearing. A popular brand of long riding boots is Harry Hall. Long riding boots either slip on or zip up, and a good pair has proper insoles and comfortable inner linings. Boots may vary in height from mid-calf to knee length.
Mucker Boots
Mucker boots, also called wellies, are perfect for riding and being in the stables during rainy and inclement weather. A pair of muckers in addition to jodhpurs or long riding boots makes a perfect complement to riding gear for girls. These boots may not be worn frequently, but they are a great option for those nasty weather days. Mucker boots vary in style, with some boots that are long boots made of rubber and easily slipped on, while other styles of muckers are lace-up ankle boots, or made with Velcro enclosures.
Mucker boots are sometimes fleece lined to keep feet warm and cosy, and they come in a variety of colours, designs, styles, and brands. A common brand of mucker boots is Shires. Select a pair of muckers which has a sole with some grip to it, so girls do not slide in the rain or mud while wearing them.
Other Boot Essentials and Extras
When it comes to boots, there are a few other items that riders may need for the total footwear experience. Keep feet and boots protected by taking a couple of extra steps when purchasing boots.
Riding Socks
Riding socks are socks which are meant to be worn with riding boots. They are knee-high socks that fit correctly underneath long riding boots. Riding socks also offer extra warmth and manage to keep feet dry due to the fact that many brands wick moisture away from the feet for a comfortable experience while riding. Riding socks also come in short styles for use with jodhpur boots, and there are separate wellie socks that go with mucker riding boots.
Chaps
Chaps are extra protection for young equestrians when riding. They offer extra grip and a better hold on the horse, and half chaps are perfect for girls when riding. They fit right over long riding boots and come in many styles and colours to match girls' boots. They are generally made of suede, leather, or mesh, and they slip over the boots easily with elastic, in most cases.
Boot Care
When purchasing boots, buyers may want to consider keeping the boots looking new and lasting for a long time. To keep boots in great shape, there are a few items which can be purchased to achieve this. Boot care involves leather cleaner or boot cleaning gel, polish, conditioner, boot buffer, and a boot jack, if necessary. Insoles may also be needed to keep boots soft and comfortable inside.
How to Fit Riding Boots for Girls
Buying riding boots is different from sizing normal shoes for girls. The boots need to fit snugly so the ankles do not slip. Note that sizing down is not uncommon. Riding boots stretch over time, and after several wears, may eventually become customised to girls' feet for comfort. The boots should fit properly and not be too tight or too loose. There should not be any give at all. Since some boots are sized by European sizes, a conversion chart to UK sizes may be necessary.
| | | | | | | | | | | | | | | | |
| --- | --- | --- | --- | --- | --- | --- | --- | --- | --- | --- | --- | --- | --- | --- | --- |
| European Size | 22 | 23 | 24 | 25 | 26 | 27 | 28 | 29 | 30 | 31 | 32 | 33 | 34 | 35 | 36 |
| UK Size | 5 | 6 | 7 | 8 | 8.5 | 9 | 10 | 10.5 | 11 | 12 | 13 | 14 | 1 | 2 | 3 |
There may be some allowances for half sizes. When in doubt, buyers should size smaller as opposed to larger, since the boots stretch out over time, to ensure a comfortable fit. When purchasing used riding boots, if they have been worn many times, consider the fact that the boots may already be stretched out, which may affect sizing.
How to Buy Girls' Riding Boots on eBay
Searching for a pair of girls' riding boots on eBay is a lot of fun and can be affordable, too. Simply browse "girls' riding boots" to see what is available, and options can be narrowed by brand, style of boots, or size. Boots can even be looked at by colours, so girls who have their hearts set on pink jodhpurs can find them easily this way. It is helpful to know what style of boots you are looking for, such as jodhpurs or long riding boots. This makes searching simpler and more specific. If you are planning on buying a pair of used riding boots, make sure the boots are in good condition, and compare the listings to other listings for boots, to see which ones are the better deal when it comes to affordability, condition, style, and type of boot.
If you need to communicate with the seller about the riding boots before you purchase them, go to the seller's page and click the "Ask a Question" button. Find out if the seller is local, and maybe you can do a personalised pickup of your items instead of shipping them. This saves time and money for you and the seller. Even if you have never used eBay, the convenience and ease of using the site ensures your return to make future purchases.
Conclusion
For girls who love riding, it is important that they are wearing the right boots. The right riding boots protect their feet, give them the support they need while riding, and provide comfort as well. Mucker boots keep small feet dry during wet rides or time spent in the stable, and there are many types of riding boots for girls available on eBay. Whether it is a classic, black, long riding boot or a pair of fun pink jodhpur ankle boots, there are riding boots to suit every girl's style and taste.
Purchasing riding boots from specialty equestrian stores can be very costly. Buying a pair on eBay is more affordable and convenient. Instead of going from store to store to find the perfect pair of riding boots, simply navigate the website from the comfort of home. Shopping for girls' riding boots on eBay is not only a time saver but a great money-saving option as well. Perhaps even more than one pair of boots can be purchased since buyers are able to find so many great deals on boots.