Jelly beans are the crunchy chewy colourful candy that everyone enjoys. Buy your friends and loved ones a fun present from sweet scents to gourmet bean flavours. Spread the joy with our top 10 jelly-bean-themed guide to the perfect presents.
Fun Jelly Bean Gifts
10. Fruity scents
9. Bean counting
8. Colour splash
7. Ballistic beans
6. Natural yum
5. Hello Kitty holder
4. Sweet socks
3. Cushioned comfort
2. Flavour fest
1. Dream dispenser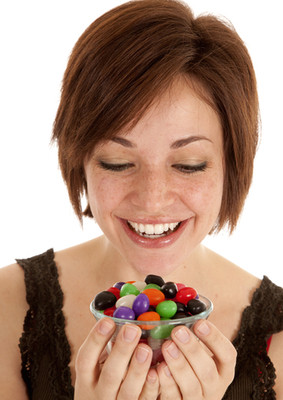 10. Fruity scents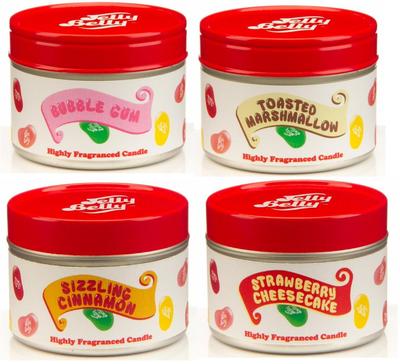 Sweeten up the ambience with a jelly bean scented air freshener, candle or spray. Select from a rainbow of different perfumes, including blueberry, lemon drop, red cherry and delicious bubblegum. The ideal gift for someone with a sweet tooth and a love of tempting aromas. Choose a hanging air freshener for the bedroom, a spray for the lounge and then get a long-lasting hanging scent to keep your car smelling fresh and fruity. Keep your surroundings smelling mouth-wateringly fragrant with a huge range of funky 'flavoured' jelly bean fresheners.
---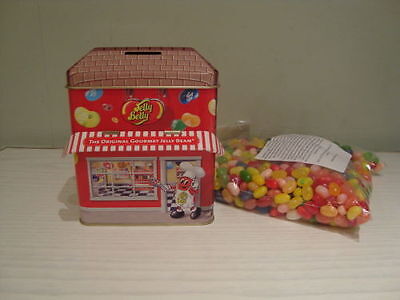 Quite literally allow your loved ones to count their beans with a colourful jelly bean money box or piggy bank. Encourage children to save their pennies for a rainy day with a brightly coloured themed tin. For big kids and thrifty adults this is the perfect way to store loose change for the holidays or for the occasional big night out or weekend treat. Retro styling suits this superb money box from Jelly Belly. If they are not sure what to spend the spare cash on they could always splurge on a nice big box of gourmet jelly beans.
---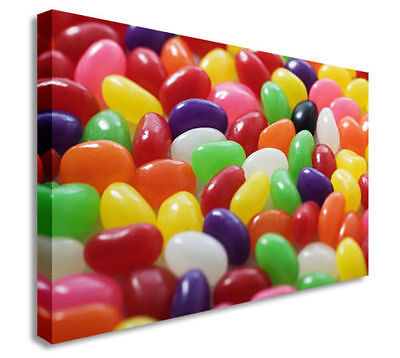 Brighten up the décor and put a big splash of colour into any drab room with a large canvas jelly bean print. Willy Wonka would be proud. Prints come professionally finished and ready to hang so there is no need to prepare your print for the frame makers. A hint of Andy Warhol and a dash of Jeff Koons, these artistic prints bring a splash of vivacious modern art colour to any room. Playful and full of lively pizzazz.
---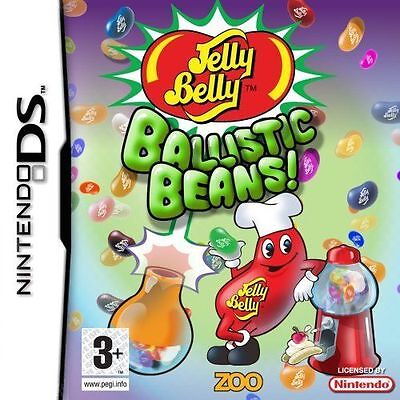 Okay, this really is one for the big kids. Nintendo's 'Ballistic Beans' for DS and Wii is a great puzzle game for all ages, with hundreds of different variations. Get multi-coloured jelly beans into matching cups and score points, using power-ups and bonuses while you do it. Fire up your bean launcher and dispatch them through the complex puzzle patterns. Gather medals and shoot for glory. For handheld and console game players.
---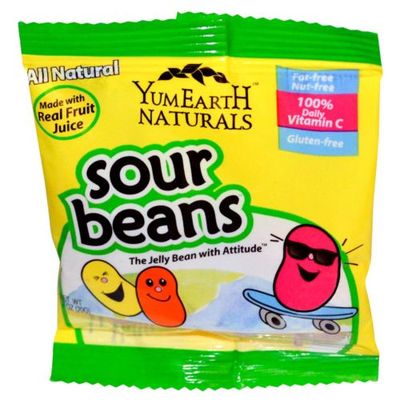 Halfway down our tremendous top 10 and we have hit jelly bean sweet heaven at last. Natural candies and sweets are made with real fruit juice rather than artificial flavourings. This confectionery maker calls its products 'the jelly bean with attitude'. Fat-free, nut-free, GMO-free and gluten-free to boot, the Yummy Earth bean is a 100 per cent vegan product that packs in plenty of flavour alongside a dose of vitamin C. Fresh fruit flavours for the fan and the casual jelly bean consumer alike, grab a bag of sour beans and twist that face.
---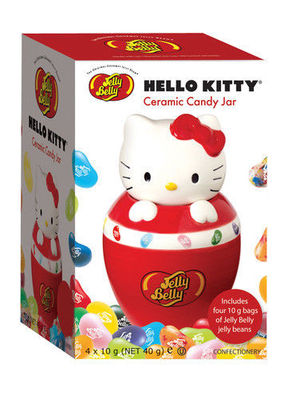 Fans of Hello Kitty merchandise will love this gift. Californian jelly bean confectioner Jelly Belly has created an exclusive range of its products for the cute Japanese character – a white cartoon cat wearing a red or pink bow – even giving her favourite flavours, including red apple, sour cherry and strawberry cheesecake. Children and adults love to collect Hello Kitty stuff on everything from school supplies to fashion products. Kitty's jelly bean holders include kitsch ceramic jars and sweet tins and can be used afterwards to store knick knacks or restock with jelly beans.
---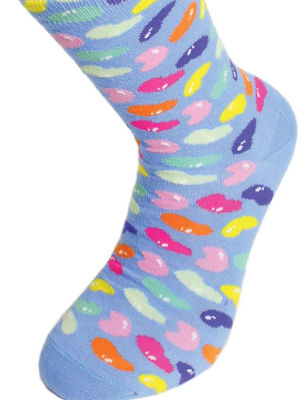 Not for consumption! The jelly bean sock is a sweet fashion statement for the young at heart. Everybody loves a novelty sock and this bean-themed footwear is an eye-popping multi-coloured treat. Whether they need bed socks, a pair to couple up with a new outfit or something to slope around the house in, get them a pair of jelly bean fashion socks to show off in. These socks come in a wide range of sizes. Sweet for your feet.
---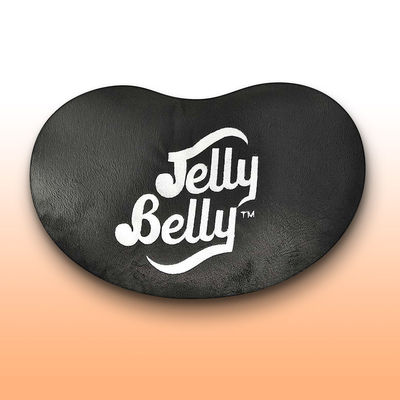 Everyone loves home comforts. There is nothing like coming through the door after a busy day and flopping down in a favourite chair or comfy bed with a cushion to rest your head on. Of course for the jelly bean lover that could mean a soft, furry, themed cushion. Confectioner Jelly Belly produces its own range of cushions in the shape of its famous sweets, perfect for scattering on chairs, the sofa or bed. It even produces a microwavable bean-filled (not jelly bean by the way) warmer cushion to snuggle up to and a travel cushion to rest your head on for long journeys. Bean there, done that.
---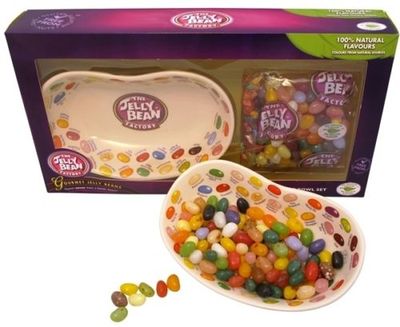 No list would be complete without at least diving into the mega-selection of sweet jelly bean treats out there. There are a bewildering array of flavours available in their favourite candies and you can buy them in tubes, bags, king-size jars and presentation packs. Gorge on gourmet flavours like toffee, banana or tangerine. Mix up individual cocktail flavours such as pina colada, strawberry daiquiri or pomegranate cosmo. Throw in a handful of super sour beans, or sports energy beans. For real decadence get carried away with ice cream parlour flavours or chocolate dipped beans in their own gift box. The possibilities for these flavour sensations are endless, especially when you eat them two or three at a time to create your own combinations.
---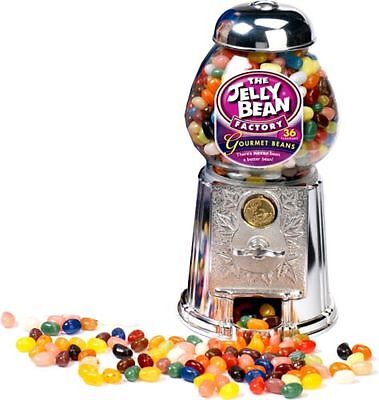 Hook up your other half or friends and family with their own jelly bean dispenser and you'll have a seriously happy sweet lover. Some double up as a piggy bank where they have to insert a coin to get access to their favourite jelly beans – a sneaky way of saving and chomping candy. Some are simple candy store holders or plastic beans and there is even a fun talking jelly bean dispenser. One thing is for sure, they'll restock with their favourites and each time they take a jelly bean it's a guaranteed treat.