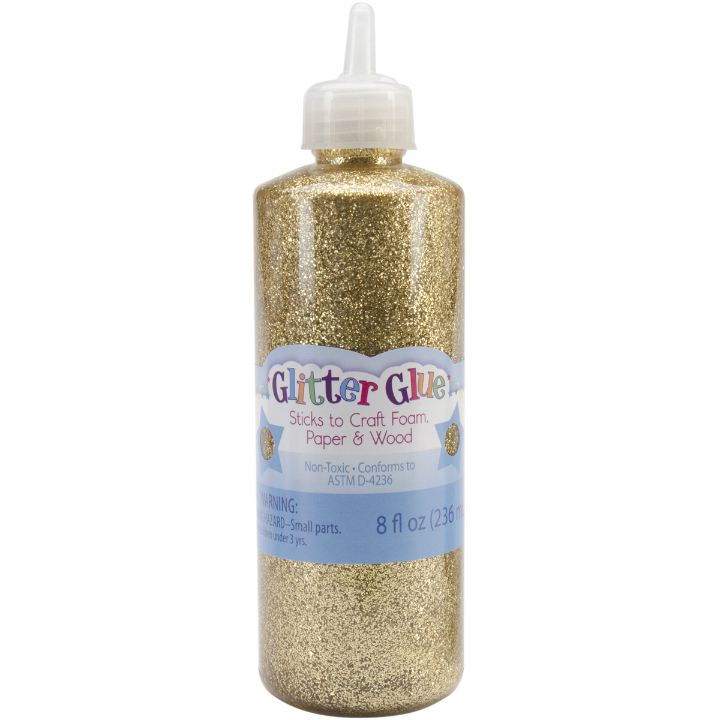 "Glitter" can be defined as an assortment of very small, flat, and reflective particles. When applied to a surface, they reflect light in different angles, making the surface sparkle, or glitter. From flakes of mica used in cave paintings to ancient Egyptian cosmetics that used crushed beetle shells, different types of glitter have been used for thousands of years. Modern glitter is made from a base of glass or plastic. There are over 20,000 different varieties of glitter produced today. They range in size from 50 microns to 6,250 microns.
Besides its use in crafts, glitter is also used widely in cosmetics,, and in fashion for garments and accessories. Buyers looking for glitter craft ideas for children must know what the different types of glitter are. They should know how to apply the glitter successfully to crafts. Buyers must also have a few glitter craft ideas for kids. Finally, buyers should know where, and how, to purchase the materials needed for glitter crafts.
Different Types of Glitter
The main components of modern glitter are plastic (or glass), combined with a metal of some sort. One of the most important characteristics of glitter is the size of the individual particles. This is used to define different types of glitter.
Type of Glitter

Size of Particles

(microns)

Characteristics

Micro-fine glitter

65 to 100

Useful in cosmetics

Adds subtle shine while preserving underlying colour

Reflect less light

More consistent appearance

Has the appearance of fairy dust

Excellent for paper projects, canvas art, fabric collages

Fine glitter

787 to 1000

Can be smooth or textured depending on use

Has the appearance of fairy dust

Excellent for paper projects, canvas art, fabric collages

Regular craft glitter

1067 to 2385

Usually made of plastic

Creates a rougher looking surface

More reflective

Less colour intensity

Used for kids' crafts

May be called "chunky" glitter

Large glitter

2540 to 3125

Very choppy

Highly reflective

Looks like sequins or confetti
Some manufacturers exclusively produce glass glitter, which is considered vintage glitter. It commands a higher price. Plastic glitters are generally "chunkier", and more textured. Glitters with metal have more sheen. There are other types of glitter which are finer or coarser than those listed above:
Extra-large glitter
Very fine glitter
Extra-fine glitter
Ultra fine glitter
Ultra micro fine glitter
SpectraFlair glitters (coarse, standard, or fine)
Finer glitters draw attention to the object they cover while larger, coarser glitters can be used as standalone elements.
Why Craft Glitters Should Not Be Used for Cosmetics
Craft glitter should not be used for cosmetic purposes. Cosmetic glitters need to be approved for cosmetic use. Unapproved glitters may cause allergic reactions. Some glitters that are not made for cosmetics, including craft glitters, use pigments or dyes that are known carcinogens when used around the eye. When used around the eye, these colourants can cause blindness, blurred vision, chemical burns, cysts, and even optical cancer. Additionally, the metal or glass used in craft glitters can fall into the eyes, leading to irritation, and in severe cases, scratches.
Different Types of Glitter
Glitter is made by flaking a shiny material into tiny pieces. However, this may not be the final form in which glitter reaches buyers. There are four popular "forms" in which glitter is available.
Spray-On Glitter
Spray-on glitter comes in aerosol cans and can be sprayed onto surfaces. Glitter in this form is convenient and is excellent for craft projects in general. Spray-on glitters are also available in fabric friendly, water-based formulas. Spray-on glitter should only be used in open air or in a well-ventilated room.
Glitter Liquid
Glitter liquid is available in transparent bottles, and usually comes with an applicator brush. The liquid contains many tiny glitter pieces. It is versatile and has a long shelf life. Glitter liquid can be used for many glitter applications.
Glitter Cream
Similar to glitter liquid, glitter cream also contains minute suspended particles of glitter. However, instead of a liquid base, they are suspended in a cream that can easily be applied with a brush or a finger. This type of glitter is used in cosmetics and can enhance artwork on faces.
Glitter Dust
One of the most common forms in which glitter is found, glitter dust can be used for any glitter application. It is similar to powder in nature, but not as fine. It can be applied to a paint or glue base. Alternatively, glitter dust can also be applied with a paint-dampened brush.
How to Apply Glitter
Glitter in dust form can easily be applied with a spoon, or other utensil, and sprinkled on a surface. However, it is easier and more effective to use a glitter applicator. Glitter applicators can be bought or made at home. Any plastic bottle with a thin, tapering top can be used as glitter applicator. The bottle is filled with glitter, leaving a little air inside. When the bottle is squeezed, glitter is applied. A bottle with a larger "mouth" applies more glitter, and vice-versa.
Glitter Glues
Any water-soluble glue can be used to apply glitter. Buyers can use a mixture of diluted glue with glitter dust to make their own "spray-on" glues. These are glues that, as their name suggests, are meant to be sprayed onto a surface. There are special glues available for applying glitter to cloth. Since different glues dry differently, buyers should test a new type of glue before using it on a craft. Glue can be used as a protective layer on top of the craft. Furniture lacquer can also be used for this purpose. When looking for glues or lacquers to use as a protective layer, buyers should choose a type that dries to a clear finish.
Glitter Craft Ideas
There are innumerable crafts that involve glitter. There are simple crafts that toddlers would enjoy, and there are more complicated and intricate crafts that older children can have fun with. Most glitter craft ideas can be broken down into three main categories that are not mutually exclusive. However, there is no limit to the crafts that glitter can be used for, and children should be free to apply their creativity to the project. Parents and children can find inspiration, and free resources like templates, on many websites.
Wearables
Younger children can easily make small wearable items decorated with glitter.. These can range from simple cardboard masks to more elaborate tiaras and crowns. Older children can try decorating a t-shirt with a glitter. They can create their own designs or work from a template. Other wearable crafts that kids can make include glasses, jewellery, and glittery buttons.
Seasonal
Glitter can be used to create a seasonal craft. Christmas, for example, is a popular season for glitter craft. Kids can make glitter crafts for Father's Day, Mother's Day, or even Valentine's Day. Children can also experiment with objects that are available at different times of the year: autumn leaves, flowers, pebbles, rocks, and acorns to name a few. The objects can be used to make greeting cards, decorations, or jewellery.
Decorative
Glitter craft can take an ordinary item and turn it into something worth displaying. Some ideas include:
Making a colourful glitter painting and framing it
Sparkling candle holders
Bookmarks
Picture frames
Coasters
There really is no limit to the number of crafts where glitter can be applied. Older children, or more skilled kids, can take the same craft younger kids are working on, and increase the level of detail or complexity in the design.
Finding Glitter and Glitter Craft Accessories on eBay
Buyers looking for glitter and accessories to use with glitter craft ideas for kids can find everything they need on eBay. Buyers can quickly find items by using the search bar on the eBay home page.. If the resulting list of items is too broad, buyers can easily narrow the search by adding more specific keywords to the search term. For example, a search for "fine blue glitter dust&" lists far fewer, but more relevant, results than a more general search for just "glitter&".
Buyers can further narrow search results by entering a price range, or by selecting the location of the seller. Buyers are free to ask sellers any questions they may have about a glitter product before committing to buy it. Buyers should also review a seller's exchange and return policy in case the item is not satisfactory when received. This information can be obtained from the seller if it is not available on the item's page.
Conclusion
Glitter has been used in various forms for thousands of years. It has been used in cave paintings and in ancient Egyptian cosmetics. Modern glitter is made of either glass or plastic combined with metal. Glitter is widely used for crafts and for make-up. Glitter is mainly defined by the size of the glitter particles. They can range from extremely tiny dust like particles, to larger pieces that are sometimes used as a standalone design element. Glitter is available as dust, cream, liquid or spray-on.
Buyers must not use glitter that has not been approved for cosmetic purposes as make-up. Glitter crafts are excellent activities for kids of any age. There are many types of glitter crafts that can be made at any time of the year using objects that are easily available. Glitter crafts can easily be made more complex for older children. Buyers looking for glitter and accessories necessary for glitter craft can choose from an extensive selection on eBay.