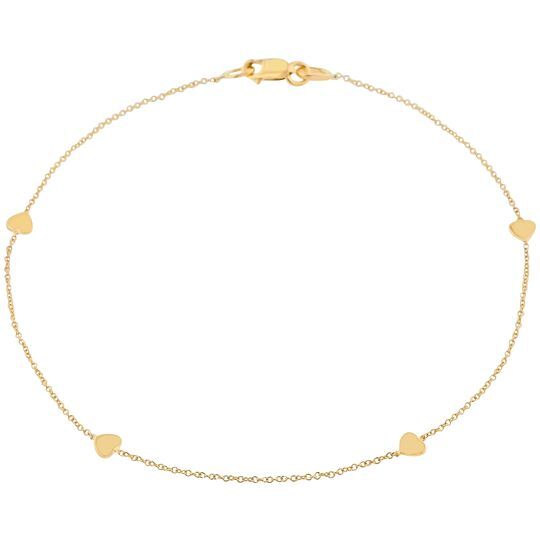 Ankle bracelets, also called anklets, have been worn for millennia. Among ancient Sumerians, women wore anklets as a sign of the wealth of their husbands. Poorer citizens of ancient Egypt thought ankle bracelets brought luck and fortune. Indeed, magical anklets are the subject of an epic poem in India, where this jewellery piece has also been popular for centuries: the "Shilappadikaram" tells the story of a man who falls in love with a woman whose anklets possess supernatural powers. Ankle bracelets were part of ancient traditions in Europe, as well; archeologists have found anklets that date back to the Bronze Age. The anklet emerged in modern Western fashion in the 1950s, when it was paired with short skirts and trousers, and they remain popular today as unique ornaments for casual, ethnic, or formal styles.
A gold ankle bracelet can be paired with everything from casual cut-offs to an elegant cocktail dress. By gracefully drawing attention to the slenderest part of the leg, it functions as a subtle, flattering piece of jewellery. When shopping for a gold ankle bracelet, consumers should be aware of gold purity, different styles of anklets, and how to find the right size. This will help them choose a beautiful, fashionable gold ankle bracelet.
Information About Gold
Gold is a precious metal that is highly valued and sought after, and commonly used in fine jewellery. While most people may be familiar with the warm tone of yellow gold, gold also comes in white and rose tints to complement different skin shades, gemstones, and individual preferences.
Gold is not prone to oxidation, meaning that it does not rust or tarnish. And while it is strong and durable, it is the most malleable and conductive of metals, which is why it is alloyed with other base metals for jewellery-making.
Gold Purity
One of the first considerations when buying a gold ankle bracelet is the gold's purity level. Gold purity is measured in carats (ct) and should not be confused with gemstone weight. Pure gold is 24 carat, but is generally considered too malleable for jewellery. In the UK, there are four standard purity designations used for gold jewellry: 22 ct, 18 ct, 14 ct, and 9 ct. These designations indicate how many parts out of a total of 24 are pure gold. For example, 18 carat gold is 18 parts pure gold and six parts base metal. Another way of expressing fineness is in parts per thousand: an 18 carat gold piece must have a minimum of 750 out of 1000 parts gold.
22 carat gold is less common in the UK, but more popular in certain Asian countries where gold jewellery is often a store of wealth. 18 carat gold is the standard for fine jewellery in the UK; 14 ct is common in the US, and 9 ct is frequently used in more affordable pieces in the UK.
Hallmarking Gold in the UK
Gold jewellery retailers in the UK must adhere to strict standards for guaranteeing purity. This process is called hallmarking, and it is an offence to advertise a piece of jewellery as gold, or any other precious metal, if the metal is not hallmarked. There are four offices in the UK where gold is assayed: London, Birmingham, Sheffield, and Edinburgh. A piece of gold must bear three marks as a sign that it has been hallmarked: the mark of the supplier or maker, the minimum fineness (e.g., 750 for 18 ct gold), and the assay office mark.
Yellow, White, Rose, and Multi-Tone Gold
Gold is mixed with different metals to produce alloys of different hues. Yellow gold retains gold's natural colour, and usually contains copper or other base metals. For a platinum-like finish, gold can be alloyed with palladium or silver to produce white gold. A bright white finish can also be achieved by plating gold with rhodium; this plating may wear over time, in which case re-plating is necessary. Rose gold has a pinkish hue due to a higher copper content. Sometimes different gold tones are combined in a single piece for multi-tone gold.
Use of Nickel
Nickel has been alloyed with gold for jewellery making; however, nickel is known to cause contact dermatitis. Because some people are sensitive to nickel, the European Union has placed restrictions on how much may be used in alloys.
Gold-Plated and Gold-Filled Jewellery
Gold plating and gold filling are ways of bonding gold to a base metal. However, gold-filled pieces have 100-percent more gold than gold-plated pieces, in the form of a thick layer that is pressure-bonded to the base metal. Gold-plated pieces have a thin layer of gold electroplated to the base metal. Gold-filled jewellery is considered more valuable and meant to last a lifetime, whereas gold plating is likely to wear off after some time.
Gold Ankle Bracelet Styles
Gold ankle bracelets come in different styles, from simple to decorative. Part of the style depends on the type of gold chain it features; elements like charms or gemstones add extra detail.
Different Types of Gold Chain
One of the most defining aspects of a gold ankle bracelet is the type of chain: some are simple, some more intricate; some lie flat, some have a three-dimensional silhouette. There are numerous chain designs; the following chart outlines some of the most frequently used for ankle bracelets.
| Chain Type | Description |
| --- | --- |
| | Interlocking square boxes create a smooth, uniform profile; admired for its symmetry; also called Briolette Chain, Square Link Chain, or Venetian Chain |
| | Small beads of metal, either hollow or filled, are either close together or spaced at intervals along the chain; also called Ball Chain or Pelline Chain |
| | Interlocking round or oval links of uniform size, twisted and often diamond cut so that they lie flat |
| | Has interlocking twisted, flattened oval links like the Curb Chain; however, links are not of one uniform size, but rather form patterns; e.g., three small links followed by one larger link |
| | Interlocking oval links with a soldered vertical bar in the centre of each |
| | Delicately simple chain formed by interlocking slightly oval links; usually quite fine |
| | Flat, diamond-cut chain links are woven into diamond shapes which are then twisted and interlocked for a spiralled, sparkly chain |
| | Comprised of interlocking figure-eight links; has a complex, braided appearance and nearly square profile |
Choosing a chain is mostly a matter of personal preference. Buyers should look for chain sizes that are proportional to their ankles: more robust chains are flattering to larger legs and ankles, while finer chains better suit slimmer ankles.
Gold Charm Ankle Bracelets
One popular style for gold ankle bracelets is the charm design. Charm anklets have small decorative pendants that dangle from the chain links. In some cases, the wearer can add charms over time as personal keepsakes. Popular charms include hearts, stars, moons, suns, words, butterflies, and flowers. A bracelet may feature one charm, a few, or several. Gold charm ankle bracelets draw attention to the ankle with their unique designs.
Gold Ankle Bracelets with Gemstones
Gemstones add colour and sparkle to ankle bracelets. They may be set into the chain itself, or featured in a pendant that hangs from the chain. Buyers can choose from a range of gemstones, including diamonds, pearls, crystals, and more.
Sizing for Gold Ankle Bracelets
Length is always indicated for gold ankle bracelets. When shopping for an anklet, it is important to know what size to look for. Size should be determined by two factors: the circumference of the wearer's ankle, and how tight or loose they want the anklet to be.
If worn with sandals or flip-flops, the ankle bracelet can dip below the ankle bone. For fancier occasions, closer-fitting ankle bracelets are a better choice: look for ones that sit comfortably on top of the ankle bone.
Measuring for Ankle Bracelet Size
Before shopping, buyers should determine what length anklet is right for them. The easiest way to do this is with a piece of string: wrap the string around the ankle where the ankle bracelet should fit. Make sure that it is neither too loose nor too tight, so that the ankle can rotate with ease and walking is unrestricted. Cut the string at the right length, and measure. Keep this measurement during the shopping process as a reference.
How to Buy a Gold Ankle Bracelet on eBay
Whether looking for fine jewellery or more casual pieces, you'll find a wide variety of gold ankle bracelets on eBay's auction website. To start your search, go to eBay's home page and type in keywords like "gold charm ankle bracelet" into the search box. You can then narrow your search results by entering a price range or selecting other limiting factors; you can also sort your results by location, auction time, and more.
When you've found a piece that interests you, take a moment to read the item description carefully. It should contain details about the item condition, gold hallmarking, and gemstone quality, where applicable. Note whether the seller accepts returns, and what the postage fees and conditions are.
It's also a good idea to check the seller's feedback rating and browse comments left by previous buyers. This helps you assess how reliable and knowledgeable they are. Top-rated sellers have earned their status by completing a high volume of transactions with excellent customer satisfaction.
Conclusion
Ankle bracelets have been worn in various cultures for thousands of years. In modern Western fashion, they emerged in the 1950s, and have enjoyed an enduring popularity among youthful and elegant styles alike. When shopping for a gold ankle bracelet, it is important for consumers to research a few different areas in order to find the best style for them.
Gold is a precious metal that is alloyed with other metals for improved strength. 18 carat gold is commonly used in fine jewellery, but higher and lower purity levels are also available. Different alloys produce different shades: yellow gold, white gold, and rose gold are the most common. Gold-filled and gold-plated pieces are more affordable options, with the former being more durable and valued. Choosing a chain style is the next consideration, and depends on personal taste. For added decor, charms or gemstones may be selected. Finally, consumers should measure their ankles to be sure to find an anklet in the right length. Following these steps helps them select a flattering, quality gold ankle bracelet.