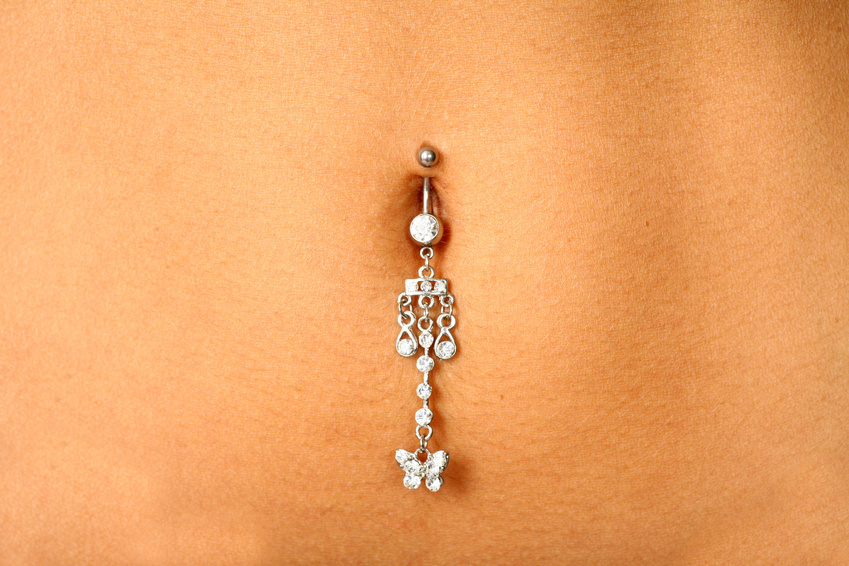 Navel piercing is very popular, in part due to the beautiful range of inexpensive belly jewellery available. A gold belly ring is the ideal choice for someone looking to get their navel pierced for the first time, or as a gift for someone who enjoys wearing navel jewellery. When buying a gold belly ring, take into consideration the different styles available, the type of gold it is made from, and its size. It is also important to understand how to properly care for a navel piercing.
Gold Belly Rings Styles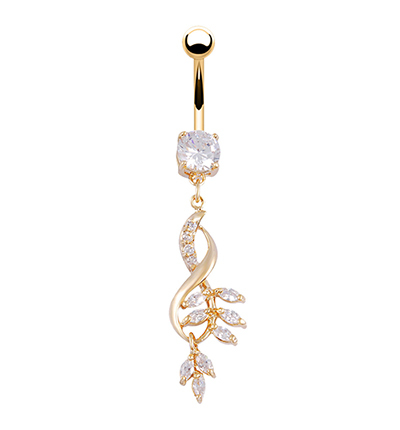 A belly ring is the generic term referring to a few different styles of ring worn in the belly button. Two basic styles exist. Belly bars, sometimes called bananabars, are the most common type of belly jewellery. Recommended for use when the piercing is new and is still healing, a belly bar features a curved bar with beads at each end, keeping the bar in place. Variations of the belly bar include the twist bar, standard and reverse curved bar, and standard and reversed dangle and non-dangle These subcategory of belly bars describe where the decorative piece of the jewellery sits. The other common type of belly ring style is a ball captured ring (BCR), or belly hoop. These are full ring shaped pieces as opposed to a curved bar.
Quality Gold Belly Rings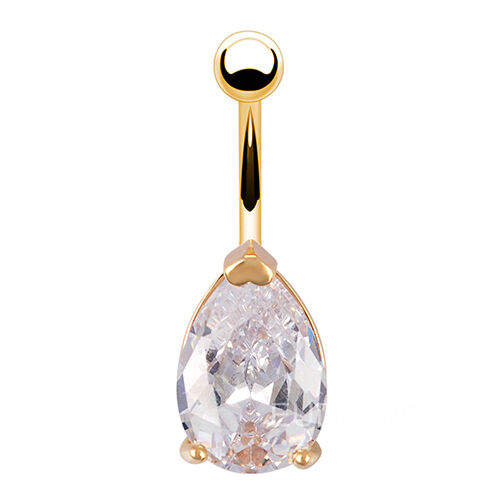 When it comes to gold belly rings, there are variations in the quality rating of the gold used. Because a belly ring pierces into the surface of the skin, it is important to use top quality, pure materials to reduce the likelihood of skin reacting and rejecting the pierce. The most common gold belly rings use 9ct gold. More expensive bars use 14ct and 18ct gold. The greater the gold carat rating, the purer the gold content of the metal. With a higher carat rating the gold becomes softer. Gold plated belly rings are inexpensive, but not recommended. Other types of material used to make belly rings include surgical steel, titanium, and silver.
Gold Belly Size Guide
Gold belly rings range in size, depending on the fit of the wearer and personal preference. The most common gold belly ring size is 14 gauge, or 1.64 mm in width. For length, the standard is 11 mm, measuring from ball to ball for a gold belly bar and measuring at the widest point for a gold BCR ring.
Gold Belly Ring Considerations
For health reasons, always have a belly piercing performed by an experienced professional. Gold belly rings run the risk of causing infection and must be carefully cleaned and maintained in a healthy condition at all times. Taking several weeks to heal from the time of initial piercing, the gold belly ring must be protected from snagging on clothing, kept free from sweat and dirt, and protected from injury from physical activity, such as some sports.