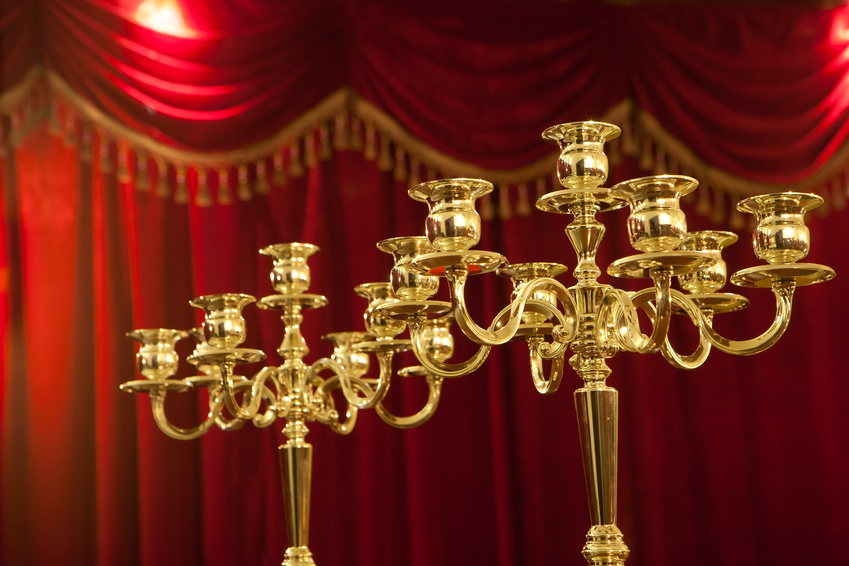 The flickering of light emanating from a multi-branched candelabra creates ambience, sets the tone for entertaining guests, and makes them feel comfortable in your home. Find out what makes a gold candleholder an indispensable accessory when inviting others into your private space.
Buy a Variety of Gold-coloured Pieces
If investing is your strong suit, a vintage candelabra may have the value you prefer when shopping for examples of gold antique candelabra pieces. One way to purchase a gold-coloured candelabra is to look for a solid brass candelabra. Many older brass pieces may have a layer of dust and grime but once you remove the tarnish it gleams a bright, golden colour. Look for age-related wear on a truly authentic gem, and ask your seller the approximate age of the candelabra when collecting period examples. Just as enchanting as a brass candleholder is a gold-plated candelabra or a 24-karat gold candleholder with three arms.
Consideration of Candle Options
As you narrow down your choices between a brass, gold-plated, and 24-karat gold candelabra or you decide to purchase all, notice how many candle slots are available for providing light. Another personal preference consideration is whether the candle arms fan out horizontally, in a circle, or other configuration. Candelabras vary as to what size candles fit in the holders, which ultimately determines how long the candle burns. You may prefer more slender candles such as dinner candles over short and squat-looking pillar candles or vice versa. Check whether the candelabra design incorporates a feature to avoid wax dripping onto wood surfaces, fabrics, or other flammable material. You want your accessories to be as maintenance and worry free as possible.
Match Style with Preferences
Nail down your buying preferences such as the height, width, and weight of the gold candelabra. A candelabra that is too tall or wide placed on a table restricts conversation amongst guests. Additionally, one that is heavier than you can manage is not easily transferrable from room to room. Next, hone in on a style that you know looks great in your home. Maybe intricate scrolling and ornate handiwork appeals to your senses, or a Scandinavian or French-styled candelabra satisfies your flair for European decor. You may prefer eclectic over English or Regency over Edwardian. Be true to what you know fits into your environment and the mood you want to create.