Gold chandelier earrings cascade down from the ear, framing the face and neck. These are dramatic pieces, best worn without any other jewellery and with hair either short or pinned up. To make these bold earrings work, the closures, the length, and other details all have to be right.
Carefully Choose the Closure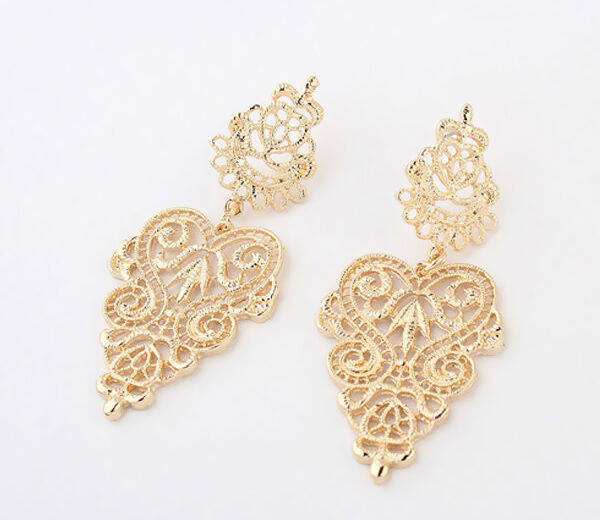 Pure gold is hypoallergenic; however, white gold often includes nickel, which causes many metal allergies. For safety, make sure the closure is a hypoallergenic form of gold. In addition, chandelier earrings are heavy and many swing with their own weight, so the simple loops that many smaller earrings use are not secure enough. If the earring does not already have a closure that actually fastens, buy a pair of replacement earring backings and add them or ask a jeweller to do so.
Consider the Chandelier Length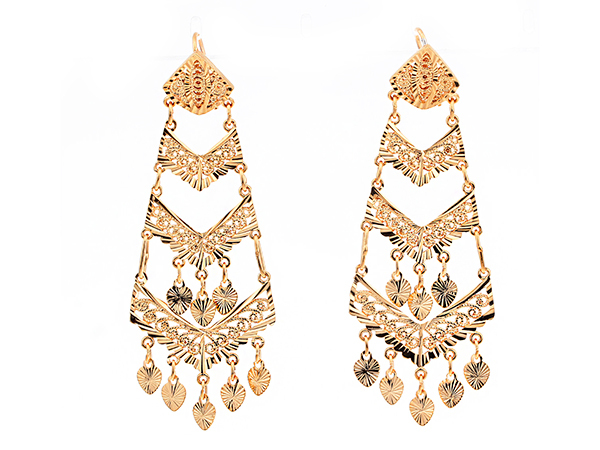 Chandelier earrings look elegant, but not when draped all over the wearer's shoulders. In addition, some people look good with very long earrings, while others look better with less dramatic jewellery. A related issue is that someone who plans to wear a top with a bit of a collar needs somewhat shorter chandeliers to avoid catching the earrings in the fabric. Keep in mind too that an ornate, flexible earring left in an ordinary jewellery box is likely to tangle with other pieces and may break. A storage bag or a display rack solves the problem.
Choosing Gold Chandelier Earrings for Casual Occasions
While there is always something dressy about gold chandelier earrings, not all such pieces look formal or need to. Chandelier earrings are not for everyday wear because they tangle too easily, but for a celebratory day with good friends, something funky or exotic is a fun choice. Look for earrings made of rings or disks of beaten gold or something that combines gold with beads of semi-precious stone, such as turquoise or amethyst. The rest of the outfit should be simple, as to avoid drawing attention away from the earrings, but should strike the same funky, casual, yet dressy note. Try jeans and a solid-colour tank top with some fun cowboy boots.
Choosing Gold Chandelier Earrings for Formal Occasions
For a formal event, such as a banquet or evening at the opera, gold chandelier earrings should look more like chandeliers, that is, with multiple, graceful tiers. Besides the gold elements, look for pearls, precious gems, or crystal accents set into the metal. Again, the rest of the outfit should be simple, to direct attention to the earrings. An unadorned black fitted dress of any length is a good choice.