Gold Price Fall Creates Investor Buying Opportunity
The recent 3 month low in gold prices signals an excellent buying opportunity for investors. Since June 2006, gold rocketed up from under £310 / $570 to £368 / $670.
In May and July, many financial analysts were predicting gold to hit its previous £370 / $850 peak in January 1980. Some of these financial and commodity experts were even predicting $1,000+, and higher.
We tend to try to take a conservative view of future precious metal prices, but our feeling is that both gold and silver will go higher, partly because of the threatening world recession.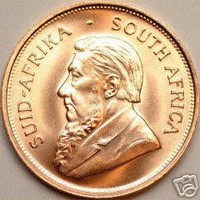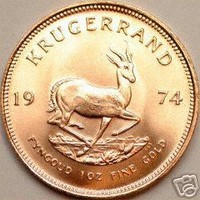 Krugerrands Are One of the Best Known Gold Bullion Coins
Daily Warnings
If you read the financial pages of any quality newspaper, you will notice news items on an almost daily basis, warning of inflation, currency risks, protectionist trade moves, interest rate problems, and many other risk factors affecting global and national consumer and investor confidence,
Almost all of these warnings remind us of the points raised in the book "Wake Up", by Jim Mellon & Al Chalabi, published in 2005.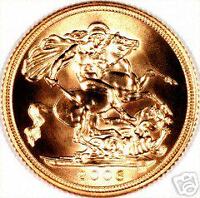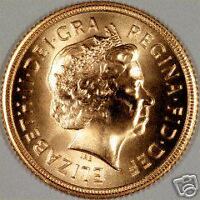 Gold Sovereigns are Exempt From VAT and Capital Gains Tax
Buy Gold Coins - Advice
On page 237 of this excellent book, the authors suggest buying gold coins, and further suggest that for further information you visit our "Tax Free Gold" website. We must stress we have never met the authors, but they chose to single out our website as their only recommendation, presumably because of the vast effort we have made into making it the most extensive internet source of information of investment gold, including legal tender gold coins and bullion bars. eBay do not permit us to include a link here to our website, sorry!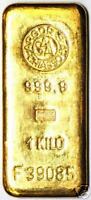 Gold Bars are Another Way to Invest in Gold Bullion
Buy Gold On Dips
It is difficult for us to give day by day advice to investors as to the best time to buy gold, but the general advice we give on our website includes our view that you should buy gold on price dips. It makes obvious good sense to buy anything when it is cheaper, and this is also the basis of Warren Buffett's investment philosophy, with which we substantially agree. We are often astounded and frustrated that many investors seem to stop buying when prices go down, and start buying again after prices have started to rise again.
It is our strongly held opinion that this is the wrong way. Buy after price drops. Quite often these drops do not last long. Our advice is to jump in and buy on any price falls, and sell on price peaks. To us it seems so obvious that it sounds as if it should be unnecessary to state, but time after time we see investors dithering, and delaying buying into it is slightly too late, and then paying more than they needed to, because they were being indecisive.
Was This Guide Useful?
If you found this guide interesting, informative or useful, please spare few seconds of your time to vote for it by clicking on the "Yes" button below, thanks.
A better test than usefulness might be to vote "Yes" if you agree that most or any of our points, thanks.
Other Guides
You may be interested in viewing our other guides:-
How to Photograph Coins - Advice, hints, tips & more...
Gold Sovereigns - History Information & Specifications
Mints & Mintmarks on Gold Sovereigns - All Seven Mints
Krugerrand - One Ounce Investment Gold Coin

Buffalo - 9999 Fine Gold US Bullion Coin - 24 Karat Au

Pink Diamonds - One of Nature's Rarest Gemstones
Sniping - Is it Good Strategy for Winning Auctions?
£2 Two Pound Coins Queen with Necklace Rumour & Facts
Winning Auctions - Or Spending Money?
CGT Capital Gains Tax Exemption on Gold Sovereigns Britannias UK Coins
Definition of Investment - VAT Exempt (Tax Free) in UK & EU
Spellings - Is Good Spelling Important - A Few Howlers
Second Chance Offers on eBay - Should You Use Them?
Gold Coins Which Are Not Gold - Including German & € Euros
Postage Packing Shipping Insurance Charges - Fair or Excessive?
The Difference Between Proof and Uncirculated Coins
London Gold Fixing Price
Gold Bullion Bars For Investment