Gold Silver Price Ratio
One way to measure the relative prices and investment potential of gold compared with silver is to look at the price ration between them, known as the gold:silver ratio or gold to silver ratio.
It can be difficult to find historic information about this ratio, and when we first looked, we could find very little data, and had to rely on our memory back to about 1974.
In recent years, we have come across a number of earlier references to the ratio, and have published brief articles about it on a number of our websites, where we also have a live display of the current ratio. We are not permitted by eBay to include a link here to this useful information, but you should be able to find it by searching for "Gold Silver Price Ratio".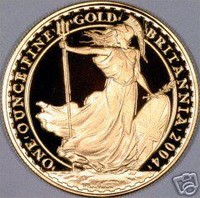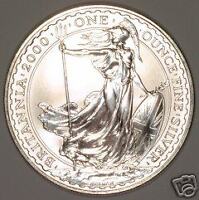 One Ounce Gold & Silver Britannia Bullion Coins
Weights
Obviously, it does not matter what weights are used when pricing, as this is a ratio, provided that the same weight unit is used when pricing both metals.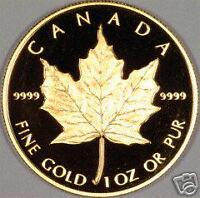 One Ounce Gold & Silver Canadian Maple Leaf Bullion Coins
Gold Silver Ratio
When the first coins were made over 2,500 years ago in ancient Greece, the ratio of gold to silver was generally between 10:1 and 13.5:1, depending on the relative proximity of gold or silver mines. In the 1930's and 1940's the ratio reached 90:1 or higher, and in 1991 it peaked at about 98:1, although we have seen one source which claims over 100:1 peak. Other sources state that the gold silver ratio is no longer relevant in today's markets. We believe it is a worthwhile measure, but would stress that it is difficult if not impossible to state what the ratio "should" be.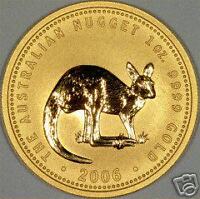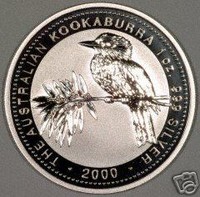 One Ounce
Australian
Gold
Nugget
& Silver Kookaburra Bullion Coins
Gold and Silver Bullion Coins

A number of countries now issue gold and silver bullion coins, in addition to other metals such as platinum and palladium. These include Australia, Canada, Great Britain, and the USA.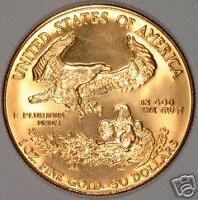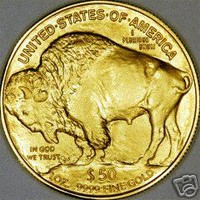 One Ounce American
Gold Eagle
Silver Eagle and New Fine Gold Buffalo Bullion Coins
Author & Copyright Notice
Any images shown are our own copyright images. Our text and description is also copyright, Lawrence Chard of Chard Coins.
Useful?
If you found this guide interesting or useful, please spare two seconds to vote "Yes" by clicking the button below. If it disappointed you, please think about contacting us to let us know what else we could have included to make it more helpful.
Other Guides
You may be interested in viewing our other guides:-
Other Guides
You may be interested in viewing our other guides:-

Mints & Mintmarks on Gold Sovereigns - All Seven Mints

How to Photograph Coins - Advice, hints, tips & more...
1780 Maria Theresa Silver Thaler Restrike Trade Coin

Krugerrand - One Ounce Investment Gold Coin

Buffalo - 9999 Fine Gold US Bullion Coin - 24 Karat Au

Pink Diamonds - One of Nature's Rarest Gemstones
Sniping - Is It Good Strategy or Tactics for Winning eBay Auctions?
£2 Two Pound Coins Queen with Necklace Rumour & Facts

Winning Auctions - Or Spending Money?
CGT Capital Gains Tax Exemption on Gold Sovereigns Britannias UK Coins

Definition of Investment - VAT Exempt (Tax Free) in UK & EU

Second Chance Offers on eBay - Should You Use Them?
Spellings - Is Good Spelling Important - A Few Howlers

Famous People (Celebrities) Who Collected Coins

Heads Upside Down on Coins - Medal & Coin Alignment

Identifying Coins, A Brief Guide to Help Identify Coins

BNTA - The British Numismatic Trade Association

Gold Coins Which Are Not Gold - Including German & € Euros

Postage Packing Shipping Insurance Charges - Fair or Excessive?
The Difference Between Proof and Uncirculated Coins
London Gold Fixing Price

Gold Bullion Bars For Investment