How to Buy Real Gold and Silver Jewellery
Gold and silver have been used in jewellery making throughout human history, with the earliest recorded gold jewellery dating to around 6,000 years old. As time has progressed, our methods of refining and identifying the purity of gold and silver have advanced significantly but unfortunately, so has the number of jewellery scams. This guide will help keep jewellery buyers safe - equipping you with the knowledge to spot the difference between real and fake jewellery
It is now more important than ever for eBay sellers to offer their customers peace of mind; a guarantee that the jewellery they are buying is legitimate, genuine, and safe. With the increase in fake jewellery from China and India, buyers need to feel confident that sellers are selling real jewellery – and describing it properly.
This guide will explain the importance of marking the purity of gold and silver jewellery, and how this purity is displayed. It will cover some common jewellery scams, and how you can avoid falling victim to these. It will conclude with a brief overview of various testing equipment that a buyer might acquire, to test gold and silver for themselves.


Jewellery Purity
Gold and silver jewellery comes in a wide variety of purities. This section will explain gold, silver and platinum – with visual aids to better describe the jewellery marks that you might come across, as a buyer.

Gold
Gold jewellery is measured in Troy Ounces, which weighs 31.1035 grams. The gold price is measured in US Dollars, per Troy Ounce – and gold purity is measured in parts of gold per 1000. Purity can also be referred to as 'fineness', and this fineness is nearly always stamped on a piece of jewellery. These stamps are often called Hallmarks, Assay Marks or simply Purity Marks - we will cover this later on in the guide.
Gold is often mixed with other metals – silver and copper being the most common – to produce a fineness, or purity, of less than 24 carat. This alloying is performed for a variety of reasons: to make jewellery more affordable, or more durable. 24 carat gold is the highest purity of gold, but is generally considered to be too soft to make jewellery with.
Typically, jewellery in the United Kingdom will be 9 carat, or 18 carat. American jewellery does not usually drop below 10 carat, and is often 14 carat or higher.

Silver, Platinum and Palladium
All three of these metals are widely used in jewellery making - silver is the most prevalent, whilst platinum and palladium are mostly used in rings.
The tables below explain, in detail, the purity of these metals - which affects the price. Whilst fake platinum and palladium are relatively rare, fake silver is one of the largest issues facing the jewellery industry today.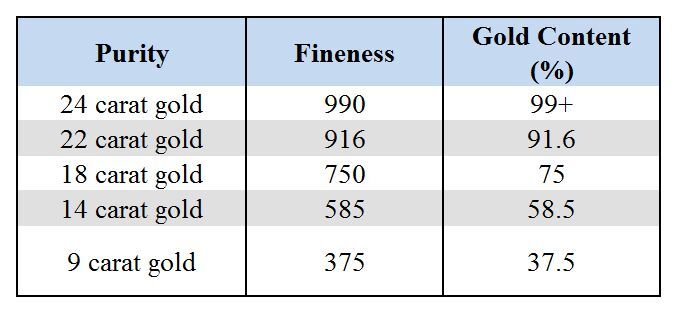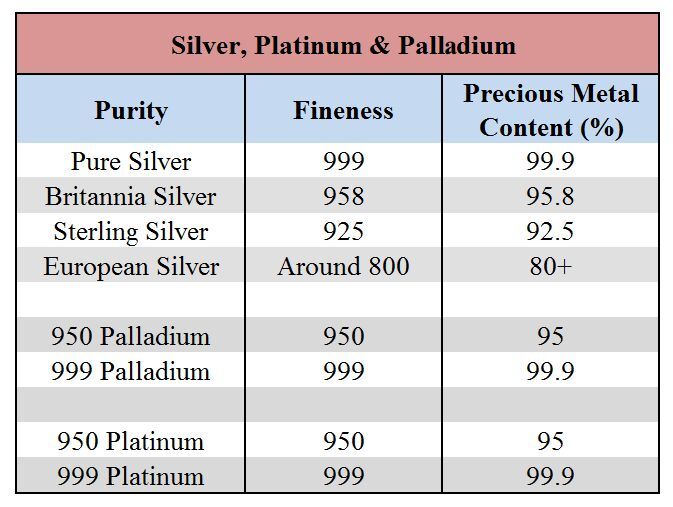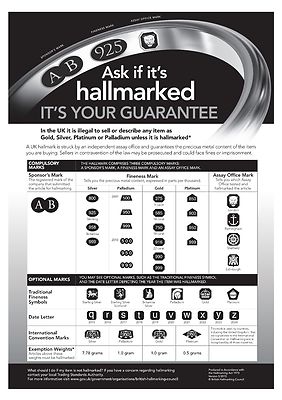 Hallmarks, Purity and Fineness
It is illegal to describe anything as gold, silver, platinum or palladium in the UK if it does not possess a hallmark.
A hallmark, or purity mark, guarantees that the jewellery you are buying contains a specific content of metal. i.e. a stamp of 375 will guarantee that the ring, necklace or bracelet you are buying contains at least 37.5% pure gold. In the UK, other stamps are also applied to jewellery to give more information on its maker, and date of manufacture.
Whilst not all countries will have such stringent marking regulations as the UK, most jewellery will be stamped in some form or other. Most jewellery will be stamped 375, 585, 750 or 916 - indicating its purity. If jewellery does not have a purity mark, it would be wise to ask more questions of the seller to ascertain how they have determined the metal's purity, and whether this purity is guaranteed.
As a buyer, a hallmark is the strongest guarantee that you can have, that your jewellery is genuine and worth the price you are about to pay.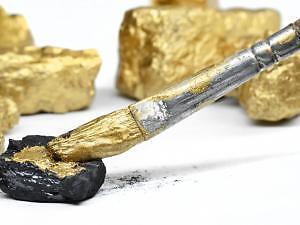 Spotting Fake Jewellery
In general, it is best to avoid jewellery that is described as 'plated', 'foiled', 'layered'' or 'rolled'. Whilst these descriptors do not automatically indicate fake jewellery, the actual gold or silver content of such items is <1%. Plated or layered jewellery is rarely worth more than a few pounds / dollars / euro. Some unscrupulous sellers will attempt to sell these items as solid gold, or solid silver - this is why a hallmark is so important.
So, the first warning sign is the lack of a hallmark. The second warning sign is quality. Fake jewellery cuts corners - the forger wants to make as much profit as possible, and this means using cheap materials. The links of a bracelet might not be soldered togeher, but simply pressed together with pliers - or the stones in a ring may simply have been glued in. Take your time and if necessary, ask for more pictures of the jewellery that you are considering: genuine sellers should be happy to provide these - after all, sellers want to make a sale and should make it as easy as possible for a buyer!
On the subject of pictures, trustworthy sellers tend to take more care with their pictures - showing close ups of the links in a necklace, and the hallmarks. Some sellers will deliberately upload blurry photos, with vague descriptions such as: "I found this in a box. Don't know what it is, but looks gold and heavy" - avoid these sellers! In the age of the internet, if somebody knows how to upload an item to eBay, they surely know how to take a picture, and describe their item. Vague descriptions and poor pictures = warning sign.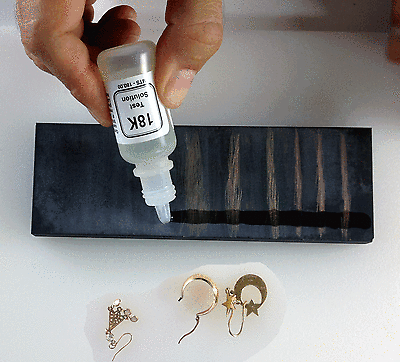 Testing Gold and Silver Jewellery
As previously covered, the best guarantee that your jewellery is genuine, is a hallmark.
But that doesn't mean that you shouldn't conduct your own tests.
Gold, silver, platinum and palladium are not magnetic - so run a magnet over your jewellery when you receive it. If it sticks to the magnet, you have a problem and need to contact the seller.
If you want even more assurance that your jewllery is genuine, acid testing should be considered. Although this can leave small stains, it is the industry-standard of precious metal testing. Any reputable jeweller will be able to acid-test your jewellery for you, although some may charge a nominal fee for this service.
The most reliable test is XRF Analysis, but this is usually quite difficult to obtain. XRF analyses the internal properties of the jewellery / metal that you've bought - only the largest jewellers / bullion merchants will have access to such equipment and may charge an 'assay fee' for this service.
Was This Helpful?
If you found this guide helpful, please consider giving it a 'Like' at the top of the page - this will help more people see it, and hopefully it'll help somebody avoid a piece of fake jewellery.
Let me know in the comments below if there's any other jewellery-related subjects that you'd like me to cover, or if I can help you out with your jewellery.
If you are looking to buy jewellery,
why not stop by my eBay listings?
I always carry a wide range of stock, and it'll always have a hallmark!